Have you ever thought about DIYing your own placemats? If so, I'll show you how to make placemats that are easy to sew, quick to make and also reversible, giving you two different looks in one.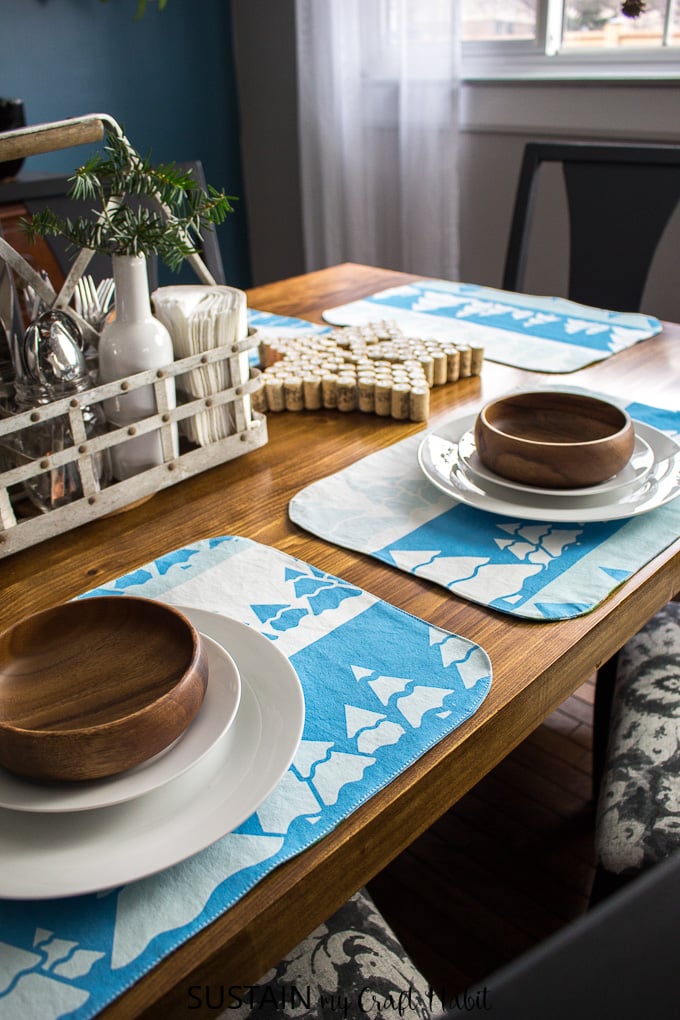 HOW TO MAKE PLACEMATS
Disclosure: This project is sponsored by Canvas Etc. All opinions are our own. Also, this post contains affiliate links for you shopping convenience. You can read our full disclosure statement here.
We have a running joke in my home when it comes to placemats. We say that we can guess exactly who sat where for dinner just by looking at the placemats afterwards. My placemat is the tidiest, whereas my husband's is always full of crumbs and food spills. As for our daughter, hers always falls somewhere in the middle!
So when we got the opportunity to select from the new collection of prints by JWylie Designs at Canvas Etc., a new set of DIY placemats came quickly to mind! CanvasEtc. has thousand of designs you can choose from to print on any of 20 different fabrics. To make these durable and reversible placemats, I chose the 100% cotton canvas. So, spills or no spills, these new place mats will be easy to wash. Simply throw them in the washing machine with other similar colors to get rid of all those food spills and stains.


By selecting two different patterns for the reversible placemats I'll easily be able to change up my tablescape with the changing seasons. This Winter Wonder Tree pattern will look great now through the spring. When Christmas comes around again, I'll be able to pull them our again to enjoy the whimsical Winter Wonder Christmas tree design. Isn't that really one of the best parts of sewing? Being able to choose the pattern and style and quality that suits your needs? You can check out all of the fun coordinating prints here. I love the Winter Wonder Snowflake pattern paired with the Winter Wonder Tree pattern as well!
Did you know that CanvasEtc. offers their fabric remnants for free! Just pay a nominal shipping fee for a 5lb box of remnants for your DIY and crafting projects!
Canvas Etc. has a wide selection of fabrics to choose from. We've used a heavier canvas for sewing Christmas ornaments and a classic red velour to make a Christmas tree skirt.


Soon we'll share a tutorial on making curtains using soft and airy printed voile fabric. If you're interested in making a set of matching DIY linen napkins, we've got the tutorial as well as instructions for making DIY nautical cable napkin rings.
Materials Needed (to make a set of 6 placemats):
How To Make Placemats:
The Prep Work:
Pre-wash and dry all fabric prior to cutting and sewing. Remove fabric from dryer promptly to avoid fabric from creasing and become overly wrinkled.
Print out the placemat pattern template and tape the pattern piece together if printed across multiple pages.
Cutting the Fabric:
Lay the fabric out on a flat, smooth surface. To cut multiple layers at a time, fold the fabric in half lengthwise matching the selvedge edges. If your fabric print has a directional repeating pattern (either a lengthwise or crosswise direction as mine does), be careful to position the pattern piece in the right direction.
Each placemat has two sides: pattern side A and pattern side B. To make 6 placemats, you will need to cut out 6 pattern side A pieces and 6 pattern side B pieces.
Place the paper pattern over top of the fabric and pin in place. My fabric print has a horizontal design, so I will be aligning the grainline of the pattern with the selvedge edge. Pin the pattern in place.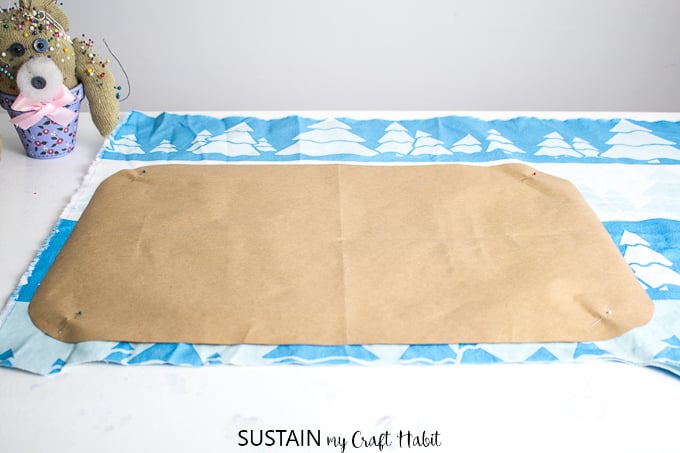 Using fabric scissors, cut along the solid line through all layers (paper pattern and fabric).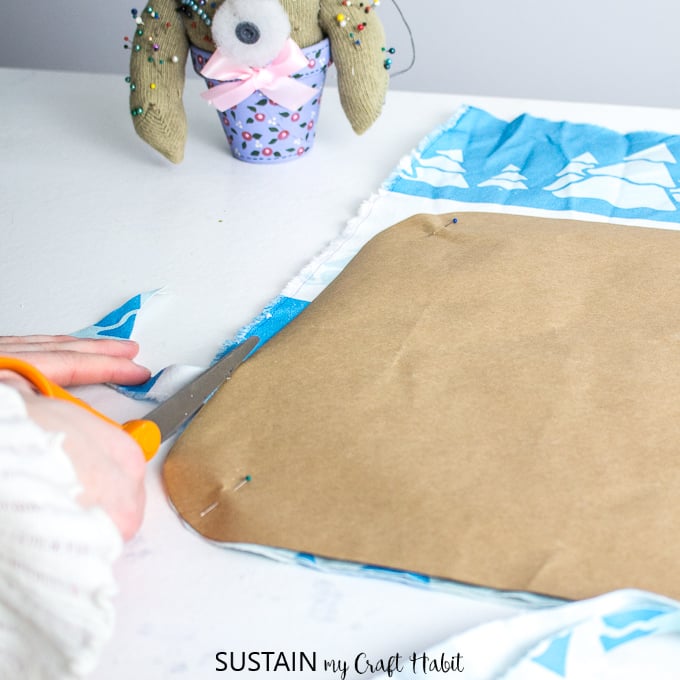 Repeat for the other side of the place mat using the contrasting printed fabric.

How to Sew Placemats:
With right sides together, align placemat side A with placemat side B. If needed, pin the pieces together for sewing.
Using a single needle lockstitch and a regular presser foot, sew the two sides together starting along one of the shorter sides with a ¼" seam allowance.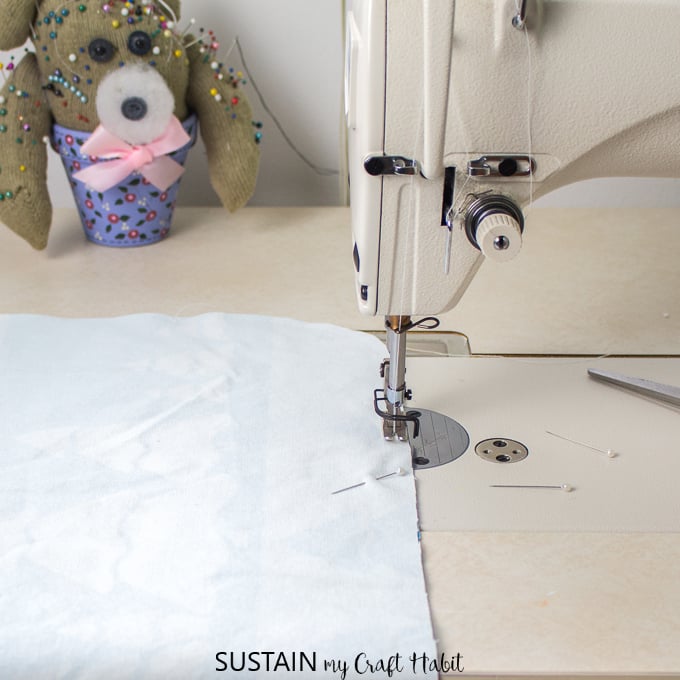 Continue around the perimeter of the placemat and stop when you are about 5" from the original start position. Back stitch to lock the stitch in place.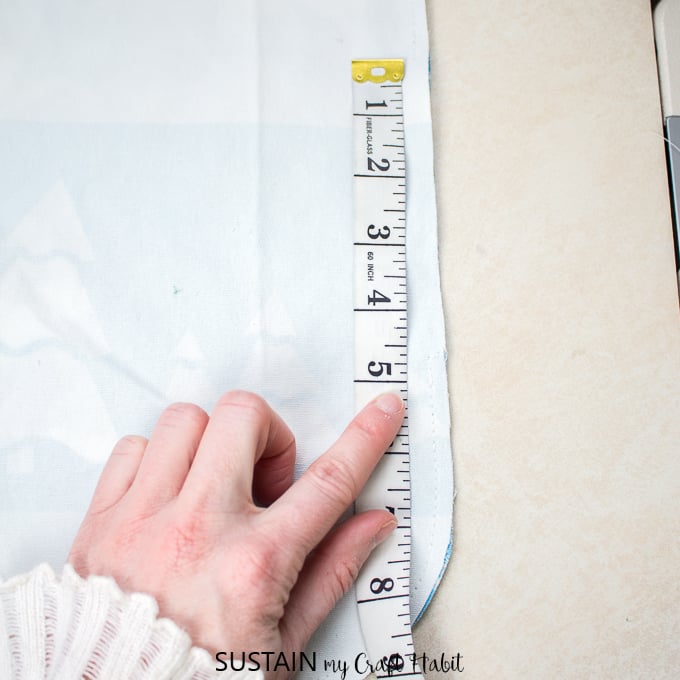 To reduce the bulkiness at the seams, especially along the curves, "true" one side of the seam allowance by ⅛" as shown. Do not true the seam allowance at the open edge.
With the tips of your scissors, clip the seam allowance in a perpendicular direction to the stitch line at all 4 corners. This will also help the fabric to lay flat when placemats are turned right side out.
Turn the sewn placemat right side out and press seamed edges flat using an iron.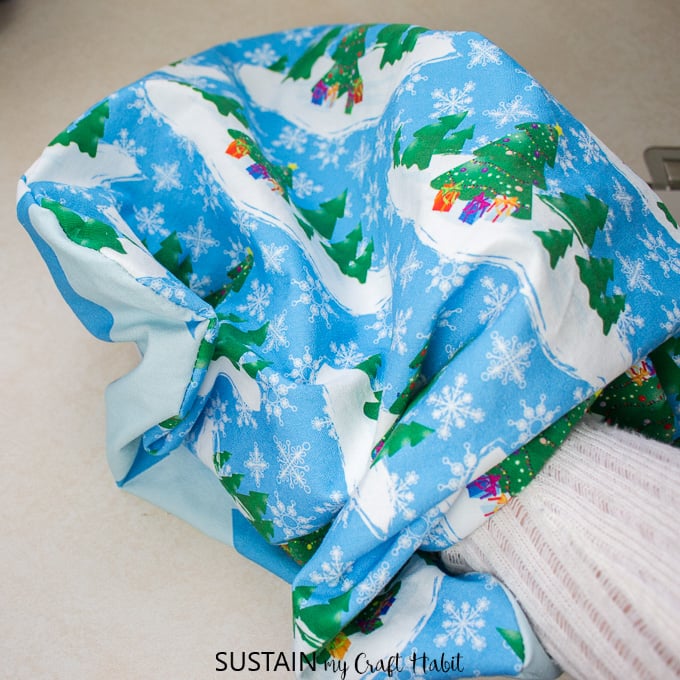 Fold the open unstitched edges in by ¼" and press in place.
Sew a single needle edgestitch around the perimeter of the placemat closing the open hole as you go.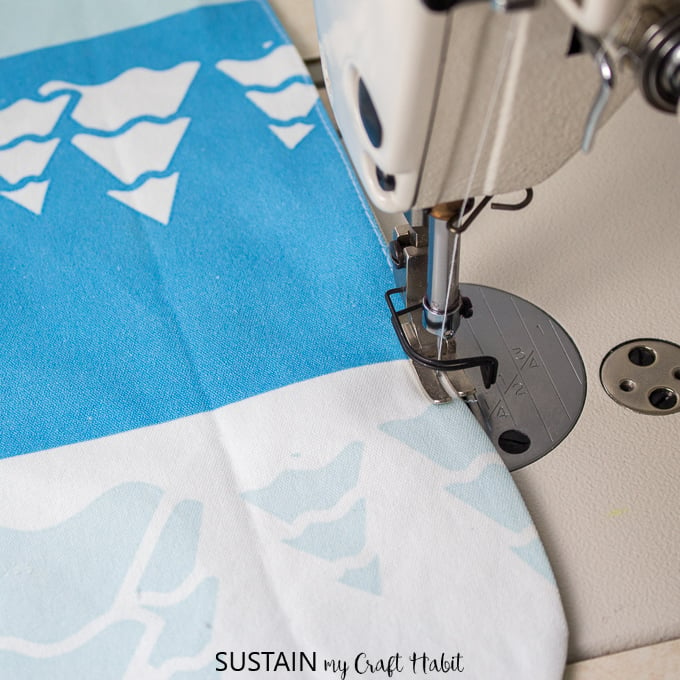 Finishing:
Iron again to remove all creases and wrinkles and repeat the cutting and sewing steps for each placemat.
I anticipate I'll get a lot of use out of these new placemats over the Christmas and Winter season. All I need is to add one of these rustic centerpiece ideas to the table and I'm all set to go! And maybe hubby will be just a little less messy with these new linens (fingers crossed).
So, who is the messiest eater in your home?
Like it? Pin it for Later!