Does anybody else want to put up all their fall decorations the moment they are able to? It can still feel like summer, but once all the back-to-school times start happening…it's fall decorating time! What better way to show fall spirit than candy corn decor?
Candy Corn Swag – Fun Candy Corn Decor for your house!
I stumbled upon a version of this craft in a Facebook community, and it was too good to not repurpose it! The best thing about this candy corn decoration is that it is done with pinecones. Not only does this make it an easy craft, but it is a great craft to "upcycle" with.
If you are new to the concept, upcycling is recycling but making something even better out of what it originally was. (Not that anything beats nature, but this is a great way to bring natural aesthetics in front of or in your home.) Join our crafting community to find more nature-inspired DIYs and upcycled craft ideas. It feels good to repurpose, upcycle and create with nature!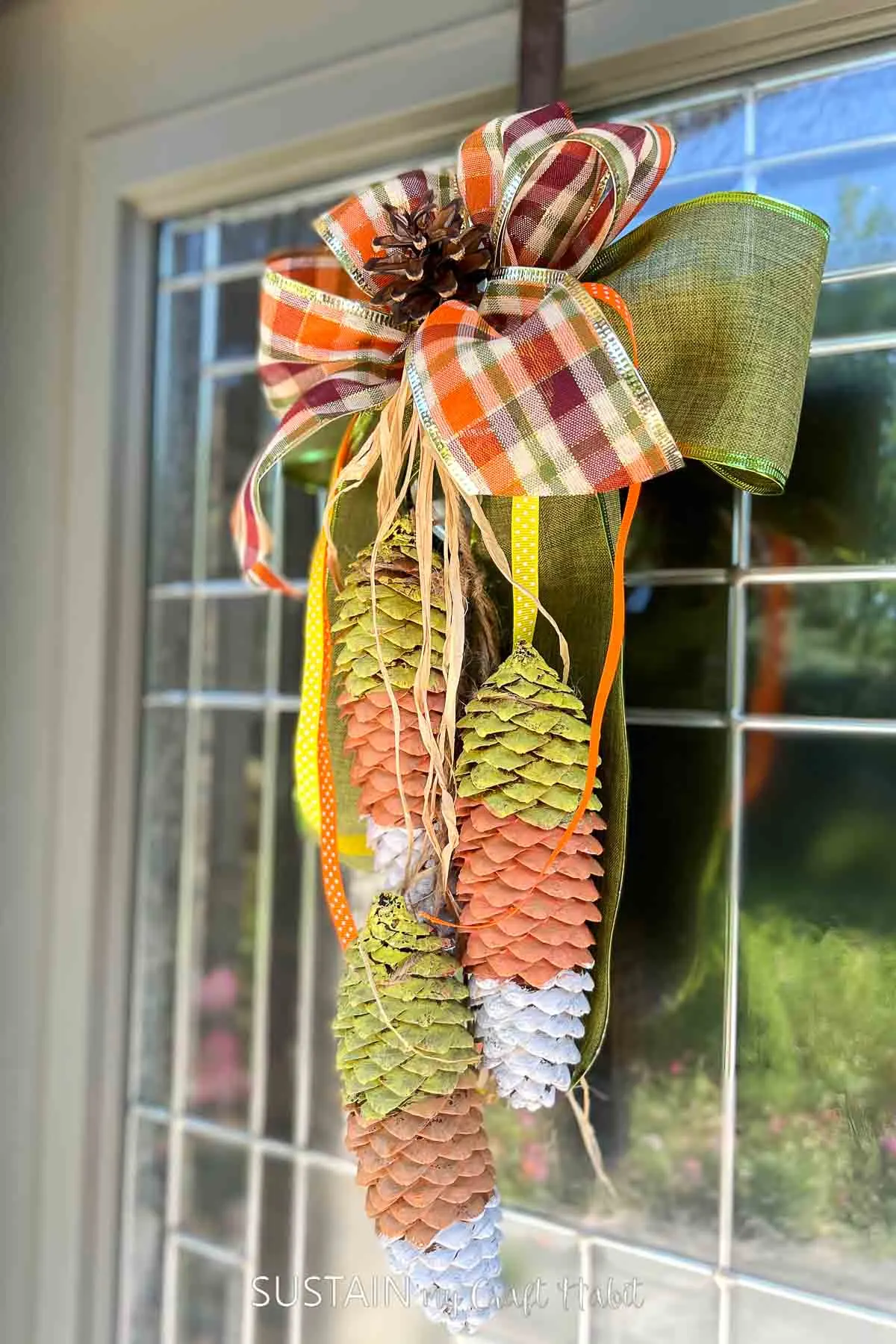 If you are looking for a craft to do with family or friends, this is a great fall activity. This is also a great project for leading older kids that may be interested in crafting. Any nature kid would go crazy over this fall fun!
Yes, you can hang this craft the moment that you smell a sniff of the fall air. The bonus though? You can keep this hanging well through Thanksgiving! This candy corn decor would be great for fall, Halloween, and Thanksgiving, and not need to come down until it is time to hang some Christmas decorations.
So let's jump in- your neighbors will be asking you where you got your great fall decoration!
Materials Needed
Disclosure: This post contains affiliate links for your shopping convenience. Should you choose to purchase through them, we will make a small commission at no extra cost to you. You can read our full disclosure here.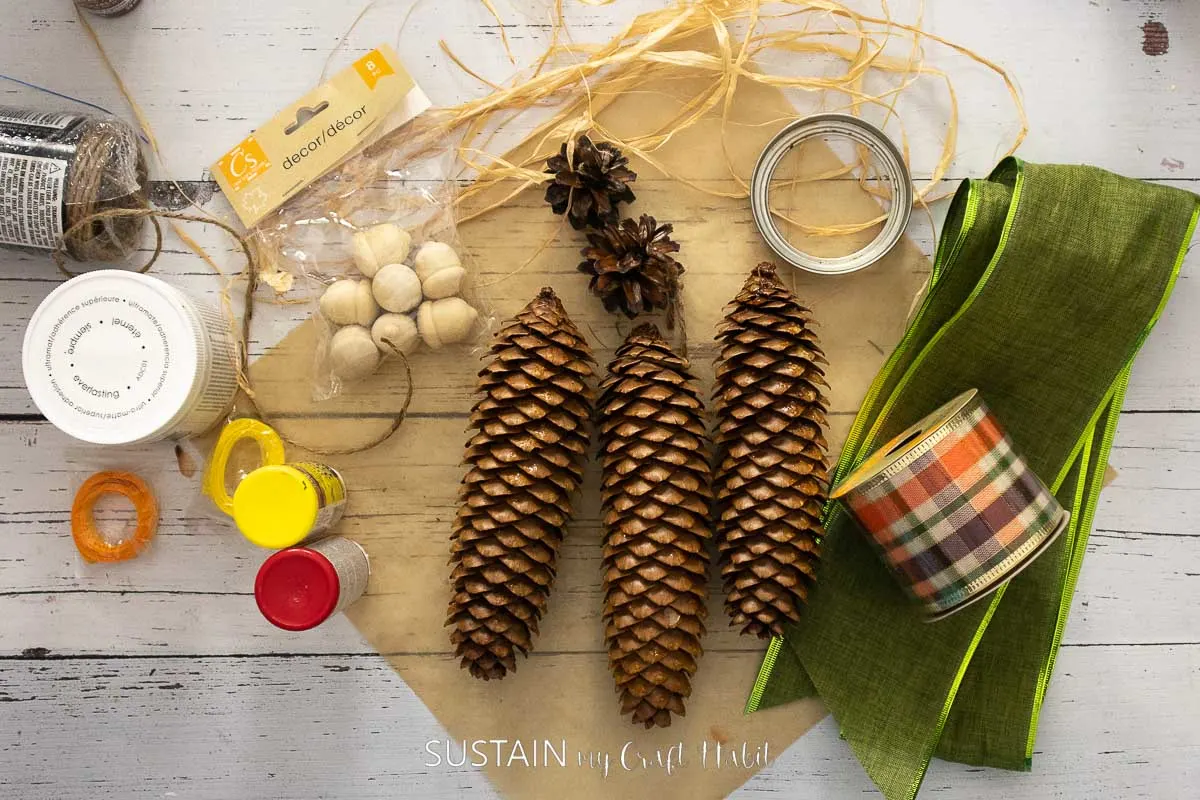 How to Make a Candy Corn Decor with Pine Cones
There is a step-by-step video of the candy corn craft we made on our Facebook page! Or if you prefer the photo tutorial, continue reading below.
Paint 1/3 of the top of the pinecone in yellow, then orange in the middle and the lower 1/3 in white. Let the paint dry. Repeat with the two other pinecones.
Secure a strand of twine to the top of each pinecone by wrapping the twine around the pinecone and put aside.
Make a large bow and fasten it to the mason jar lid ring with some floral wire. Add some rafia for more fullness and then tie the loose ends of the twine with the hanging candy corn to the ring.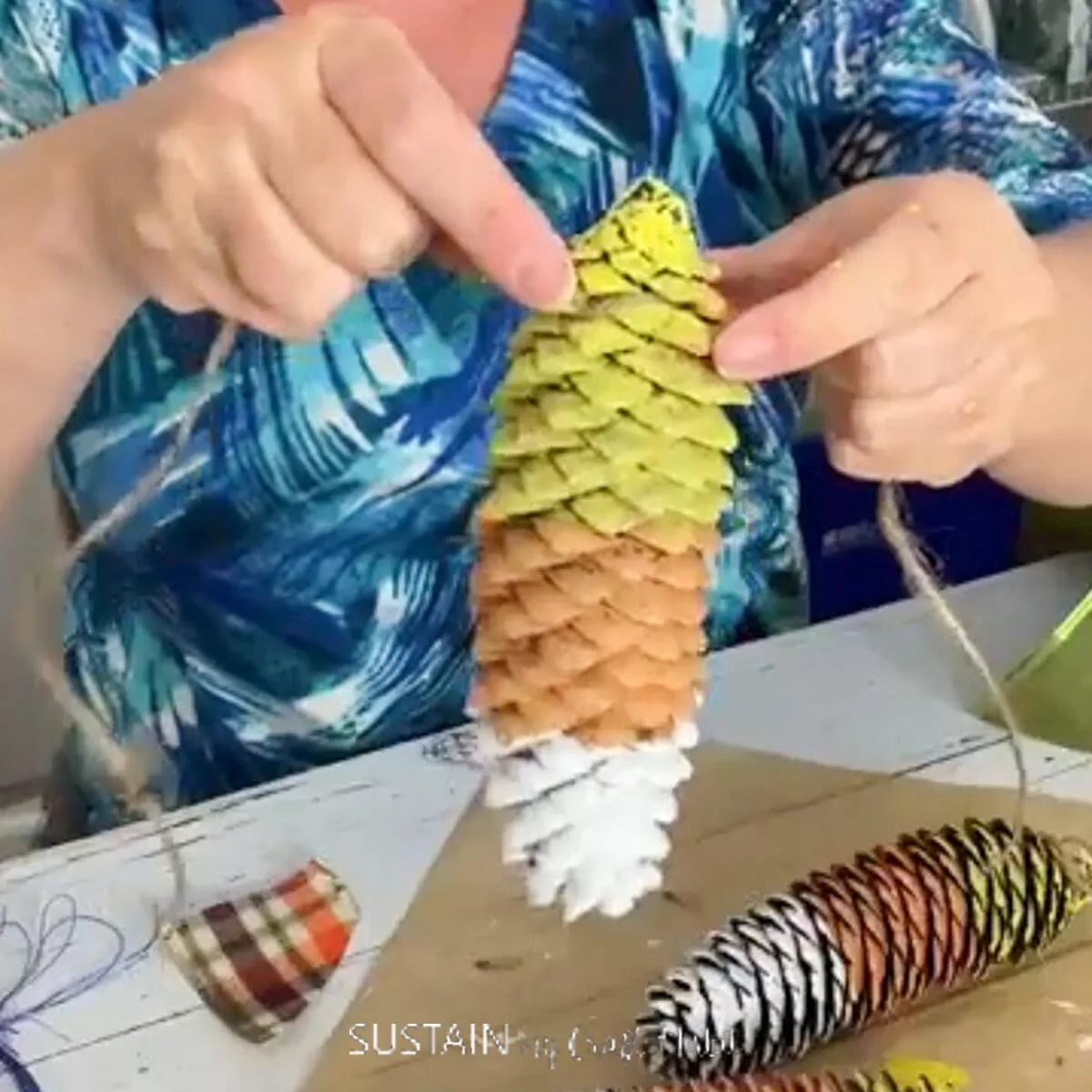 Once done, hang the finished craft on your front door or somewhere in your home to enjoy over the Fall season.
More DIY Pine Cone Crafts
Yes, It's true we have thing for pinecones. Just look at all the beautiful crafts to make with pinecones! We bet you'll be foraging for pinecones in no time at all.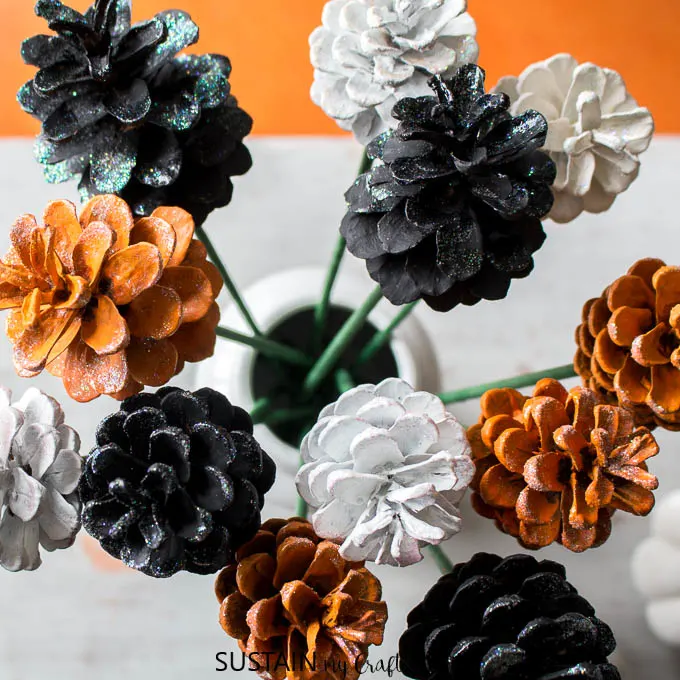 There it is- your candy corn swag! Easily made with pinecones, and fun for everyone. How did your candy corn decor turn out? Make sure to show it off to us! Tag us on Facebook or Instagram– we can't wait to see it!
Stay in the know on our latest crafts, special offers, and freebies by joining our mailing list.
Like it? Pin it for later!