Inspired by those live garden walls I've seen on all the DIY shows, I wanted to try my hand at painting pine cones to look like a beautiful succulents. It was so easy! Learn how to make your own pine cone succulents using just a bit of paint in muted colors. Then arrange them into a pretty frame for a budget-friendly wall hanging idea.
Crafting Pine Cone Succulents
Looking through our blog here at Sustain My Craft Habit you'll find plenty of pine cone craft ideas to make at home. We have a post about how to make pine cone flowers for Valentine's Day as well as a pine cone bouquet for Halloween. This however, was the first time we made succulents from pine cones and we just LOVE how they turned out!
Get updates on the latest posts and more from Sustain My Craft Habit straight to your inbox by joining our weekly newsletter. We promise to send you only the good stuff!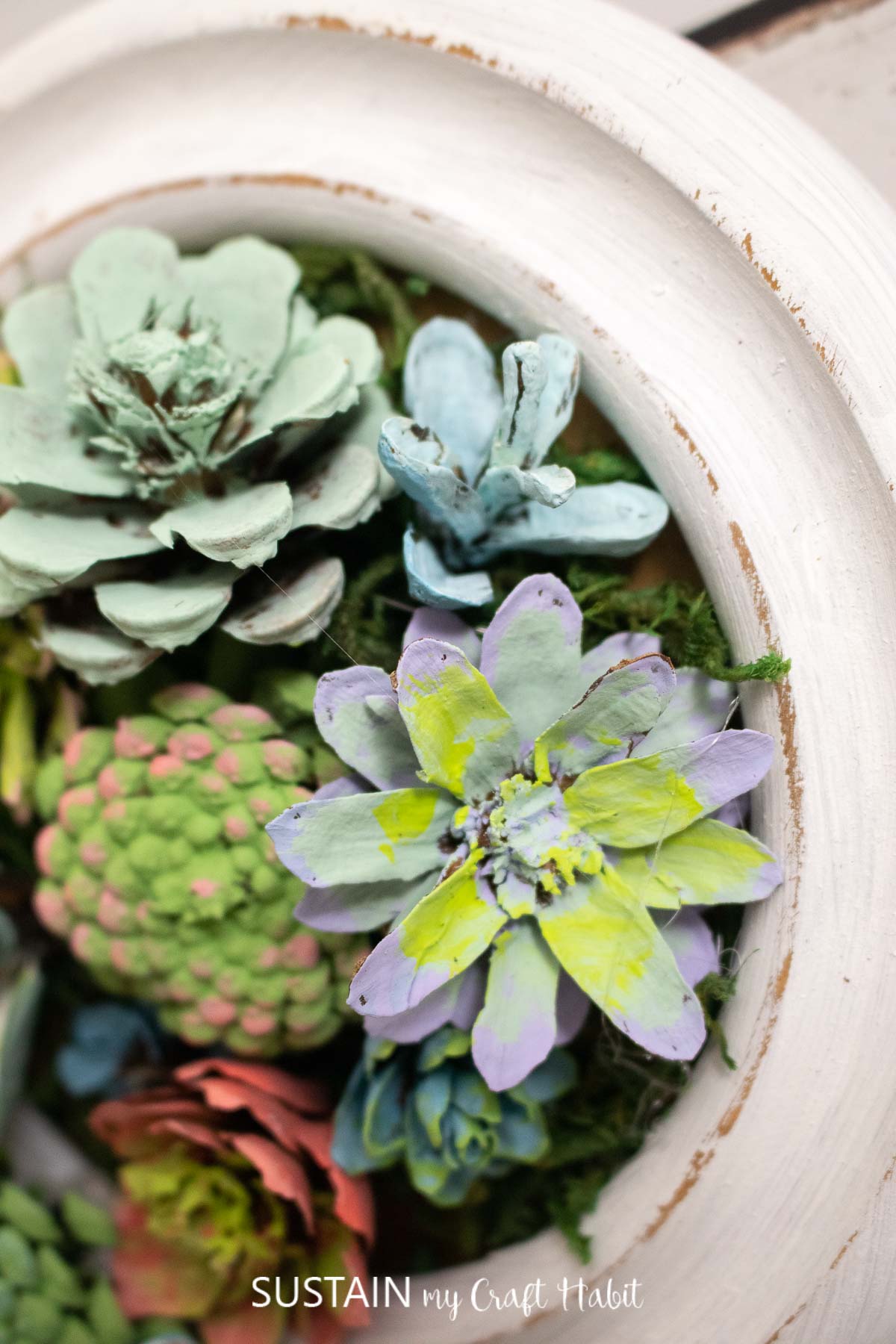 We mounted the painted pine cone succulents on to a small thrifted photo frame. With more time and a few more pine cones, this same idea would look STUNNING on a larger frame! Or alternatively, what about placing them in a terra cotta pot similar to these potted felt succulents?
Materials Needed for this Pine Cone Craft Idea
Disclosure: This post contains affiliate links for your shopping convenience. Should you choose to purchase through them, we will make a small commission at no extra cost to you. You can read our full disclosure here.
How to Make Pinecone Succulents
We shared the tutorial for making this pine cone succulent arrangement on a recent Facebook Live video which you can find here or continue reading below for the step-by-step photo tutorial.
Painting Pine Cones to Look Like Succulent
If you've gathered your own pine cones to use for this craft, be sure to clean them first. Learn how to clean pinecones for crafting here.
Using the garden snips, cut between the scales of the pine cones to make individual florets. You can use both sides of the pine cone florets for this craft.
Painting pine cones to look like succulents is quite simple. You want to pick muted paint colors in shades that mimic succulents. If needed, you can always add white paint to colors you already have at home to tone them down.
Start by painting each pine cone one solid color. Let dry completely.
To give the painted pine cones some depth and interest, lightly brush on some more paint in a contrasting color to each of the pinecones. Stick to either the tips of the scales or the centers.
Preparing the Picture Frame
Remove the glass insert from the frame and then paint the picture frame white and let it dry.
Once dry, give the picture frame a light sand making it look distressed and rustic.
Assembling the Pine Cone Succulent Wall Hanging
Apply some glue to the centre of the frame and place the green moss on the glue.
Glue the painted pine cones into the frame, starting with the larger succulents in the center.
Fill in the empty spots with the smaller pine cone succulents to complete the craft.
I still can't get over how beautiful and realistic these pine cone succulents actually look! What do you think?
Stay in the know on our latest crafts, special offers and freebies by joining our mailing list.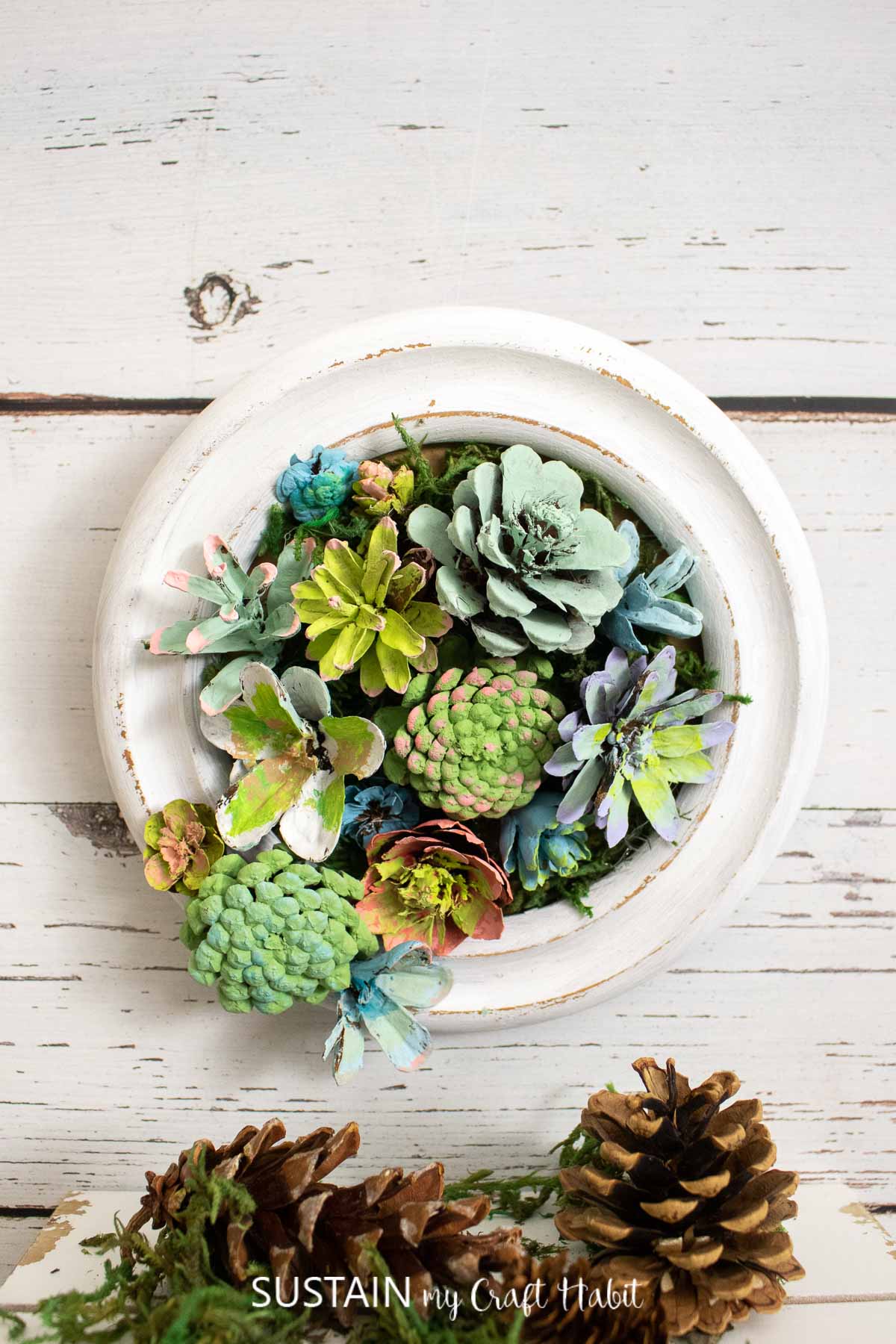 More Succulent Crafts to Make
More Pine Cone Crafts to Make
Thank you so much for stopping by! We'd love to have you join our crafting community by becoming a Sustain My Craft Habit insider and receive plenty of fun freebies!
Like it? Pin it for later!
How to Make Pine Cone Succulents
Painting pine cones is a simple craft with so many uses. Learn how to make pine cone succulents with just a bit of paint and upcycled picture frame.
Materials
pine cones

various shapes and sizes

decorative moss

acrylic craft paint

various colors in muted greens, blues, corals and purples

paint brushes

assorted fine tips

picture frame, 6" x6"

glass removed

garden snips
Instructions
Using the garden snips, cut the pine cones to 1 inch in size.

Next, paint the pine cone pieces using various colors and let dry.

Add highlights in contrast paint colors to the painted pine cones.

Remove the glass and paint the picture frame white and let it dry.

Give the picture frame a light sand.

Apply some glue to the centre of the frame and place the green moss on the glue.

Glue the painted pine cones in the centre of the frame.