I have a new obsession: pom poms. Ever since I made my very first DIY pom pom last year to top a knitted toque, I've been looking for excuses to make more pom poms. I rummaged through my basket of leftover yarn and found one small skein of red wool. This would be perfect for a mini sized holiday pom pom garland!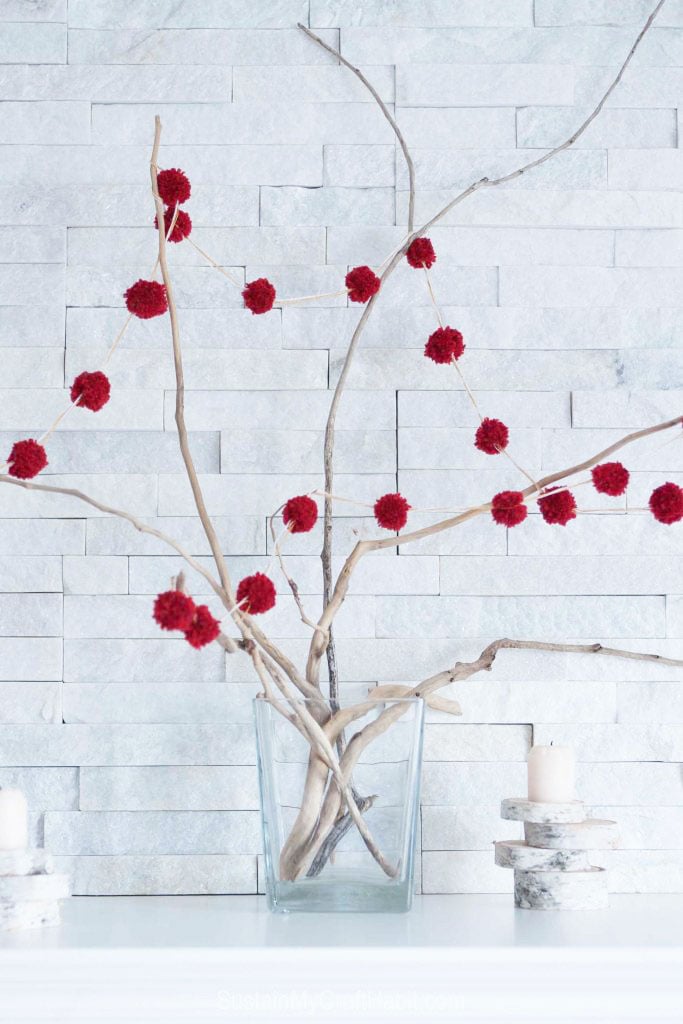 A Versatile Red DIY Pom Pom Garland
It was fate that I chose a red yarn because it ended up being really versatile! We were able to use it for Halloween, Canada Day and even decorating for the 4th of July to celebrate with our American friends. My DIY pom pom garland also made an appearance on Jane's rustic Christmas mantel two seasons ago.
What you'll need to make a DIY pom pom garland:
Medium weight 2 ply yarn
Fine gauge single ply yarn
Fork
Scissors
How to make a DIY Pom Pom:
To make a DIY pom pom, start by wrapping the yarn around a fork approximately 40-50 times. No exact science here but there needs to be enough wrapping to make a good, fluffy pom pom.
Next, take a good strong quality yarn to wrap around the center of the wrapped fork.
Tie a single knot and gently remove the wrapped yarn from the fork.
Pull the center yarn tightly and add a double knot to secure in place. If your pom pom yarn is strong enough, you can use the same one. In my case, the wrap broke whenever I pulled tightly to form the knot so I went with a different one.
Using a pair of sharp scissors begin to clip all of the formed loops. When all the loops are clipped, you will have a unruly looking pom pom.
Onto the fun part, give that DIY pom pom a haircut so that all the cut edges are about the same length.
And there it is: one completed mini pom pom. Continue on and make as many as you want for your Christmas pom pom garland. Or alternate with some holiday coloured yarn for a festive effective. In my case, I used up the entire skein, which made twenty-two adorable little pom poms.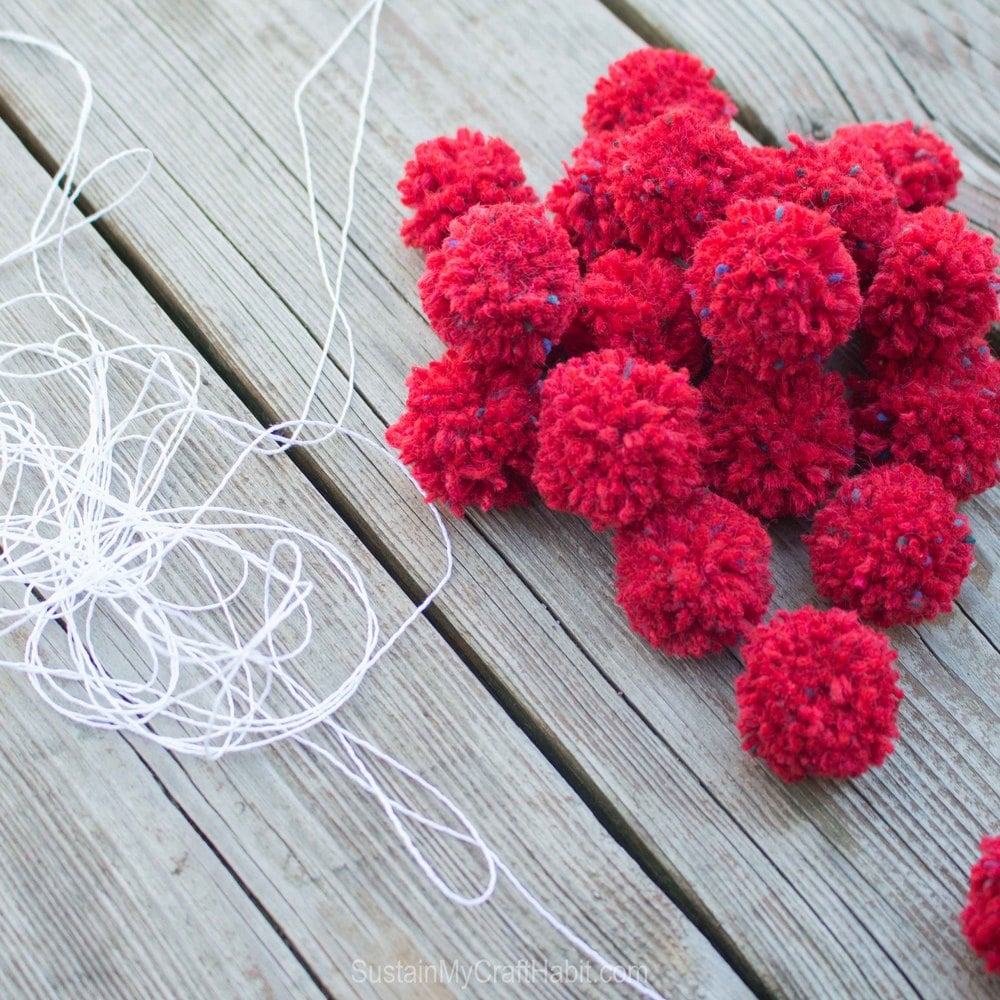 How to make a Pom Pom Garland
To form the garland, I joined each pom pom using a fine gauge single ply white yarn we picked up for virtually next to nothing at a local thrift shop. To start, unravel a long long piece of yarn – you will double it up in making the garland.
Knot the white yarn on either side of the DIY pom pom and space them out evenly. Continue until the pom pom garland is complete.
I was so excited about my cutie little Christmas pom pom garland. I actually really like how the white yarn doesn't detract from the fluffy clusters. The pom poms almost look like they're floating all strung up on these driftwood pieces.
They also look perfect just bunched together on the mantel.
If you're looking for additional holiday decorating ideas, be sure to stop by our Christmas Crafts section of the blog. There's all sorts of goodies such as Christmas rock painting ideas, free printable Christmas cards, non-stuff gift ideas for your spouse and more!
How is your holiday decorating coming along?
Like it? Pin it for Later!