Don't pay for another knit headband pattern when there are plenty of free knitted headband patterns for adults out there!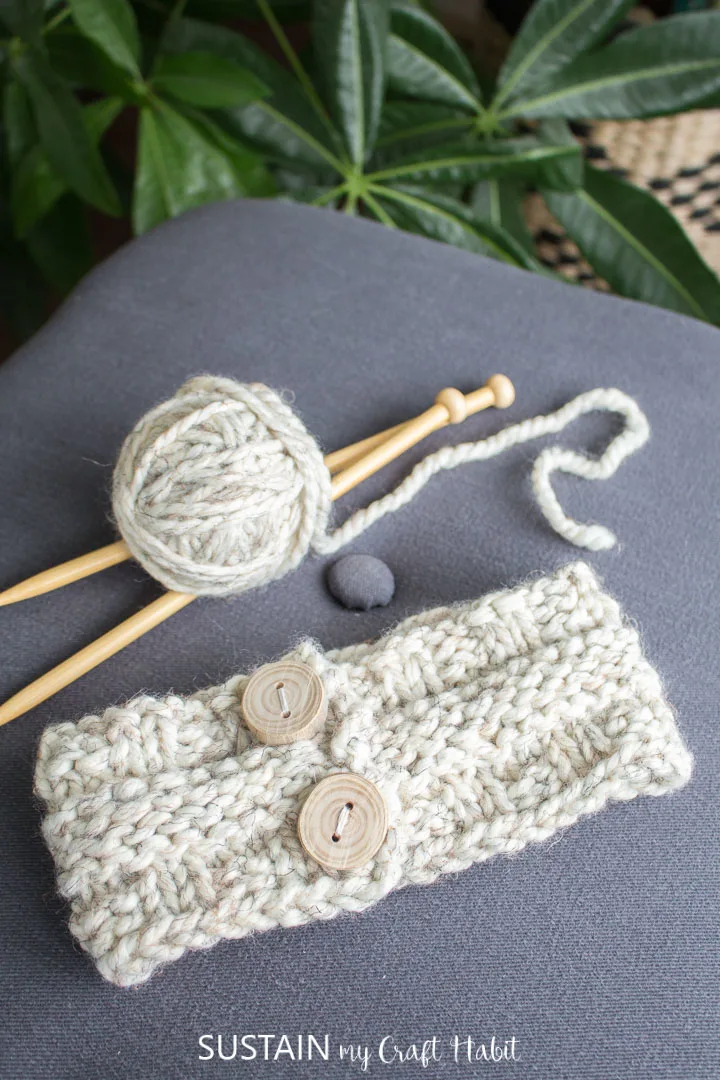 We went looking for a free pattern one day and found that there were too many good ones not to share. Most of these are extremely easy knitting patterns that are perfect for colder weather and don't take much time at all to make. It's a great way to relax and knit and prep for winter at the same time!
Want to receive tons of inspiration and money-saving ideas for decorating, gift-giving, and crafting? Join HERE!
12 Free Knitted Headband Patterns to Try Today
This first free knitting pattern comes with a video tutorial (in the link below.) It is made with super bulky weight yarn and cute decorative buttons. The only other thing you'll need are straight needles and darning needles.
Winter Headband Knitting Pattern
Keep those ears warm and cozy with this easy free knitted headband pattern.
Check out this project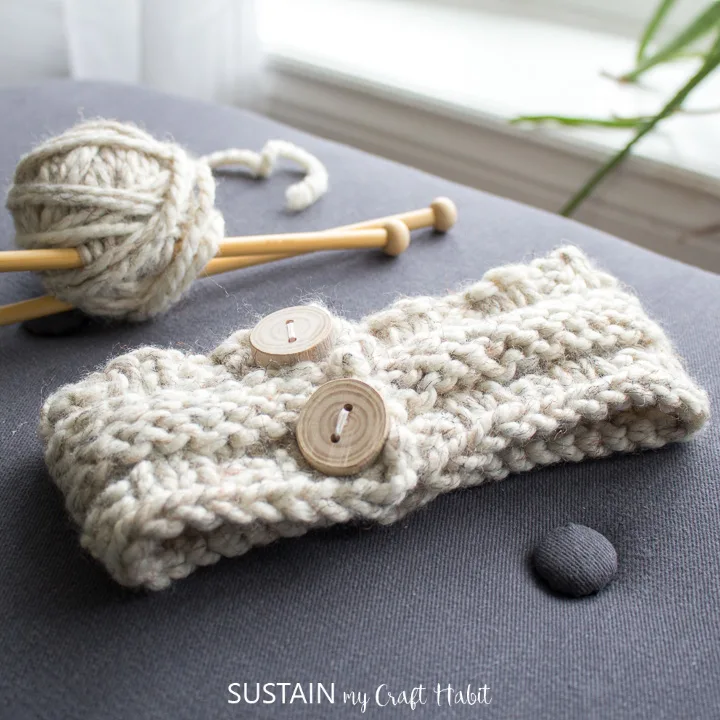 The perfect solution to cold heads- or bad hair days! This knitted headband pattern was rated "easy" by the creator.
Seed Stitch Messy Bun Hat
You could call this a thick headband or a hat but either way it's the perfect way to keep ears warm while wearing a messy bun.
Check out this project
This wide headband. All it requires are knitting needles, a crochet hook, and yarn- the cable needles are helpful but not a must.
Cables and Lace Headband
This cables and lace headband is knitted flat and has a seam in the back.
Check out this project
This one is definitely a kid favorite, but works amazingly for adults too! You'll be getting a zillion questions asking you where you bought your headband. The good news? It's a really easy pattern to do! This would be an easy project to do alone, or teach an older kid as you're learning.
Vintage Knit Tie Headband Pattern
This vintage inspired headband is made in one piece and then tied at the front.
Check out this project
If you're specifically looking for cable headbands, this will be your go-to. This is a beautiful head band to make for yourself, but it also makes a wonderful gift. The instructions call for Knit Picks Biggo Bulky Weight Yarn, but multiple comments in the comment section said any chunky yarn seems to work!
Chunky Cable Knit Headband
This chunky cable knit headband pattern makes a cozy headband that is stylish, warm and quick to make.
Check out this project
Never underestimate a simple headband knitting pattern! If you are looking for simple headbands, this is definitely the best place to begin.
Simple Striped Headband
This headband pattern is perfect for beginners because it's knit in the round with no seaming necessary.
Check out this project
Sometimes when it comes to free knitting headband patterns we avoid anything that looks too hard. Having a stylish twist doesn't always mean it's too hard though! This headband is perfect for colder temperatures.
Calisson Headband Pattern
This Calisson headband is thick and cozy with a perfect braid down the middle.
Check out this project
I love this one because the creator calls it the "snugglery." This is also a great one because it gives different variations. For example, the first instruction is to cast 14 stitches- she says she uses a long tail cast for her knit stitches, but that it is not required, and gives other options. You can use 9 mm needles that are circular or straight for this project.
Chunky Cable Knit Headband
This chunky cable knit pattern features a six stitch and twisted cable which is great for beginners! Plus it comes with an extra matching pattern for finger-less gloves.
Check out this project
The thermal twist headband is a great one to work on if you love worsted weight yarn- which is just perfect for any winter day. The written instructions in this blog post are fantastic, and she has tutorial videos as well.
Thermal Twist Headband
This thermal twist headband pattern is extra wide and made with broken rib fabric to keep it extra soft and snug.
Check out this project
A simple seed stitch headband that is surprisingly a quick knit! You don't need a high knitting skill level to complete this fun headband. This one is also a clever way to make a gift for anyone, because the stretchiness means you can't make it for a wrong head size if you tried.
Seed Stitch Knit Headband
This seed stitch technique is basically an alternation of knit and purl stitch and it makes the sweetest headband with a bow tie in the front.
Check out this project
This stylish twist will have people asking where they can grab one. The creator tells you exactly what to do from the first stitch to the last stitch with extremely clear instructions.
Colorful Twist Headband
Make multiple headbands for everyone in your life with this colorful twist pattern.
Check out this project
This last one is so much fun because it can be a headband OR a necklace! If you are someone that feels like you have so much yarn everywhere, this will be a great project for you.
Braided Headbands
These braided knit headbands are perfect to make with your leftover yarn.
Check out this project
There they are- our favorite free knitted headband patterns for adults! Which one is your favorite? Let us know in the comments below!
More Knitting Projects to Try
If you're on a knitting roll, consider these other knitting projects to make this year!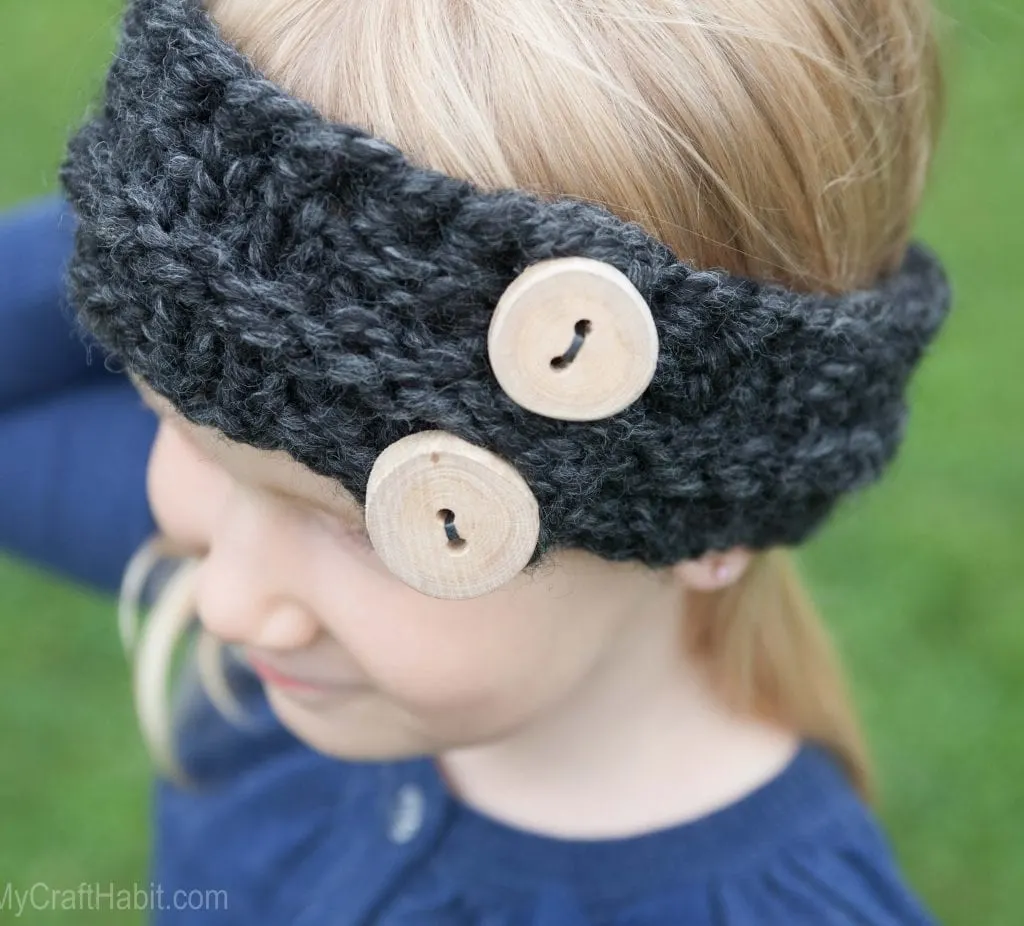 Thanks so much for stopping by to visit. We hope you've found what you were looking for. Let's stay in touch! Subscribe for our latest sewing patterns, tutorials and tips.
Like it? Pin it for later!