Looking for a memory bear sewing pattern? Not only did we find you one, but we found you over ten of the best free teddy bear patterns (some free and some to buy) so you can create a thoughtful gift (or keep it for yourself!)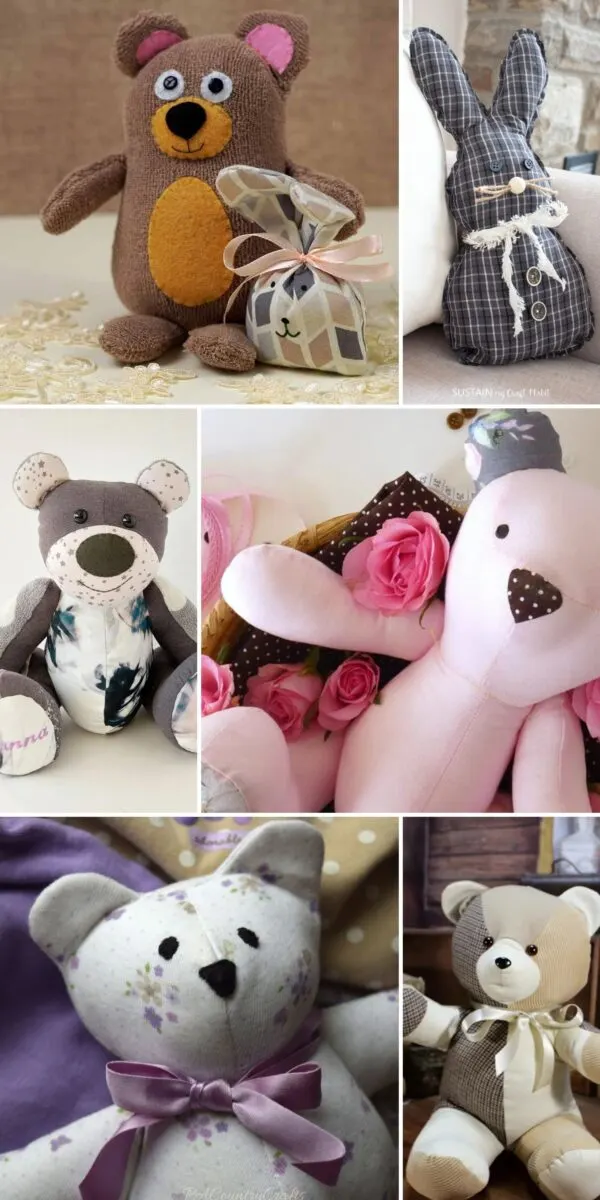 Find easy teddy bear (and other animal) patterns here!
We made a list of great projects with pattern files to go along with it. Some require a sewing machine while others don't. Some resemble a cuddly teddy bear while some are more decorative.
Plus, these love teddy bears can become great upcycling projects! In my opinion, this is one of the best ways to take old clothes and create your own teddy bear. By getting one simple memory bear pattern and some older clothes you don't wear anymore, you can create something brand new.
Other ideas:
You can create fleece teddy bears from old baby clothes either as a keepsake or a thoughtful gift
Gifting a handmade stuffed animal to someone going through hard times after losing a loved one- you could create a memory bear from their clothes
Get updates on the latest posts and more from Sustain My Craft Habit straight to your inbox by joining our weekly newsletter. We promise to send you only the good stuff.
Some FAQ's about using a teddy sewing pattern:
What is the best material?
This answer to this question will vary per project. Some sewing patterns will require a woven (non stretch) fabric such as a button up dress shirt, while others will require a knit (stretchy) fabric such as a baby's bodysuit or t-shirt. Be sure to read the instructions for materials needed.
What basic skills do I need to create a decorative piece like the ones below?
To create the ones below, you just need basic sewing skills. A few of them do not require sewing skills at all! All of the ones we chose have great detailed instructions so the best part is all you need to do is pick your favourite pattern!
Read all the instructions first to see which may seem like hard work to you versus being able to focus on the thoughtfulness part.
Should I just use store-bought teddies?
If you buy a store-bought teddy, you may get a cute teddy bear but lose the point of the great gift- the handmade, thoughtful keepsake part. Nevertheless, if you decide to get a store-bought one, we included our favourite ones at the end.
If you are choosing to buy one though because you want a proper plush toy, think about who your recipient is. If it is more important for them to get the memory, it does not matter how it turn out.
FREE Memory Bear Sewing Patterns (And Other Animals Too!)
Try the patterns below to make for thoughtful gifts after a loss or simply for beautiful Christmas presents (or any presents for any other time of year).
Tutorial for the HowJoyful Bear
This is more of an advanced pattern because you have the option to add a zipper and straps to make your memory bear into a backpack.
Check out this project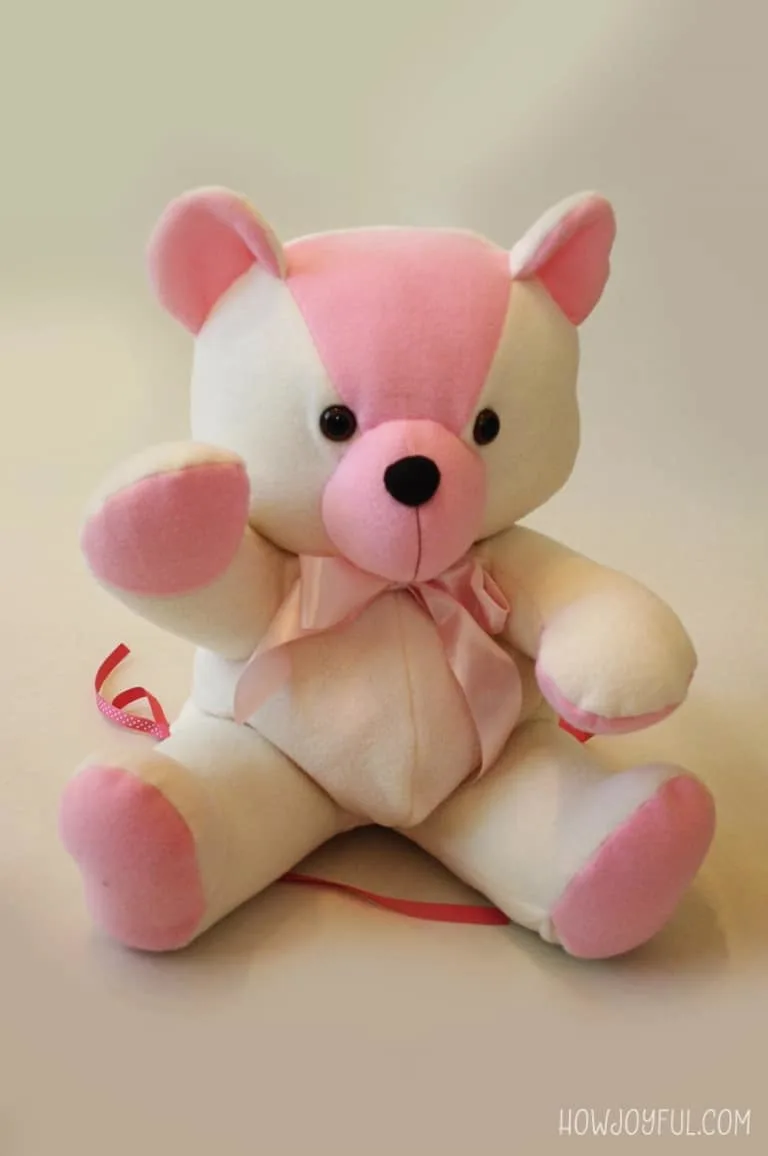 How to Make a Memory Bear
Sherri Osborn at Hidden Treasures Crafts shows you how to make a memory bear with 5 articles of clothing.
Check out this project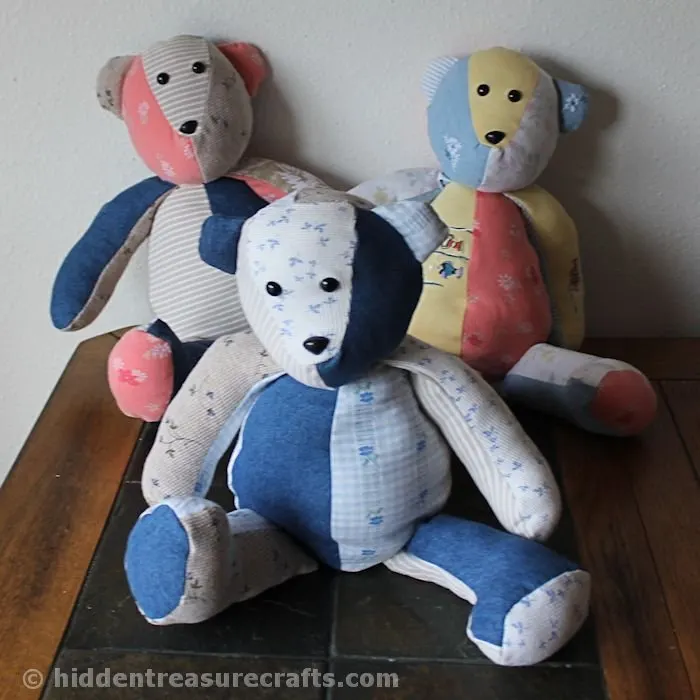 Memory Bear Tips
Follow these 6 tips for making a memory bear before grabbing a variety of patterns.
Check out this project
Baby Clothes Memory Bear Pattern
This adorable and stuffed memory bear can be made from baby clothing, especially from extra special outfits like a baby's going home from the hospital outfit.
Check out this project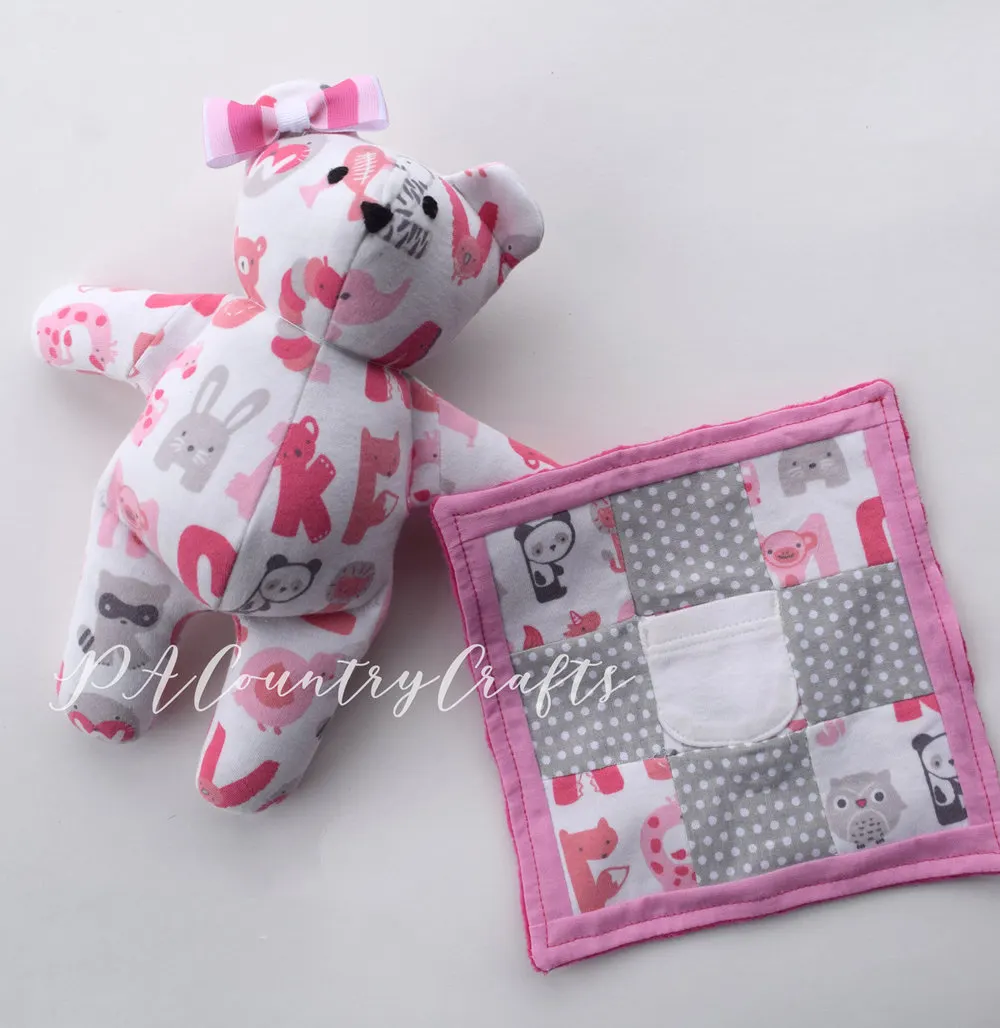 Memory Teddy Bear Pillow
Turn your memory teddy bear into a pillow by following this easy tutorial with templates.
Check out this project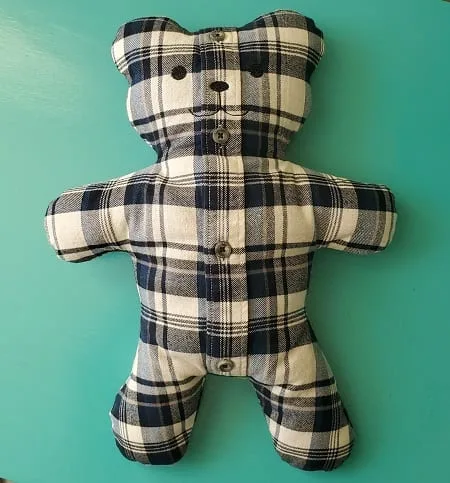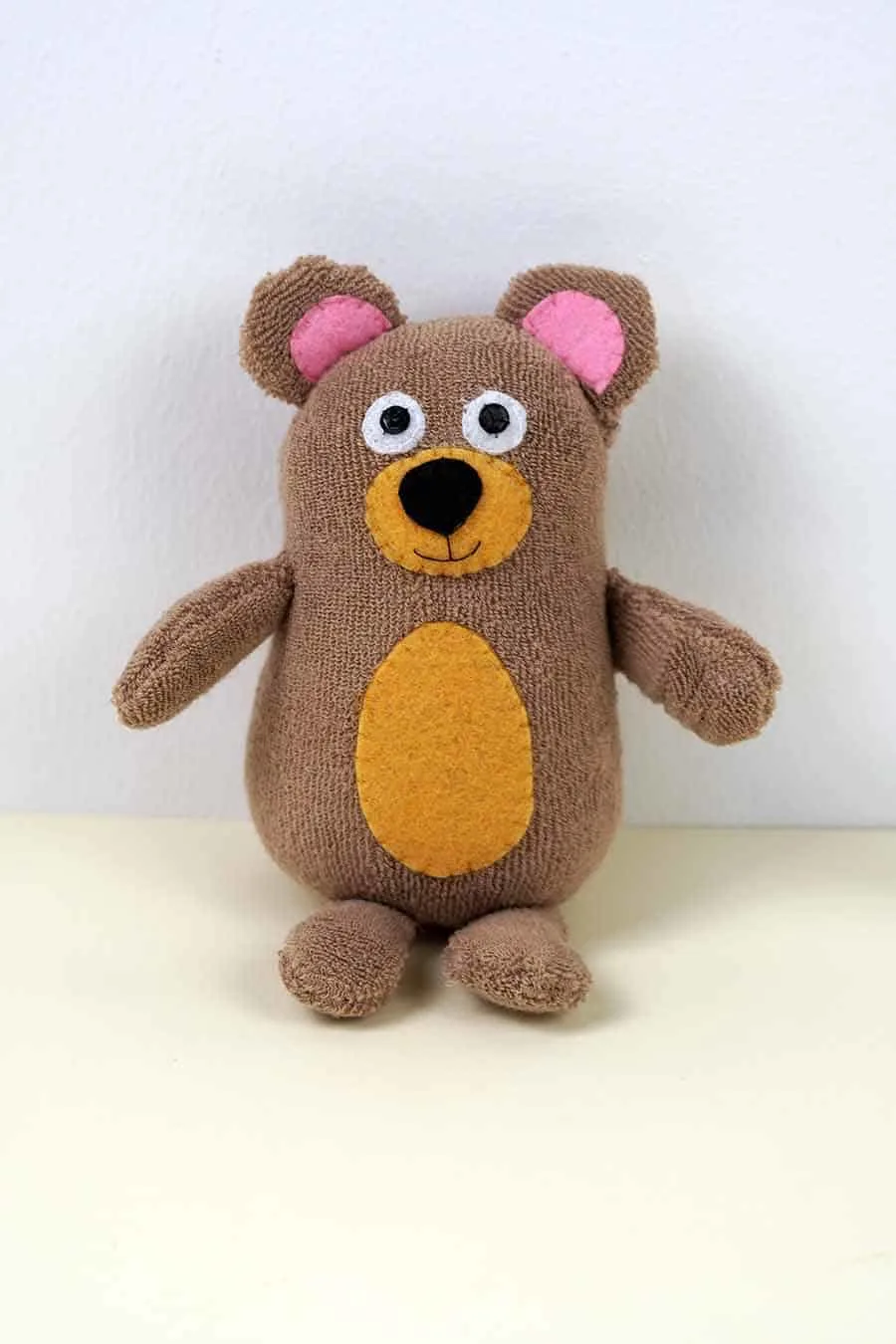 Bonus Non-Teddy Bear Free Stuffed Animal Sewing Pattern
Memory Bunny
While technically a bunny and not a bear, who can resist this adorable keepsake that will last for generations?
Check out this project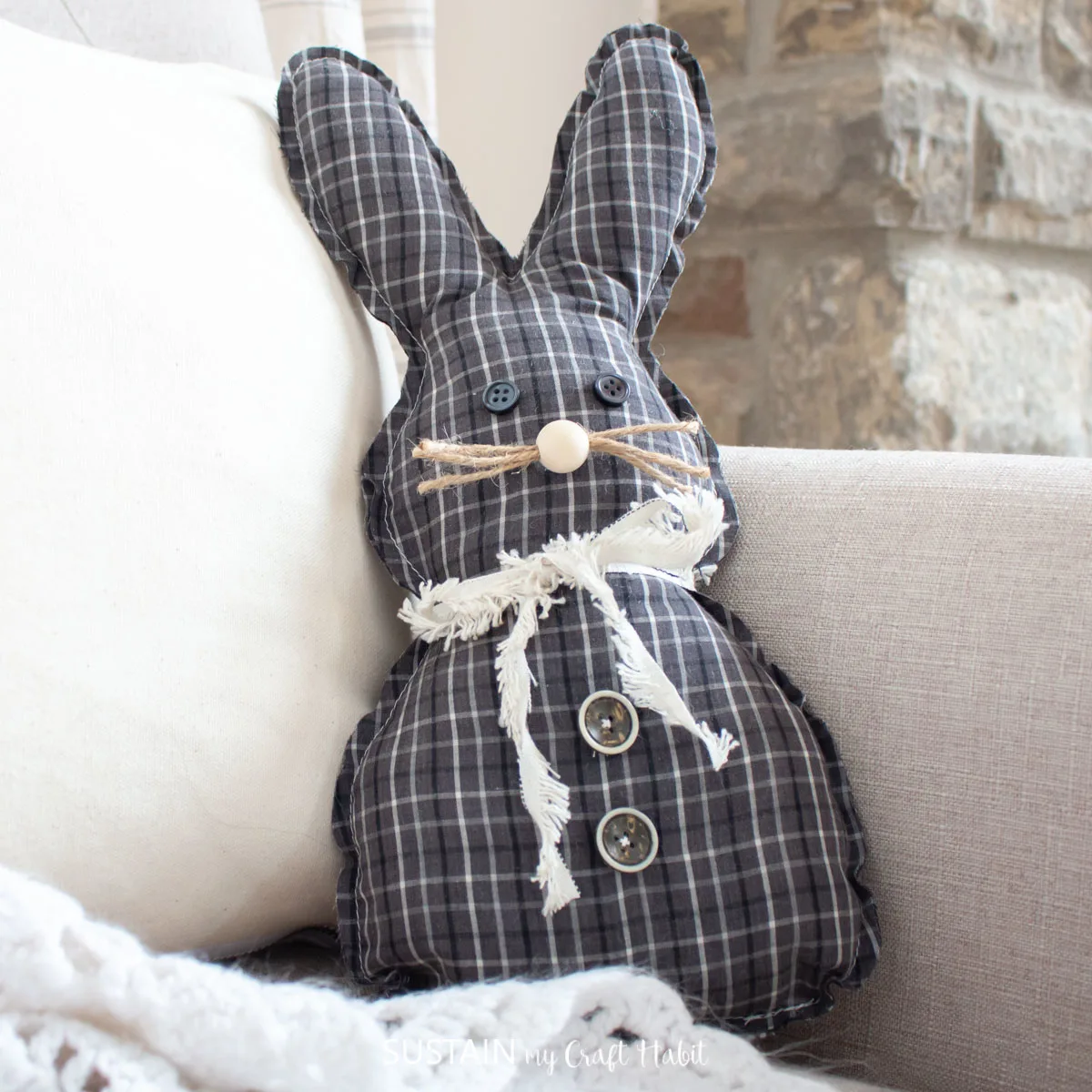 Memory Bear Sewing Patterns you Can Buy
Disclosure: This post contains affiliate links for your shopping convenience. Should you choose to purchase through them, we will make a small commission at no extra cost to you. You can read our full disclosure here.
Memory Bear PDF Sewing Pattern
This pattern offers plans for oversized paws so you can personalize your memory bear with special dates or names.
Check out this project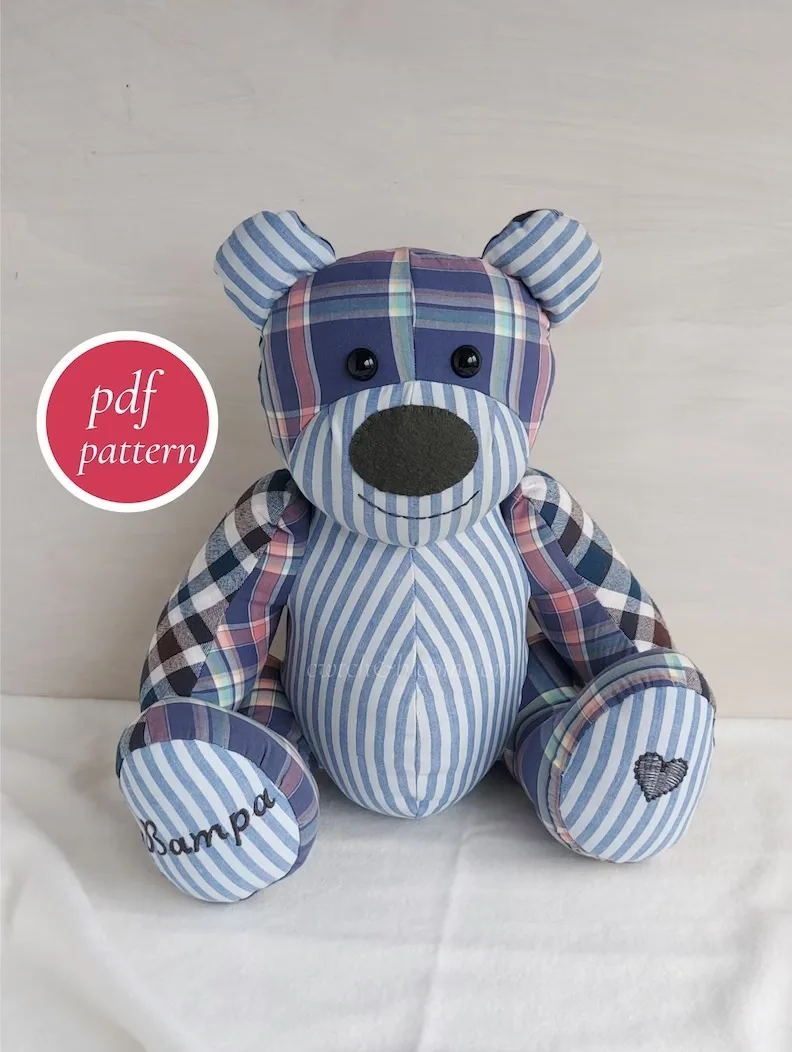 18″ Memory Bear Pattern
If you're looking for a large bear pattern, this ones for you! This memory bear is 18" from head to foot.
Check out this project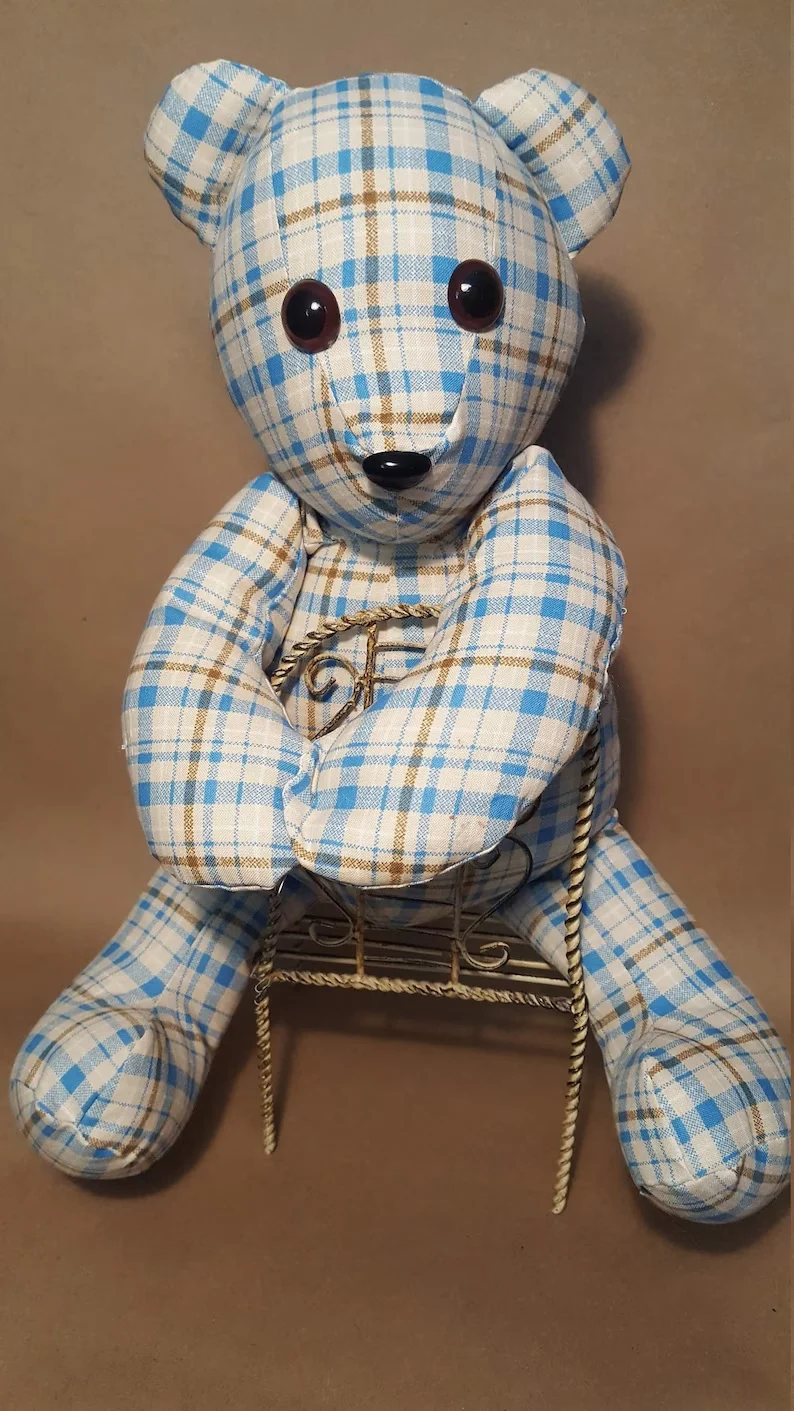 Simple Sewing Pattern
This memory bear pattern is simplified and takes about an hour to put together.
Check out this project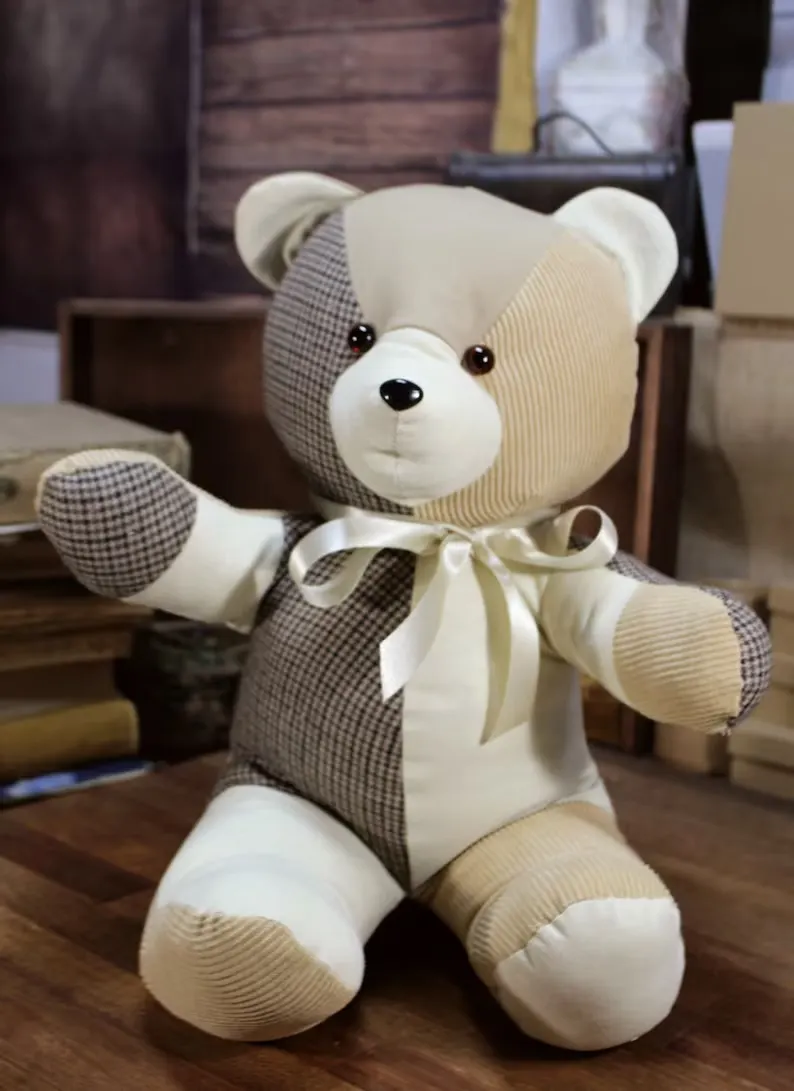 Plushie Bear Sewing Pattern and Tutorial
This memory bear tutorial also comes with an option for sewing clothes for your bears.
Check out this project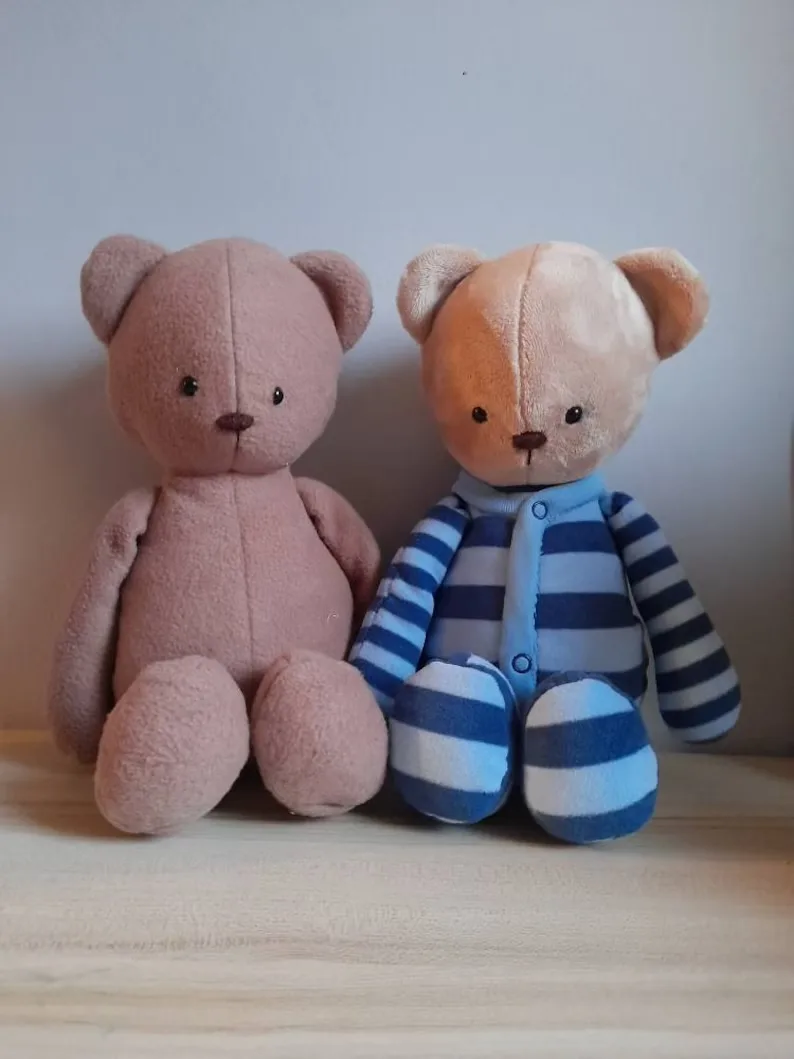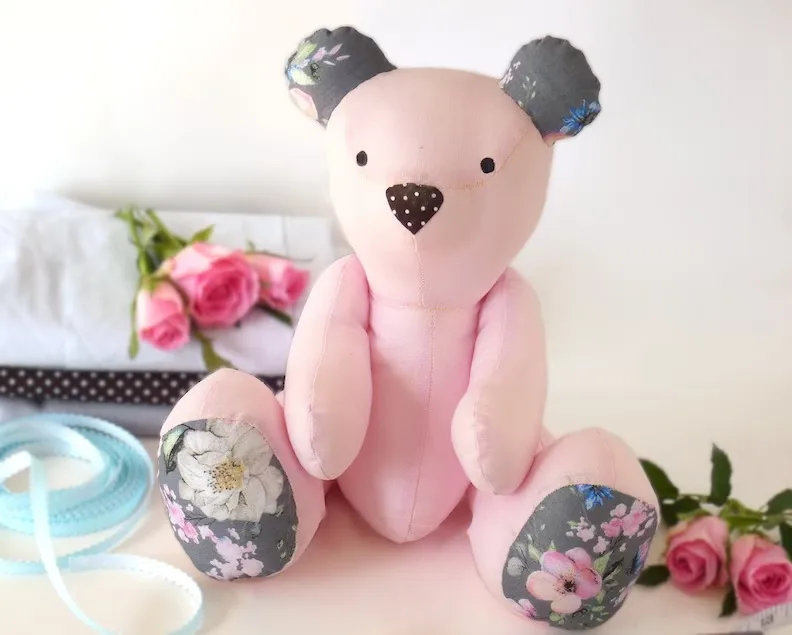 More Free Sewing Patterns
Did you enjoy creating a DIY teddy bear? Check out more free sewing patterns in our sewing gallery. They include something for everyone in your family, including these great projects:
Good luck making your own homemade teddy bear! I know within just a little bit of time and love the end product will become your favorite teddy bear.
Join our crafting community to find more nature-inspired DIYs and upcycled craft ideas. It feels good to repurpose, upcycle and create with nature!
Like it? Pin it for later!