A cute and simple driftwood craft to hang anywhere in your house or even outside! If you live by the water, this is a great activity after going and collecting some pieces of driftwood and seaglass.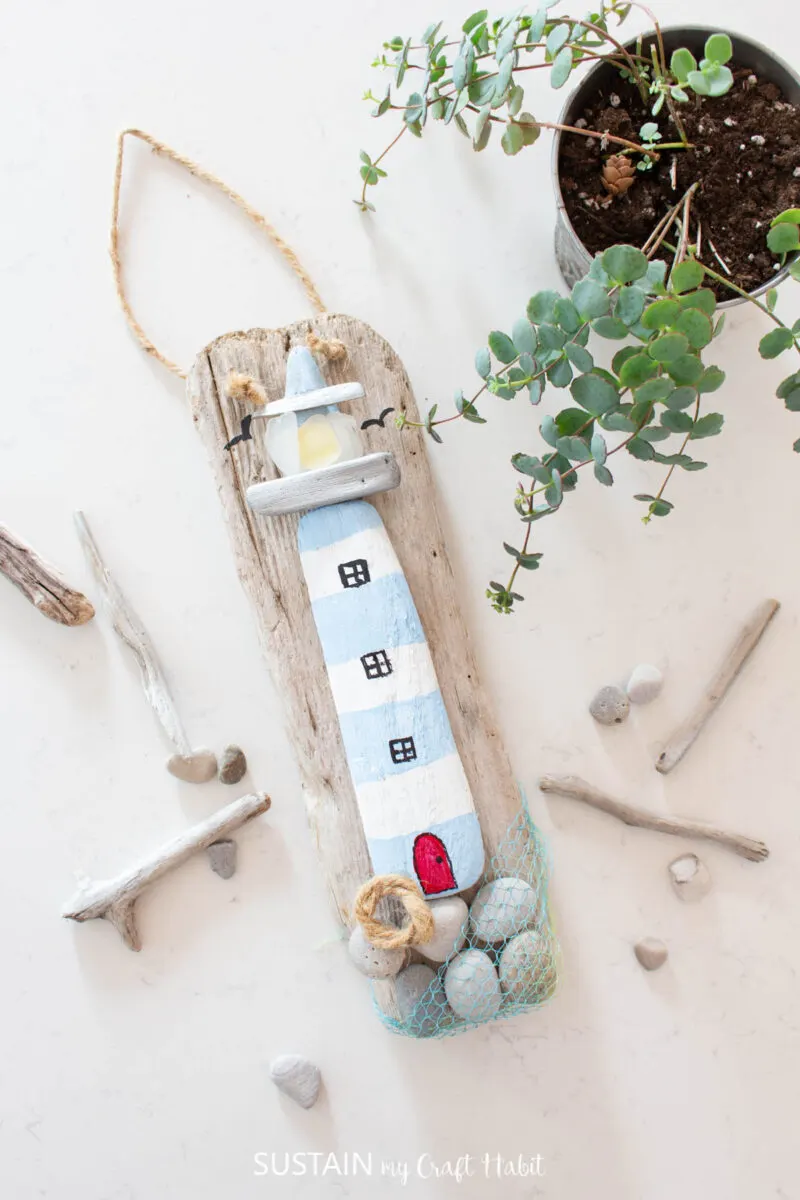 A Driftwood Craft For Any Time of Year!
My daughters were doing crafts the other day with some stones and some driftwood. I had laid out a bunch for them and their friends. One of my daughter's friends painted a lighthouse, and it was really cute! That is what gave me the idea to do a nice lighthouse on some driftwood and add some touches to it.
This craft is a simple but beautiful craft because it is the small touches that add to it. Each part, by itself, is nothing special, but when you add them all together it comes out to be a craft that is sweet and fun! My favorite part about it is that it can truly be hung anywhere. If you have a nautical theme going in your house, this would be the perfect addition. If you don't though it is great too! The simplicity of it means you can put it anywhere in your house.
I also think this would be great to hang out outdoors. Maybe on a front porch or near a front door would be a good place to catch the attention of people coming in and out of your house. We love having nautical decorations, as we have many in our Etsy shop to buy to do crafts, so this is definitely a fun one.
Join our crafting community to find more nature-inspired DIYs and upcycled craft ideas. It feels good to repurpose, upcycle and create with nature!
Materials Needed
Disclosure: This post contains affiliate links for your shopping convenience. Should you choose to purchase through them, we will make a small commission at no extra cost to you. You can read our full disclosure here.
How to Make a Coastal Lighthouse Driftwood Craft
I shared the tutorial for making this coastal lighthouse craft on a recent Facebook Live which you can catch here. All of the step by step instructions can be found in the video.
More DIY Coastal Decor
We have plenty of coastal-themed craft ideas here on the blog so be sure to check out these fun and creative nature crafts to make at home.
How much fun did you have making this craft? As much as we love crafting, we love seeing other people's creations as well! The best way for us to see what you made today is by tagging us on Facebook or Instagram after following us. We can't wait to see it!
Get updates on the latest posts and more from Sustain My Craft Habit straight to your inbox by joining our weekly newsletter. We promise to send you only the good stuff.
Like it? Pin it for later!