The weather is finally starting to warm up in our neck of the world. The gardening bug is starting to tickle. What a better way to refresh our front porches than with a pretty new planter pot! Here are some fun and budget-friendly front porch planter ideas we found on Amazon! From ceramic, resin, wood and even a wagon, let us know which is your favorite in the comments below.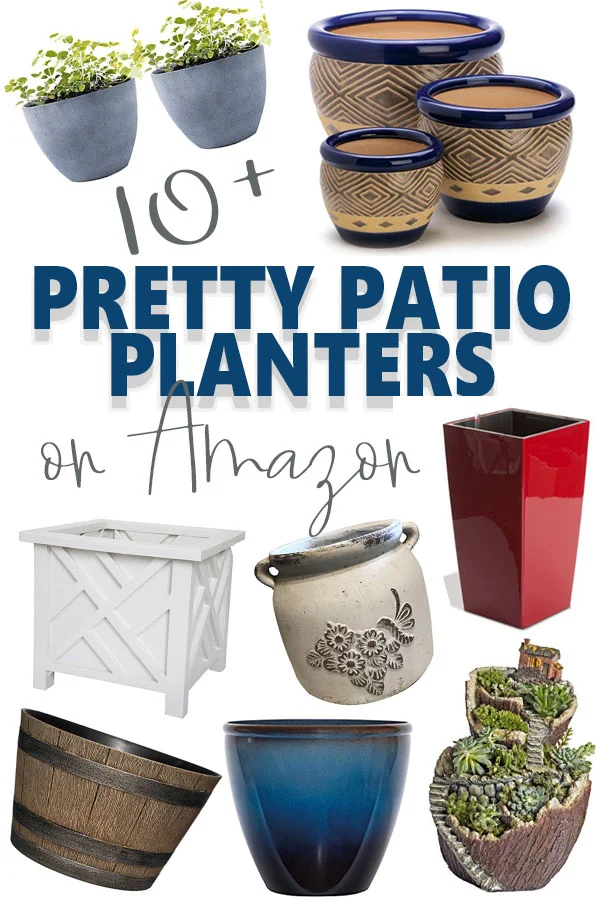 We are so happy to be able to got out and enjoy our gardens a bit. We spend a lot of time in the summer at the cottage so neither Sonja or I keep large gardens at home. However, there's nothing like some pretty, colourful flowers by the front door to greet you when you come home from work each day.
DIY Front Porch Planter Ideas
Several years ago, we bought some inexpensive faux terra cotta pots, painted and stenciled them. My DIY painted planter held up great for several years, even outdoors over the winters.
Last summer I did give them a makeover (repainted a darker blue) and applied elegant personalized decals using my Cricut Maker machine.
Earlier this year we also made a wooden planter box with cedar planks. You can get the plans to make your own. Mine has stayed at the cottage and I'm looking forward to filling it with some geraniums for the summer.
If you are looking to create a more rustic and natural flower planter, explore what our friend Jessica created for her wildflower garden.
And how about thinking outside the box for this front porch planter idea: upcycle a wicker laundry basket as we did for this beautiful fall planter last season!
Budget-Friendly Front Porch Planters on Amazon
If you don't have time to DIY planters for your porch this year, here are some fun and affordable ideas we found on Amazon. Sign up for a 30-day free trial of Amazon Prime and you can have your planters the next day!
White Coastal Inspired Planter
The modern lines and shape of this white planter box would be perfect for any porch.
 Plant Holder – Planter Container Box for Garden, Patio, and Lawn – Outdoor Decor by Pure Garden – White
Rustic Whiskey Barrel Planter
What a great way to add a farmhouse touch to the porch.
GARDENGOODZ HD1-1027 DisOak Whiskey Barrel, 20.5
Fairy Garden Succulent Planter
This creative alternative would just be mesmerizing and magical to watch.
NCYP Flower Planter Pot Miniature Tree House Stump Cottage Broken Bucket, Large, Multicolor
Classic Faux Cement Planters
The simple shape and colour of these planters made them perfect for showcasing any flowers you love. Plus you get a beautiful cement look without the weight of cement.
Blue Ceramic Pots
These global-inspired front porch planters would have me imaging adventures in far-off lands. And the three different sizes provide for numerous re-arranging opportunities.
Gifts & Decor Cobalt Planter Ceramic Garden Plant Flower Pot Set, 3-Piece
Amish Wagon Planter
How cute is this wagon? It comes in three different color options. Wouldn't it be so fun to dress up each season?
Amish Wagon Decorative Indoor/Outdoor Garden Backyard Planter
Deep Blue Resin Planter
Resin planters are great because they're lightweight and can be moved around as needed. I just love the deep blues of this one.
Suncast 1606NP36 Resin Planter, Blue/Brown
Traditional Black Planter
I have a patio planter very similar to this one without the lovely curved shape. I like that it looks great for any season – just change out the arrangement.
FCMP Outdoor HP-Bk Heritage (2 Pack) Planter, Black
Classic Urn Planters
You can't go wrong with a classic urn shape. These plastic urn planters come in several different faux finishes including stone, brushed copper, brushed silver and black.
Arcadia Garden Products PL10WW Classic Traditional Plastic Urn Planter, 15″ x 13″, Whitewash
Colorful Modern Planter
The clean lines and shiny finish of this colorful planter would look great on most front porches.
Algreen 11504 Modena Square, 22
Additional Patio Decorating Ideas
We hope you enjoyed these front porch planter ideas for your home decor. If you're looking for budget-friendly ways to beautify your porch or patio, check out:
Let us know in the comments below which is your favourite?
Have you put out any flower pots yet?