We are welcoming the Fall season by decking our mom's front porch with plenty of seasonal goodies, DIYs and crafts. Join us as we take a blank slate and turn it into an inviting and cozy space with these fall porch decor ideas all on a budget.
Creative Fall Porch Decor Ideas
In years past, we shared how we put together this fabulous front Fall porch in under 10 minutes using a seasonal decor from a local nursery. But this year we wanted to surprise our parents with a decorated front porch for Fall. To keep costs down, we used several DIY projects, crafts and a few seasonal purchases from a shop nearby.
How To Decorate Your Front Porch for Fall
Step 1. Start with the basics.
Items such as a chair and perhaps a side table; a welcome mat create the foundation to begin layering the fun decor items. One of the few pieces we bought for this porch was this black and white buffalo plaid check oudoor rug we picked up off of Amazon.
Step 2. Add fresh plants.
Nothing says Fall more than fresh flowers and plants especially chrysanthemums. But since we're on a budget, we decided to get creative by using end of season clerance herbs and planter fillers to arrange this non-traditional Fall planter.
Of course we couldn't resist getting one or two colorful potted mums for the porch!
Step 3. Layer in the decorations.
Next, try to include as many Fall-themed DIYs and crafts as possible to keep costs down low. Things like this scrap wood welcome sign, a DIY pinecone wreath or metallic painted faux leaf wreath, and painted mason jars. If needed, pick up some fresh pumpkins and squashes, dried wheat and other natural and seasonal decorations.
Step 4. Finishing touches.
And lastly, give the Fall porch a cozy feel by adding in throw pillows and blankets to enjoy your fully decorated front porch.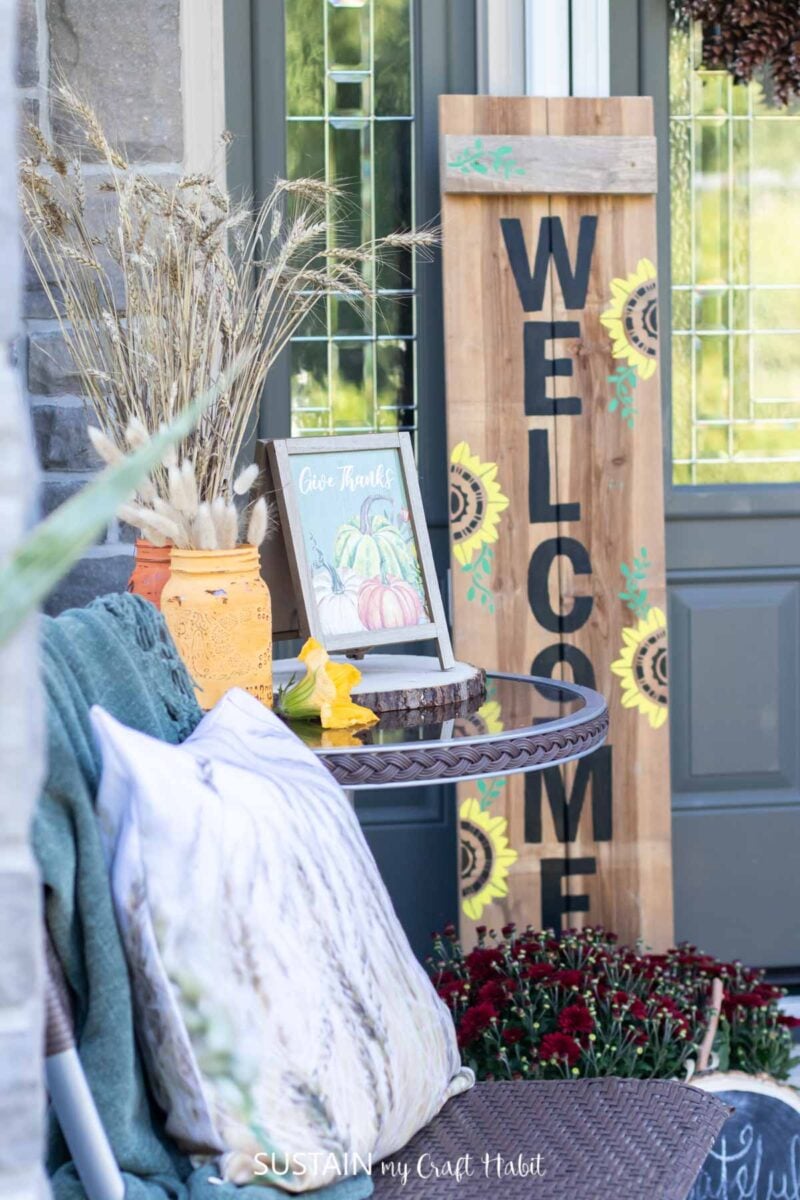 We'll be sharing the video of how this porch as came togetther on our YouTube channel soon. In the meantime, we'd love to hear from you. Have you started decorating your front porch for Fall?
Like it? Pin it for later!