We're in the midst of our long, cold, dark winter in Canada. From candles to lamps, we're always looking for ways to add extra light to our environment. So we were really excited to try out Starbright Solar LED String Lights by Brightology as another way to brighten up our homes.
Disclosure: This post is sponsored by Brightology. All opinions are our own.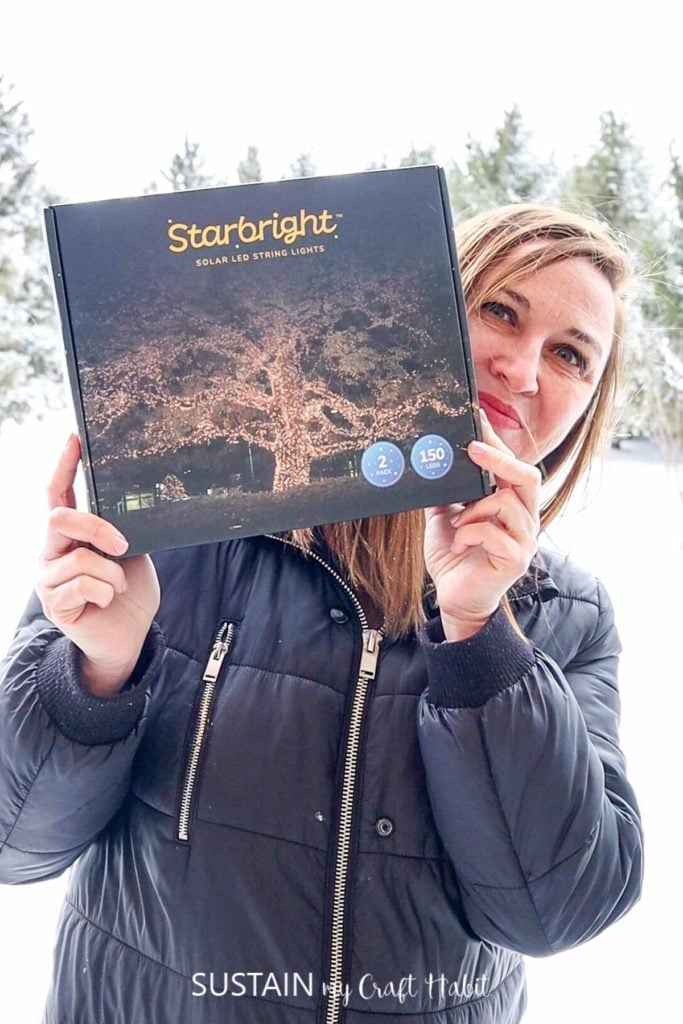 Brightening up those Dark Days of Winter
I have to admit that I am not really one for the winter outdoors. In January and February I'm barely waiting for those warmer, brighter days of spring to start to emerge. It's a shame though because our northern winters with snow really are quite beautiful.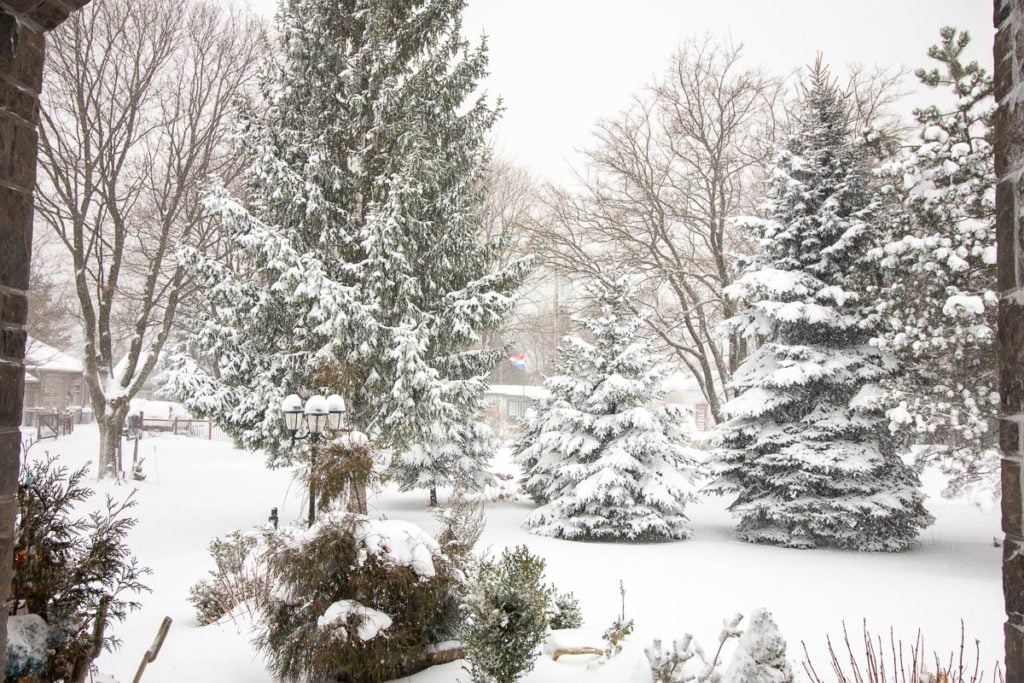 I've always wanted to add string lights to my backyard so that I can enjoy looking out my window as I wash the dishes in the evenings. However dragging extension cords and using up the only electrical outlet that we have in the back have prevented me from doing it.
Starbright Solar LED String Lights to the Rescue!
So you can imagine how excited I was to try out Starbright Solar LED String Lights by Brightology. Setting up the string lights was as easy as could be. Each box came with two strings of 150 LED lights, 2 solar panels, two stakes (to be able to position the solar panels wherever you'd like), and a simple set of instructions. That's it! That's all you need to get started!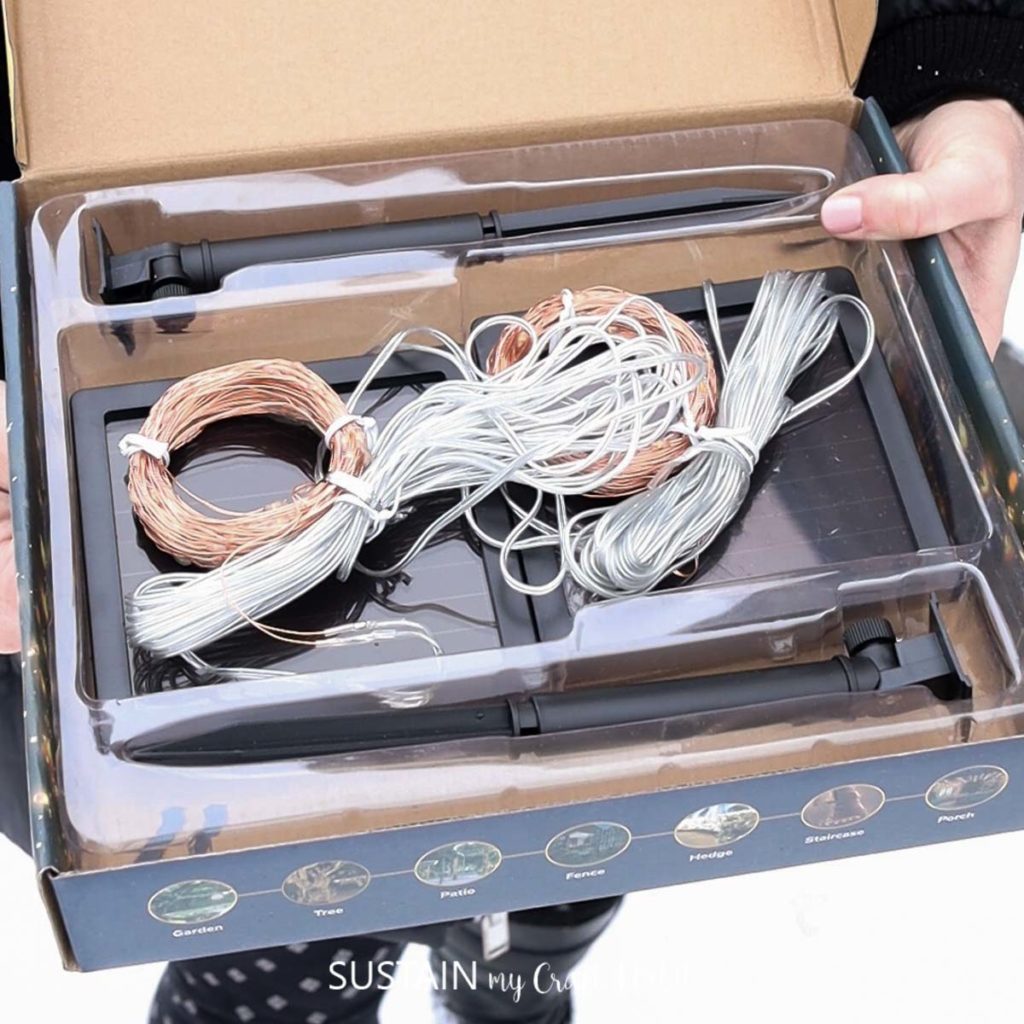 I must admit I was a little bit skeptical. We get very little sunlight throughout the winter days and I didn't think there would be enough to really power the string lights. Plus the bulbs on the copper strings looked so small I couldn't imagine that they would actually produce very much light at all!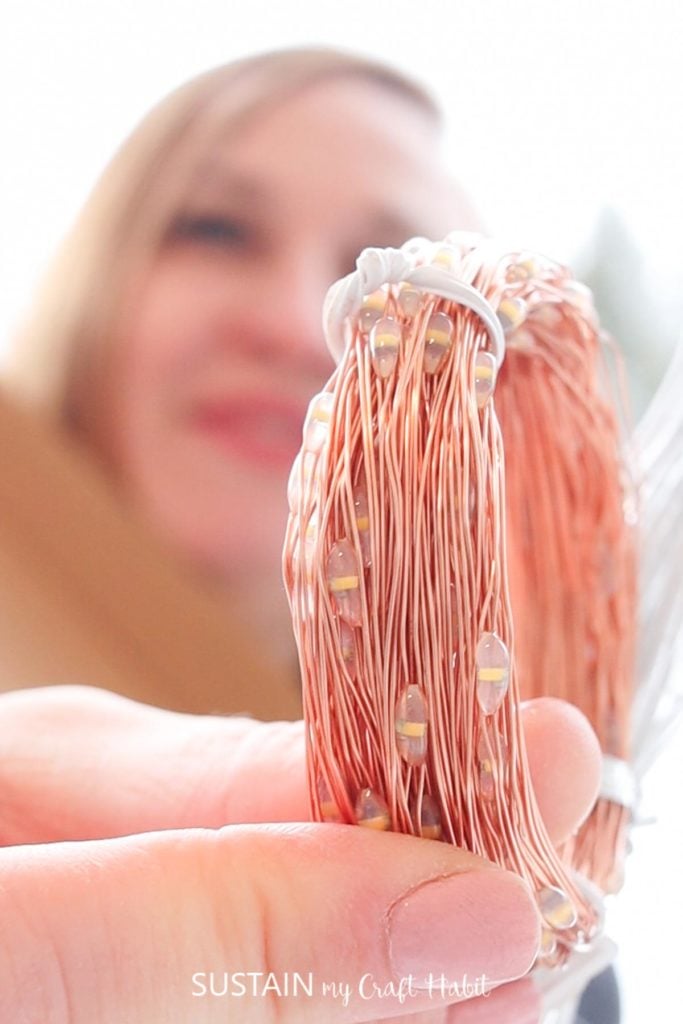 So I set to work and quickly set the string lights up around a tree in my yard. I used both sets of string lights that came in one box to cover the trunk of the tree. Then I placed the solar panels in the brightest area I could find and let them charge for 6 hours.
I held my breath as I went out into the dark and pushed the button to turn on the lights. What a beautiful surprise: my new string lights shone bright and beautiful in the middle of the night!
Not just that, I discovered that the string light has several different modes, from static, low-light, twinking, flashing and more!
I had arranged a third set of lights around the post with our house number. It's always so dark and difficult to see at night. Now there's enough light in case anyone needs to find us!
Starbright Solar LED String Lights for Outdoor Lighting Needs
While I was really excited to use the Starbright Solar LED String Lights by Brightology for my winter landscaping, I'm even more looking forward to having them out to enjoy through the summer. We're in our backyard quite a bit and now we'll be able to enjoy our outdoor space even more. Even better, I have to worry about my extension cord getting run over by the lawn mower, or using the one electrical outlet that we have in the back.
Starbright Solar LED String Lights are also water-resistant so you don't have to worry about them being damaged by the snow or rain. They're the perfect way to add a magical and romantic touch to your trees, fountains, porches and more. They really are so simple to use. With their Dusk-to-Dawn light technology (turns them on automatically), you can just set them and forget them.
And the best part is that they're solar powered: they're not only eco-friendly but will save you money on your power bill. It seems almost luxurious to have the lights going all night long. I felt like I was wearing out the battery or running up my electricity bill – neither of which were the case!
So if you're looking for a simple way to upgrade the beauty of your yard and add some ultra bright and stunning light to those dark nights be sure to check out Starbright Solar LED String Lights for all your landscaping needs.
If you want to transform your outdoor living space, get Brightology today!
Like it? Pin it for later!