Looking for some budget-friendly yet beautiful decor ideas for a spring party? We recently celebrated my daughter's First Communion. With the white dress, reception with friends and family, decorations and cake, it felt like a little wedding preview. Here are a few first communion party ideas we came up with to make the celebration extra special without breaking the bank. We chose a yellow theme and many of these would also be nice for a baby or wedding shower, baptism, birthday party, Easter or other spring event.
DIY First Communion Party Ideas and Decorations
Budding Branches Centerpieces
To embellish the desserts table, we looked for some natural spring branches. At this time of year, forsythia bushes are near blooming. We cut several of these branches a week in advance and kept them in water indoors to force them to bloom their delicate yellow flowers. About two thirds of the branches bloomed in time and we added them with water into large glass vases.
Seasonal Potted Plant Centerpieces
At this time of year there are great options for 4-6 inch potted plants such as tulips, sweetheart roses, daisies, even berry plants! We found beautiful, yellow begonias in full bloom. We placed them into green baskets which we had purchased on sale after Easter. The best part is that guests can plant them in their gardens and have a reminder of the special day every time they see them!
Alternatively, you can wrap the pot of the planter in cloth such as burlap for a slightly different look.
Glittering Butterfly Accents
We cut out small butterflies from white card stock paper. Then we sprinkled fine glitter on them after painting both sides with a half/half mixture of Elmer's glue and water. We nestled some of the dried butterflies onto the forsythia branches and glued others onto the handles of the green baskets.
Butterfly Themed Sugar Cookies
We baked a batch of butterfly-shaped sugar cookies and decorated them with a simple yellow icing. These went so fast we didn't even have a chance to take a picture! We had to bake a second batch to photographs afterwards!
DIY Large Cupcake Cake
With quite a few kids as guests we mad a large batch of cupcakes, rather than a cake, for dessert. We used two boxes of our favorite vanilla cake mix to make the cupcakes, frosted them with a Silky Vanilla Butter Frosting, a flour-based light and creamy frosting from The All New Good Housekeeping Cook Book (my absolute go-to cook book), and topped each with a cross-shaped cutout from purchased fondant. An edible silver bead finished each cupcake.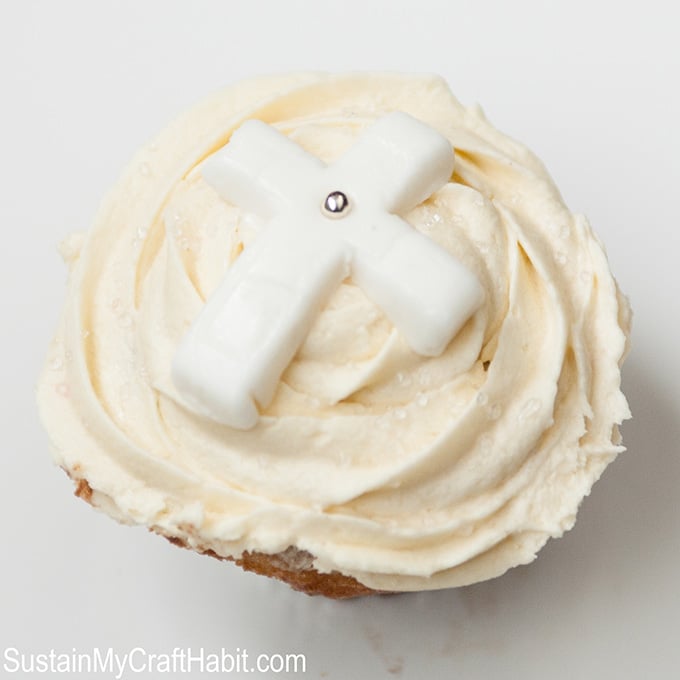 Clay Angel Magnet Gifts
Using a recipe for baking soda clay we made white angel cutouts using cookie cutters and inscribed the word "love" onto them (you could use any cut-out shape). After baking and cooling, we painted them white and outlined the inscription in black. We glued a strong magnet to the back of each angel so that they could be used as fridge magnets.
Card Stock DIY Mini Gift Boxes
We made DIY miniature gift boxes using white cardstock. The angels were placed inside the boxes and a small picture of the special girl was attached with a yellow ribbon.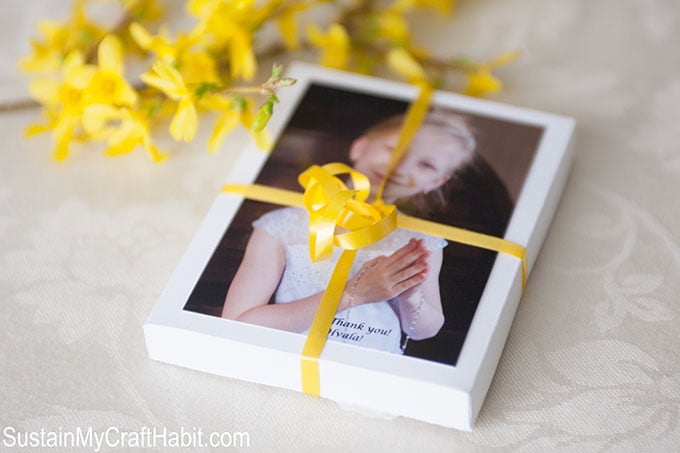 Additional First Community Party Ideas
Soon I'll be starting to plan my next daughter's first communion party! We have a few ideas in mind already including making a slightly different version of these wood slice DIY key chains as first communion favors. Here are some additional items I'm looking to pick up if I don't have a chance to DIY (Note: these are affiliate links – we earn a small commission should you choose to buy items through these links).
Do you have any special spring parties or get-togethers planned?