We never knew how many dollar tree pumpkin wreath frame ideas there were out there BUT this dollar tree pumpkin frame takes the cake! (Or should we say pumpkin pie?)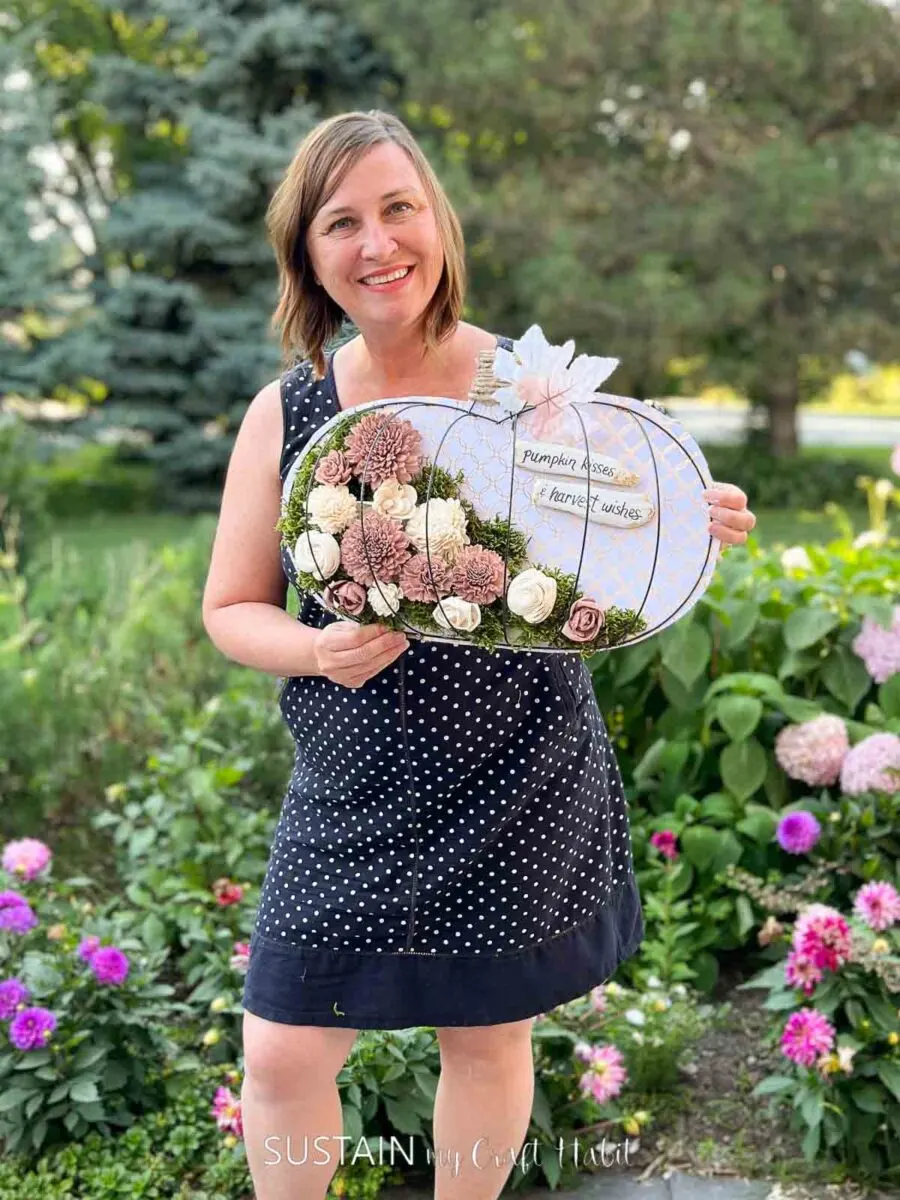 Our favorite Dollar Tree pumpkin frame idea!
Halloween decorations can be fun. Some are silly, some are scary, but most of them are a lot of fun in that October month. However, there are a few issues. First, what about the month of November? Pumpkins are a notoriously fall theme, but it's no fun to have to put away a bunch of decorations after October solely for the month of November. It's so much better when we can find pumpkin decorations that can be out and about for the majority of the autumn months.
This is why we love this Dollar Tree pumpkin frame idea. Not only can it be used for all of fall, but it also carries these beautiful neutral tones instead of the bright orange we are used to in October. This craft will have everyone asking where you bought it from. Wait until their jaws drop when you say it was created from mostly items from the Dollar Tree!
Want to receive a ton of inspiration and money saving ideas for decorating, gift-giving and crafting? Join HERE!
Materials Needed
Disclosure: This post contains affiliate links for your shopping convenience. Should you choose to purchase through them, we will make a small commission at no extra cost to you. You can read our full disclosure here.
How to Make a Dollar Tree Pumpkin Wreath Craft
I shared the tutorial for making this pumpkin wreath on a recent Facebook Live which you can catch here. All of the step by step instructions can be found in the video. If you have any questions at all, please send us a message!
I added a cute little saying on to a couple of flat pieces of driftwood with a black sharpie. It gives it a little something extra and unexpected but this frame can be made without or you can use large craft sticks for a similar look.
More Wreaths to Make for Fall
We more DIY wreath ideas for the Fall then we have doors to hang them on! Check out these beautiful crafts to make and display during the Autumn months.
What do you think about this Dollar Tree pumpkin wreath craft idea? We would love to know your input. Let us know below what you love about it and how it works for your house. If you try creating it, tag us on Facebook or Instagram– we can't wait to see it!
Get updates on the latest posts and more from Sustain My Craft Habit straight to your inbox by joining our weekly newsletter. We promise to send you only the good stuff.
Like it? Pin it for later!