One of the best things about Summer is the time we get to spend together as a family. Ever since our parents moved to our long time family cottage, our kids have been fortunate to spend their summer's together with their grandparents ("baka" and "djeda"). Their summer's are filled with swimming in the lake, playing in the sand, star gazing, s'more making and loads of love and admiration. These unique experiences are a part of their childhood and the memories will last a lifetime. To commemorate this summer, we took some time to make DIY stepping stones with the kids.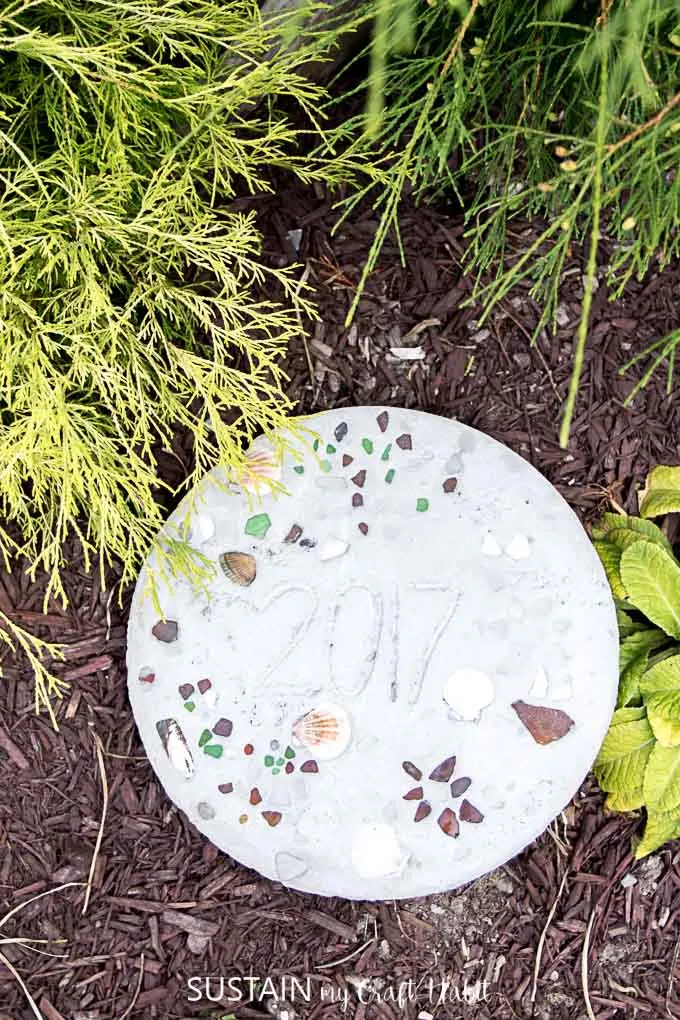 With all the beach-combing that happens in the summer, the kids each collect their share of sea glass, rocks, shells and driftwood. As a way of cherishing these special times, we've started a family tradition of making decorative diy stepping stones that the kids embellish with their found objects.
Over the years, we've created many DIYs using similar found objects, such as this Heart Rocks and Seaglass Mobile, this contemporary Rock Wall Art and this Pressed Petals and Rock Vase Wall Art.
Once the ground rules were established, the kids excitedly went ahead and decorated their little space on the stone.
Ground Rules for decorating stepping stones with kids :
1. Use your own found objects unless you have permission to use someone else's and remember "sharing is caring".
2. Keep within your own designated section of the stepping stone.
3. Press found objects gently into the concrete to secure in place. Avoid over pressing the found object.
4. Have fun and get creative!
Supplies to make your own decorative DIY stepping stones:
Note: We used Tile Mortar to supplement the Portland Cement since we had it left over from a previous DIY project and don't want it to go to waste. You can simply use just Portland Cement although your stepping stone will end up a bit darker than ours did.
Round Plastic Tray or Silicone Tray (or an old metal frying pan like the one we used)
Equal ratio of Portland Cement/Tile Mortar (optional), Sand, Water (or alternatively, you can use a pre-made stepping stone kit)
Pail, Measuring Cups, Large stir sticks or cement mixer
Vegetable oil (any oil to keep cement from sticking)
Found objects such as sea glass (which you can also buy here), sea shells, tiles, rocks (or anything else you want to embellish the stepping stone with)
Instructions for making your own decorative diy stepping stones:
Thoroughly grease the bottom and sides of the mold (tray or pan, whatever you decide to use) with oil. We used leftover cooking oil for this stepping stone.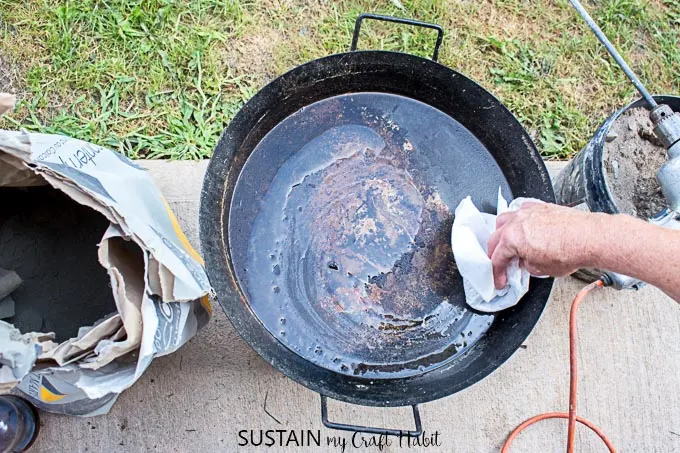 In a large pail, pour equal parts of the cement mix/tile mortar, sand and water and blend together until you get a uniform consistency.
Pour the blended cement into the greased tray. Gently shake the tray to release any bubbles and to help level the cement.
Put aside on a level surface in a dry location for about 2-3 hours.
Once partially set, write out the year (if you wish) with a stick.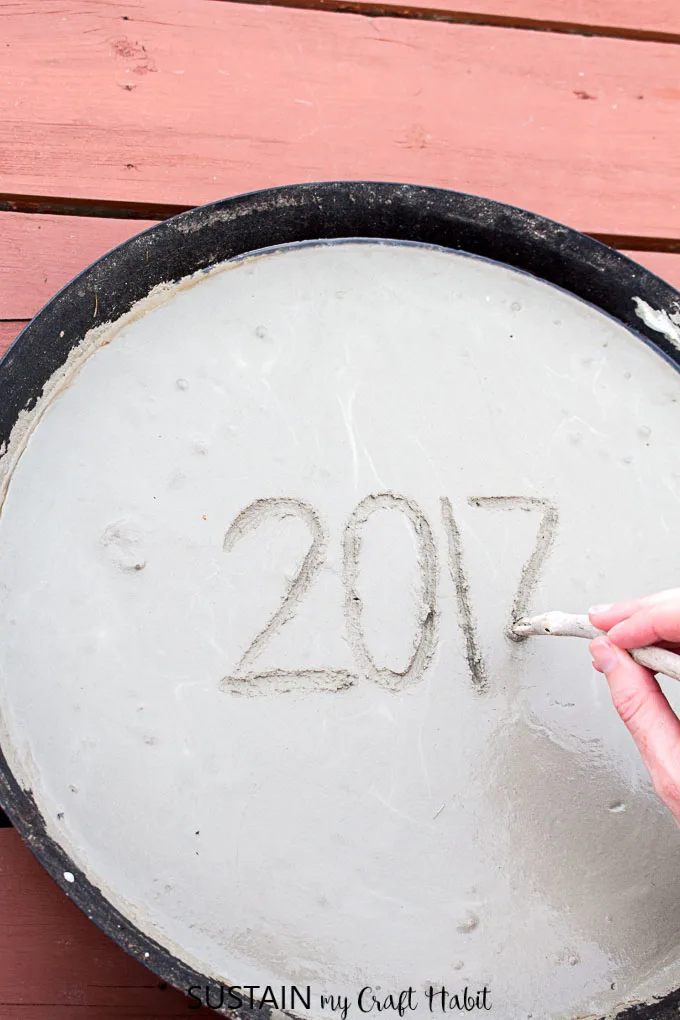 Embellish the surface of the stone with found objects and knick-knacks. The kids each had a section of their own to decorate.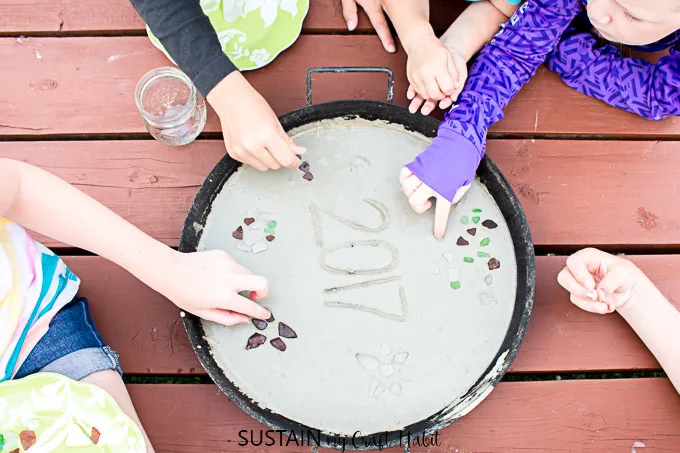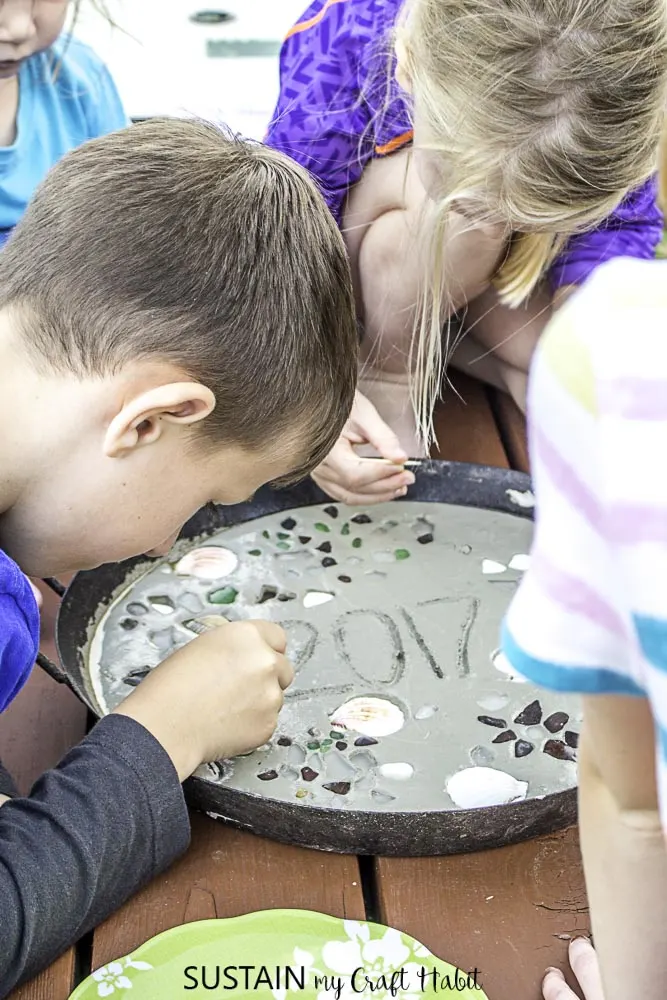 Put aside again on a level surface in a dry location for at least 24-48 hours.
To remove the stepping stone from the tray, protect the surface with something soft and carefully flip tray over. Give it a few gentle taps on the underside to help release it from the tray. Once released turn it right side up and it's ready for display! However, concrete takes several days to fully dry and cure, so be gentle with it!
We hope that this stepping stone, along with the future stones, will adorn our parent's flower gardens for years to come and will be sweet reminders of the special summers spent together. And if you're looking for another project to do with the kids, check out this fun Shark Painted Rock idea.
Like it? Pin it for later!
What traditions have you started with your family?