Bring ocean vibes into your home by crafting with seashells. This beautiful heart sign is a fun DIY project perfect for a coastal theme.
We'll show you how to make your own heart sign with a canvas, napkins and shells! This would be perfect for Valentine's Day, or to use all year long as a way to display collected or store-bought seashells.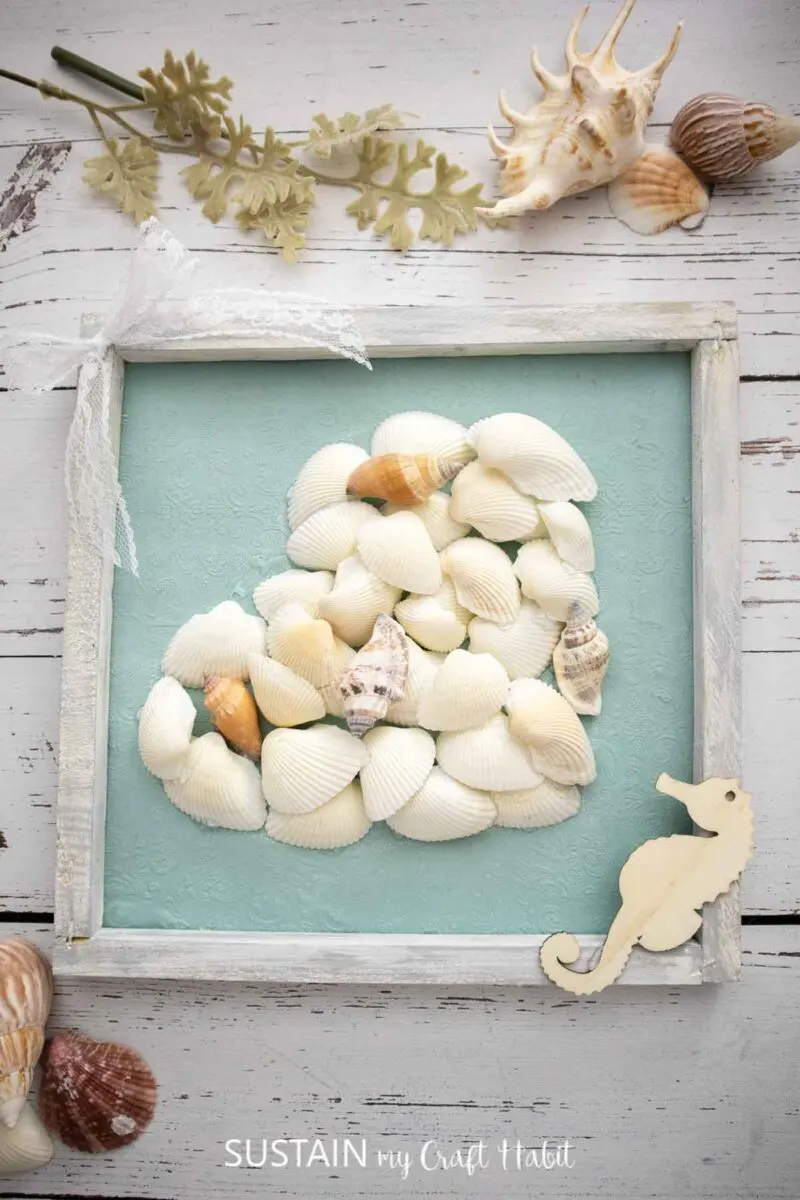 Seashell Crafts: a Sweet Heart Sign
Do you love to decorate with a bit of coastal or beachy charm? Seashell crafts bring the beach vibes indoors and also provide endless opportunities for creativity. In this step-by-step tutorial we'll show you how to make your own heart sign using seashells. You can feature shells you've collected on a family vacation, or even find some at your local craft store.
Either way, it's perfect for showcasing your love of nature and DIY projects! While, you can create this for Valentine's Day, we think it would be just as lovely to keep out year-round.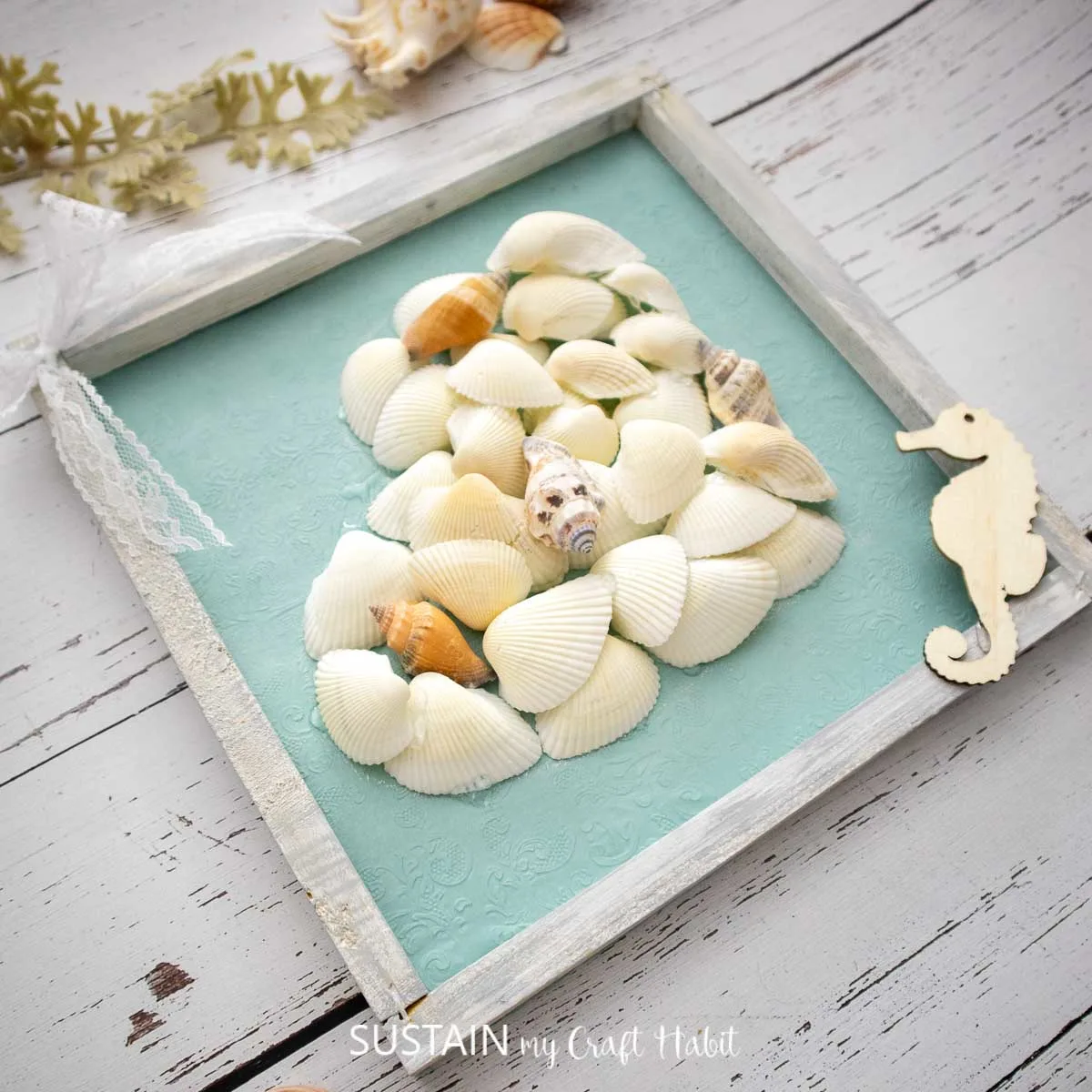 So grab your favorite seashells, fire up your glue gun and let's make a pretty heart sign!
Get updates on the latest posts and more from Sustain My Craft Habit straight to your inbox by joining our weekly newsletter. We promise to send you only the good stuff.
Materials Needed
Disclosure: This post contains affiliate links for your shopping convenience. Should you choose to purchase through them, we will make a small commission at no extra cost to you. You can read our full disclosure here.
Picture frame – can also go to the thrift store for inexpensive frames
Paper Napkin – your choice of design. We used a soft blue for a beachy feel.
Seahorse or starfish wood cutout (optional)
How to Make Pretty Heart Seashell Crafts
I shared the tutorial for how to make this easy heart sign in an Instagram reel which you can catch here. Or if you prefer the photo tutorial, continue reading below.
Start by cutting the canvas off of the frame. A craft knife or x-acto knife works great for this.
On the front of the canvas use some decoupage glue and a single-ply of your napkin to decoupage the napkin onto the canvas.
While that's drying, paint the frame white and brush with different shades of gray, sand and black to create a driftwood effect.
Glue the canvas back onto the frame and trim off the excess. Draw a heart shape with chalk or a pencil and fill it in with different size seashells.
If you don't have any collected shells, you can also find them at the dollar store.
Continue gluing the shells until you are happy with the placement. Be sure to layer them so the heart is nice and full.
Finish with a little seahorse or starfish. Top with a simple lace bow to create this lovely and easy-to-make art.
What do you think? Would you keep this out year-round? Let us know in the comments below if you make your own.
More Beachy Crafts to Make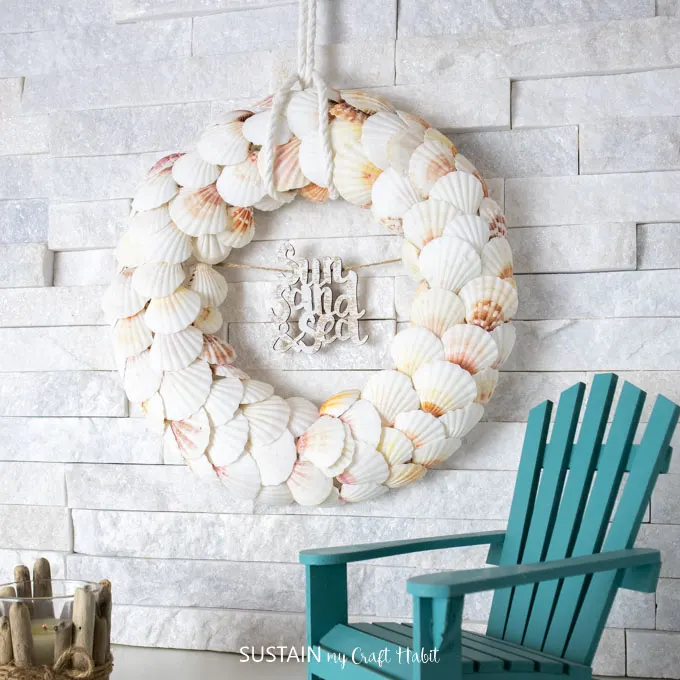 Want to receive a ton of inspiration and money saving ideas for decorating, gift-giving and crafting? Join HERE!
Like it? Pin it for later!
Crafting a Heart Sign with Seashells
Create a pretty seashell craft with a heart that you can display for Valentine's Day or year-round.
Materials
Decoupage Glue

Paper Napkins

Canvas

Seashells

Seahorse

Acrylic Paint

Paintbrushes
Instructions
Start by cutting the canvas off of the frame.

Use decoupage glue to cover the front of the canvas with the paper napkin. Let dry.

Paint the frame with a mix of sand, gray and black paint for a driftwood effect.

Place the canvas back in the frame.

Draw a heart with chalk or a pencil and begin gluing the seashells to the canvas.

Continue adding shells until the heart is complete.

Finish with a seahorse and top with a pretty lace bow.