I'm terrible at framing and putting up family photos. It's a mental block. For the same reason that I should be doing it, I don't: the kids are growing so quickly that the photo will be outdated in no time and then I'll just need to replace it! Logically though I know that I won't have to replace it: my favourite photos in our home growing up were those Sears family portraits of us locked in time, permed hair and all!
So I'm determined to get past this mental block and start decking out my walls with the kids gorgeous smiling faces. I started by opening up a box of picture frames that I'd set aside for upcycling. I had picked up this lovely ceramic puppy from a Freecycle add claiming that the frames were "new".
Although the frames were in great shape they were clearly outdated. You can see one of other ones we upcycled with driftwood slices here.
Well, this oval one felt perfect for our holiday mantel which we are decking out week-by-week to be ready just in time for Christmas. Last week we made a simple Christmas card display with ribbon. Each week we're adding a new simple craft and bringing back one we've made in the past such as our Sparkling Wine Cork Star (which is one of the most popular projects here on our blog!).
Free Printable Love, Peace, Joy Sign
And we're so happy to share with you this Love, Peace and Joy free Christmas printable for your home. It's also our project for this month's #12MonthsofDIY challenge using paper! Be sure to check out the other fabulous craft and DIY ideas using paper by 11 of our fellow Canadian bloggers at the end of this post!
How to Upcycle a Ceramic Picture Frame with Decoart Chalky Finish Paint
Supplies needed:
Old photo frame in any size – ours was for a 5″x7″ photo
Soft-bristled paint brush
Old container and a bit of water
Instructions:
1. Remove the glass and thoroughly wash and dry it and the frame.
2. Apply one coat of the Chalky Finish paint to the photo frame and let dry. The paint looked pretty streaky with the first coat.
3. Put a small amount of paint in a container that you can discard later. Add a touch of water to dilute it. I actually added too much to mine so needed to do two additional coats. But the streakiness was covered beautifully!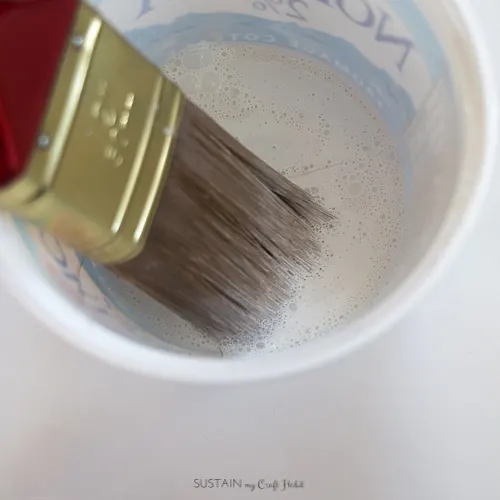 Once the paint was completely dry (the next day) a sanded the edges a bit with a fine-grit sandpaper to give it a little extra touch.
Finally I printed out the Love Peace Joy template, formatted for 5″x7″ in my printer's settings and assembled it into the frame!
This design is one of this season's pieces in our Society 6 shop. If you like it, consider grabbing yourself a mug, throw pillow or another holiday design from our shop!
Don't forget to check out the other fabulous and simple DIY and craft ideas using paper from our talented fellow Canadian blogger friends:
Are you good about putting up family photos?