We can still vividly remember and almost taste the excitement that the beginning of August brought when we were kids. This is when all the back-to-school sales started and we would go on our annual shopping trip to get binders, lined paper, new pencil crayons and a protractor set (why did we need new each year?).
But our pencil cases were something different. We each had our same pencil case throughout the latter years of grade school. Even if friends and teachers changed, those pencil cases were the consistent touch-stone from year-to-year.
Now that our little ones (Jane has 4 between the ages of 1 and 9, and Sonja has a 6-year old daughter) are mostly in school it's been fun to relive our childhood back-to-school rituals. And making special pencil cases that'll last them throughout the year (and possibly beyond) is a fun new tradition for us.
With over 250 colours and patterns to choose from, we had to give Duck Tape® Brand Duck Tape a try for this particular upcycled snack box craft we had in mind. After seeing all the inspiring DIY ideas on the Duck Tape® Brand Pinterest board we were keen to give it a try.
Our idea was simple: pick up some Duck Tape at our local Micheal's store and transform an empty cardboard snack box into pencil cases.
But… when we got to the store, there were so many patterns and designs to choose from, it took a little while to decide! These were some of the combinations we considered and you can see all of the fun possibilities here.
In the end we decided on a energetic pink and yellow with a graphic floral! Which would you have chosen?
This DIY pencil case art craft can be done on your own or together with friends and family. Save your boxed cardboard packaging and get ready to create something fun, unique and useful.
Materials Needed to make your own DIY Upcycled Cereal Box Pencil Case with Duck Tape:
Empty snack box (granola, cereal, crackers, etc)
Duck Tape Brand Duck Tape (we used a 1.88" wide solid pink; a 1.88" wide multi colour floral; and a ¾" solid yellow)
Magnet
1. Choose a snack or cereal box size that will fit pens and pencils. We found a granola bar package worked really well!
2. Mark the front of the box at a desired pencil case height. The height of our pencil case measured 3" high. Cut off the front portion of the box as shown.
3. Cut along the sides of the box and shown. Fold in sides. Cut at excess and leave ¾" from fold.
4. Fold the back flap over the top to close the box. Crease.
5. Mark the fold line of the lid flap approximately ¼" from the edge of the cardboard box to make room for the magnet closure. Crease along the marked line.
6. Angle cut the lid flap as shown.
7. Begin to tape the pencil case with Duck Tape® Brand Duck Tape in the wider width starting at the bottom. Continue to apply Duck Tape in pre-cut strips around the box. Position one side of the magnet in place. Conceal and secure with Duck Tape.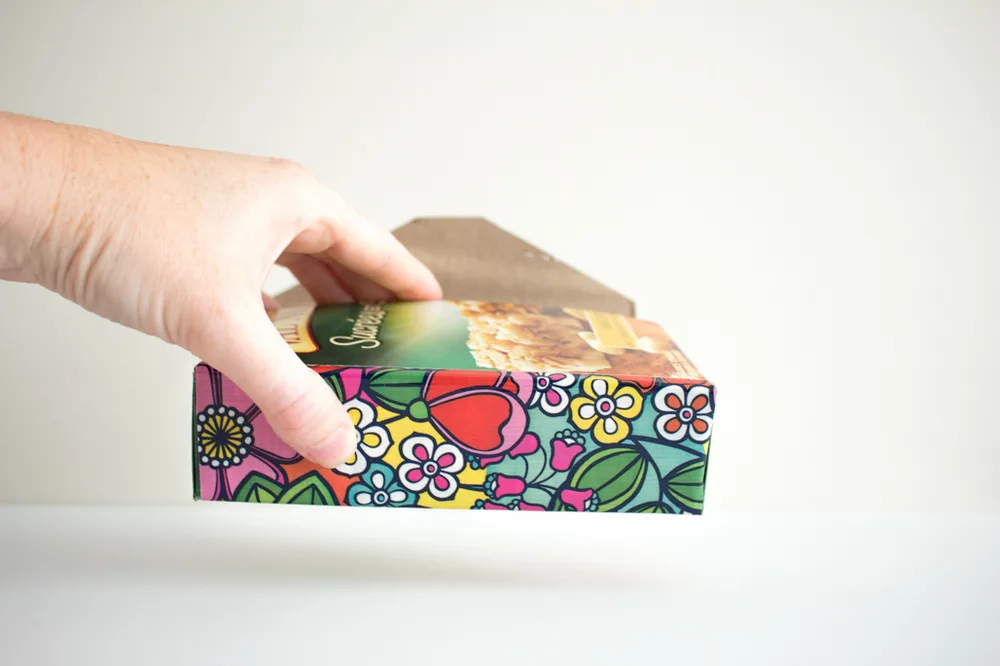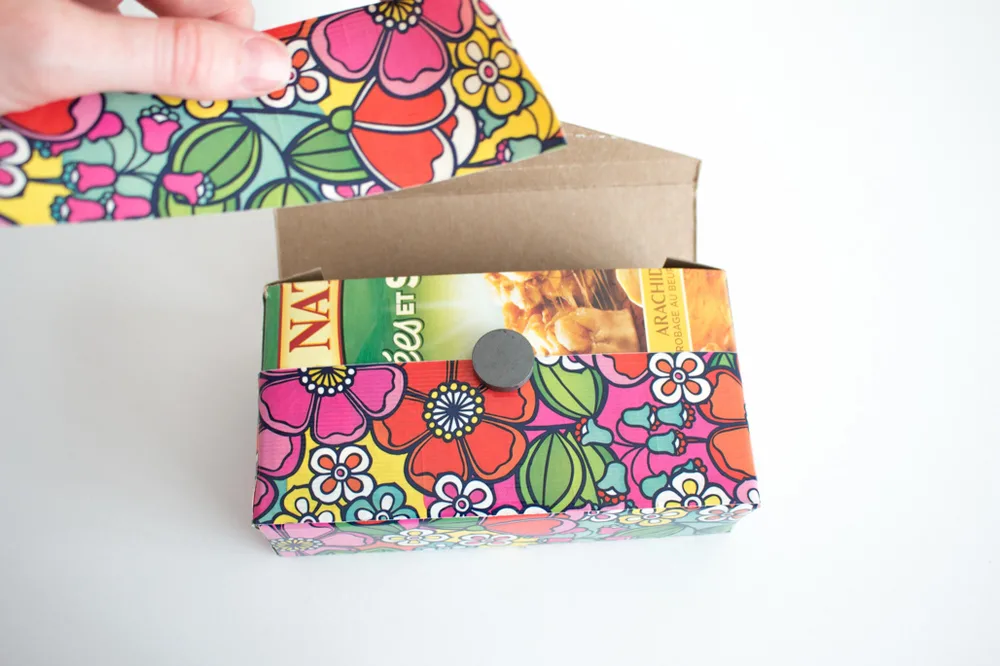 8. Tape the pencil case lid as shown starting at the base of the lid. Position the other side of the magnet near the inside flap edge. Conceal and secure in place with Duck Tape.
9. Cut off excess Duck Tape at flap edge as shown.
10. Finish the edges of the pencil case with narrower sized Duck Tape starting at the inside folded flaps.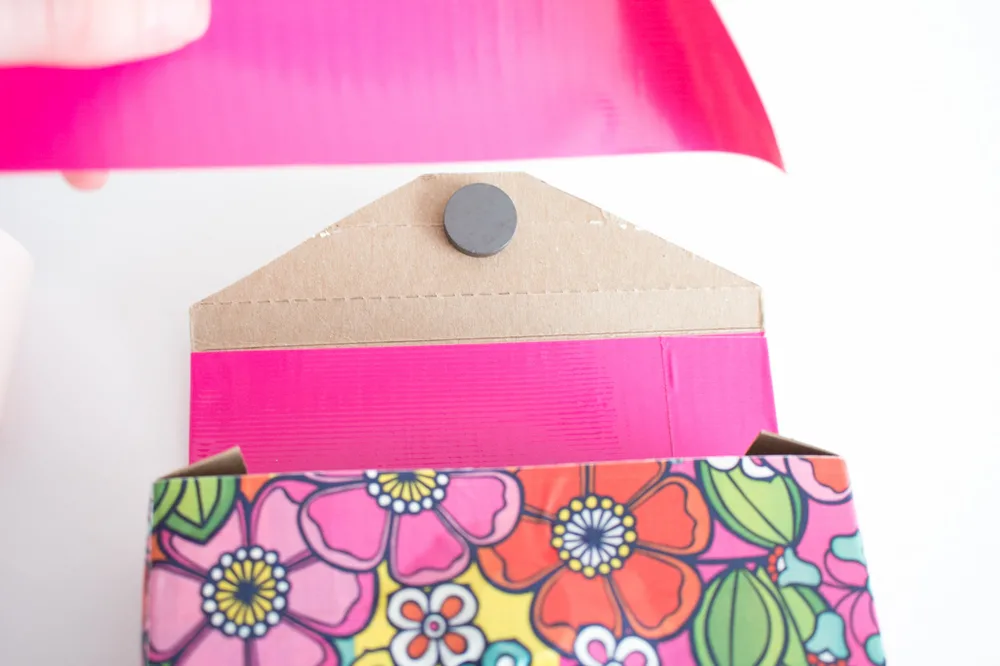 11. Fill your newly made DIY upcycled pencil case with pens, pencils, scissors and other supplies!
Enjoy!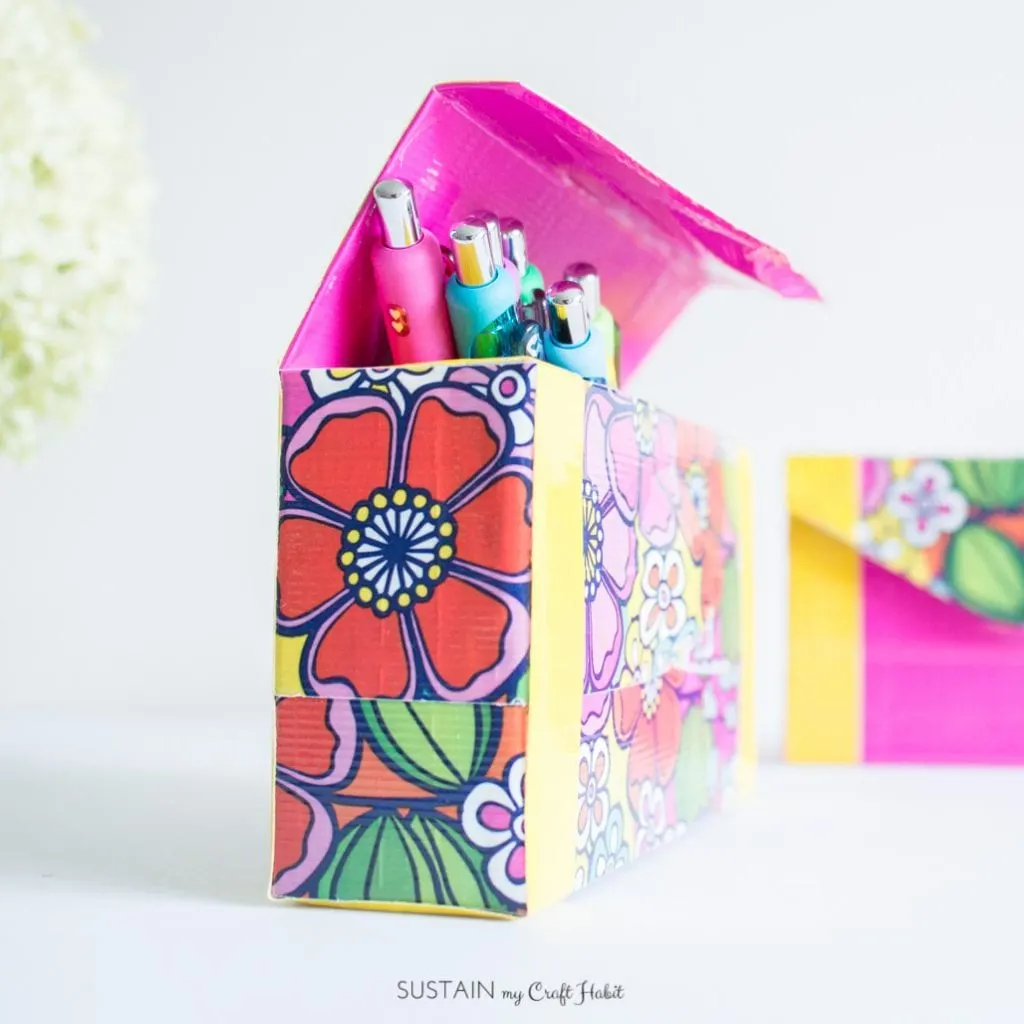 We love how these colourful and sturdy pencil cases turned out and the girls gave clapping standing ovations! OK, so many no ovation, but they were clapping in excitement. They said they loved that each was a different colour combination and that they were made with cardboard and Duck Tape. They've already put orders in for larger pencil cases as they've filled these ones up!
Be sure to follow the Duck Tape Crafts Pinterest Board filled with creative back-to-school ideas and pick up and try out some colorful rolls of this handy craft supply the next time you're out.
Do you have any back-to-school traditions you share with the kids?