If you want to learn how to paint ceramic figurines, there couldn't be a better time of year than now! As an example, you can use bunny figurines from any thrift shop or dollar store and turn them into something brand new for Easter.
How to paint ceramic figurines with bunny example
Some bunny figurines in stores though are rather expensive, especially in the weeks leading up to Easter. However, if you find one at the thrift store, or even the dollar store, you can turn it into any type of bunny you want if you learn how to paint ceramic figurines. Fortunately, we can teach you how.
Often the ceramics you find at the thrift store are "outdated" or perhaps just not your style. So why not give them a makeover with some paint? Take this ceramic bunny as an example!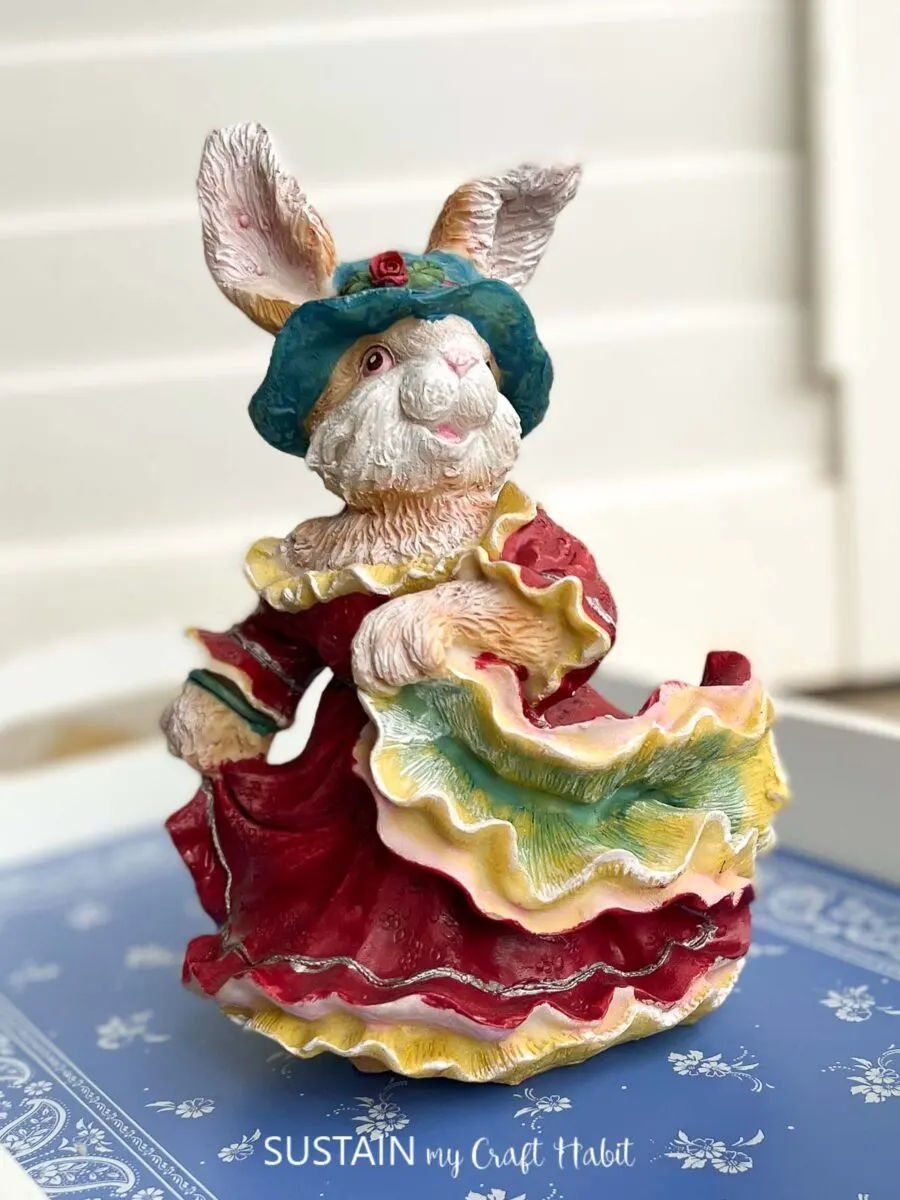 Learning how to paint ceramic figurines is easier than you may think. We provide a video below to help out. All you'll need is the bunny, paint, chalky paint, and some tissue paper!
Want to receive a ton of inspiration and money saving ideas for decorating, gift-giving and crafting? Join HERE!
Materials Needed
Disclosure: This post contains affiliate links for your shopping convenience. Should you choose to purchase through them, we will make a small commission at no extra cost to you. You can read our full disclosure here.
Thrifted ceramic bunny or any ceramic figurine
Tissue paper
How to Paint a Thrift Store Ceramic Figurine for Easter
I shared the tutorial for making this painted Easter bunny on a recent Facebook Live which you can catch here.
Start by painting the base in black to cover the entire surface. Leave the paint to dry fully and once dry, paint over the surface in white chalky paint.
While still wet, dab the excess white paint wih tissue paper revealing the black base underneath.
And lastly, using a fine tip paint brush, repaint some of the finer details such as the eyes, nose and ruffled edges in any clor of your choosing. We added a gold trim to the bunny dress just for some added interest.
And voila, the cermic bunny makeover is complete! This neutral color scheme matches my easter decor much better then the previous bunny.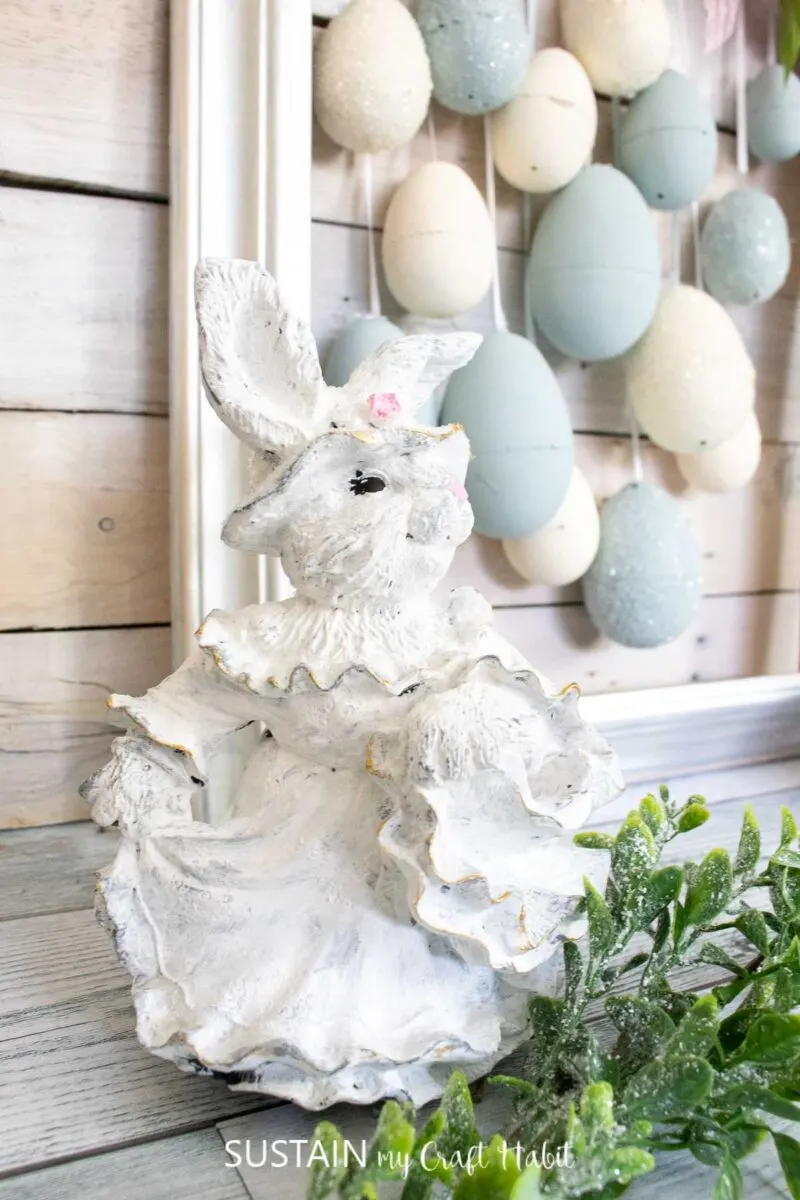 More Paint Projects for Easter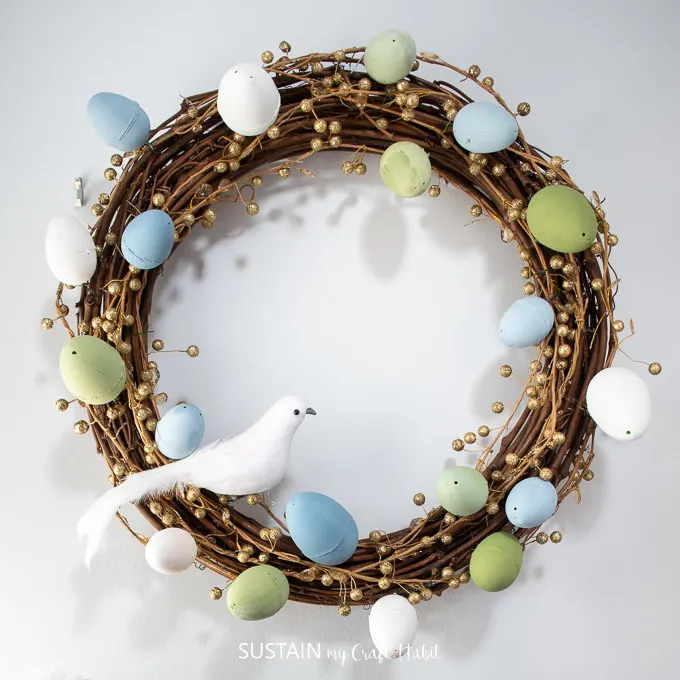 Now your thrift store bunny went from dreary to a masterpiece! How fun is that? These make excellent gifts for springtime. They also make great housewarming gifts.
How did yours turn out? Make sure to show it off to us! Tag us on Facebook or Instagram– we can't wait to see it!
Stay in the know on our latest crafts, special offers and freebies by joining our mailing list.
Like it? Pin it for later!