We recently celebrated my daughter's First Communion. It was a beautiful day and my girl was so happy. We held a small reception in the downstairs church hall afterwards. To dress it up a bit we created a lovely backdrop with DIY paper flowers. Here is a collection of the nicest giant paper flower tutorials I found when trying to plan the backdrop.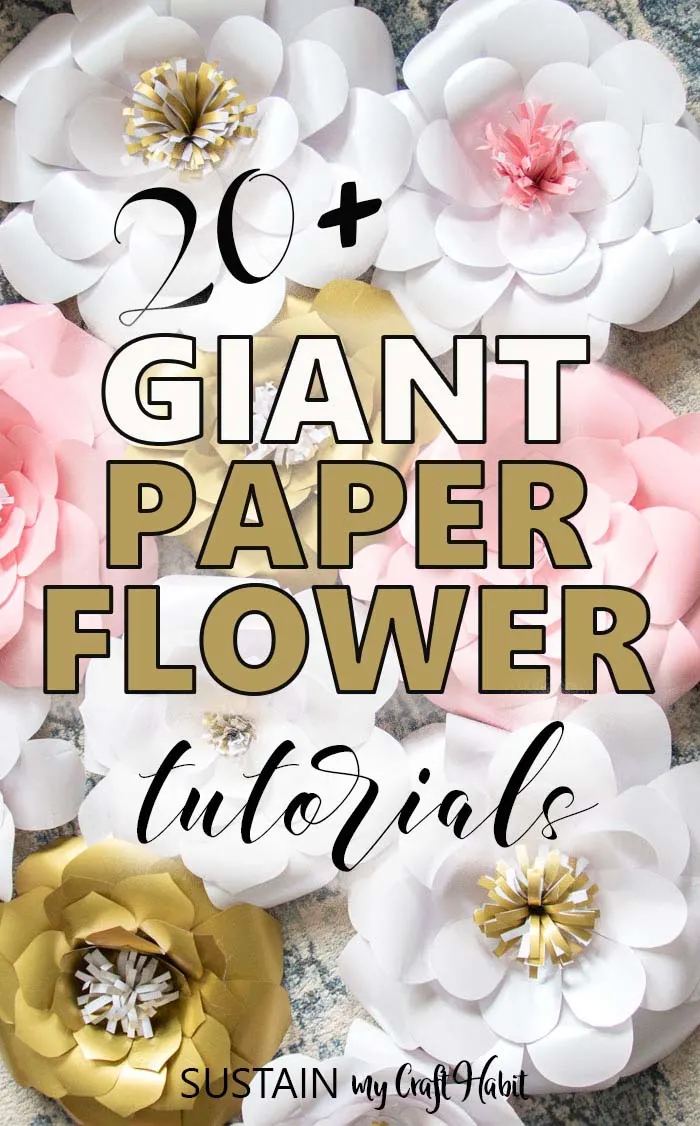 Here are some inspiration images we love. These flowers would be perfect for backdrops for a baby shower, bridal shower, wedding, party, wall decor and more.
For my first daughter's party we went with an all yellow theme. You can see all the diy spring party ideas here. For my son's party we stuck with a white theme including this Upcycled centerpiece idea.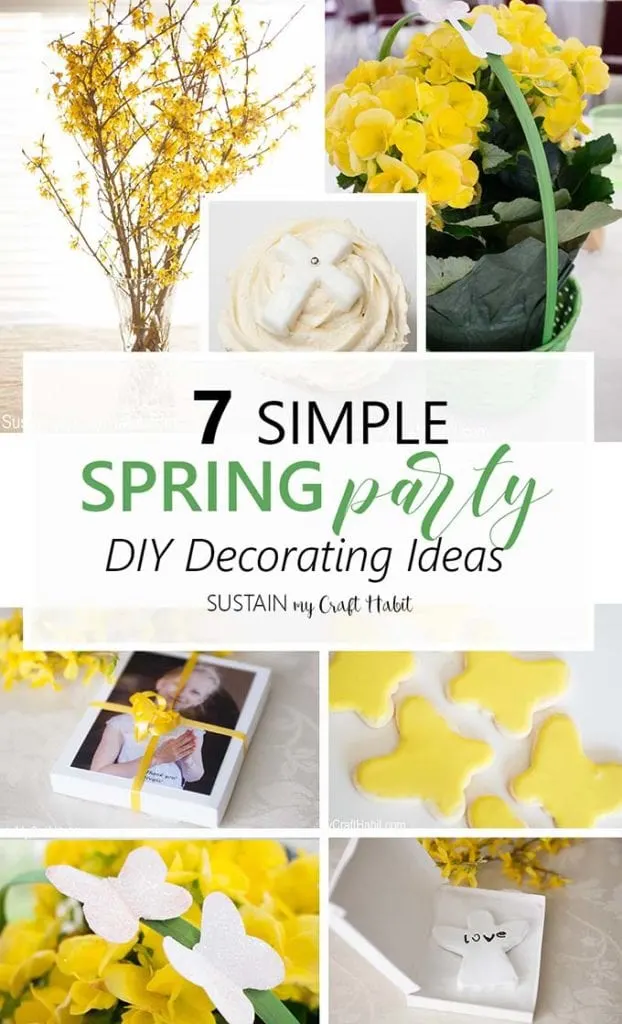 This time we planned something pink, gold and white. We created a paper flower backdrop where we were able to take some family photos.
There were so many beautiful giant paper flower tutorials out there and I wanted to share them with you! Here are 20 of the nicest giant flowers I was able to find on the internet. Most of them come with free printable templates. I hope they're helpful in making your own backdrops and decor.
DIY Giant Paper Flowers Tutorials
Giant Alora Garden Rose
The frilly layers and detail in this giant paper rose by Burlap and Blue immediately jumped out at me.
Giant Paper Dahlias
Hello gorgeous paper dahlias!
3-D Paper Flowers
The layering of colours yet simplicity of these pretty 3-D flowers from Red Ted Art got my attention.
White Paper Roses
How pretty would these all-white flowers be for a wedding backdrop? There's a great tutorial with step-by-step instructions over on My Online Wedding Help.
Multi-Coloured Giant Paper Flowers
The different shapes, colours and sizes of paper flowers in this display by The Craft Patch Blog are so interesting to look at.
Gold and White Giant Paper Flower
Like the different shape of this flower by Craftify my Love as well as the mix of gold and white patterned paper.
Rippled Paper Roses
Pretty ripples and different shades of the layers gives depth to these roses by Country Hill Cottage.
Giant Paper Rosettes
These pretty paper rosettes , also from Country Hill Cottage, would make a huge impact on the wall.
Tissue Paper Daisies
How sweet is this idea for tissue paper daisies?
Tone on Tone Paper Flowers
The central pistil area of these tone-on-tone flowers by Create and Babble provide a lovely contrasting texture to the flower. The larger flowers were inspired by this tutorial (with template) from Ash and Crafts. We used a slight variation of the large flowers for our own backdrop.
Furled Petal Rose
I really like the furls on this design by Jennifer Maker as well as the compact shape. Although you can cut the card stock paper by hand, there's an SVG option for using your cutting machine such as a Cricut or Silhouette.
Pointed Tip Flowers
We actually chose this flower design from Abbi Kirsten for the Communion party and made over a dozen of them. You can use more or fewer layers to create flowers of different sizes. And her resource library is filled with all sorts of lovely paper flower tutorials.
Multi-Layered, Tone-on-Tone Flowers
The level of detail in the layering of these petals by Hey Let's Make Stuff is just beautiful.
Giant Paper Rose with Leaves
Well, a girl can never have too many roses, right? This giant paper rose by Dream Posy also comes with templates for the cutting the pretty vine leaves.
Giant Paper Poppies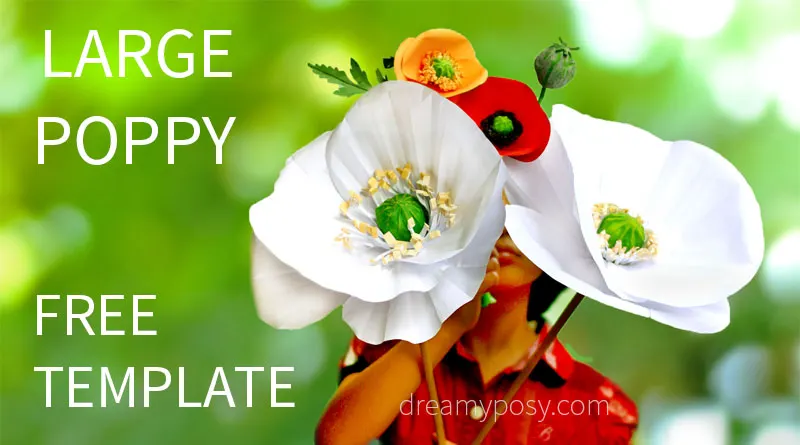 A field of poppies! Just love these flowers made using regular printer paper! Find the full tutorial over at Dream Posy.
Pink and Beige Flowers
This pattern by Stacey Homemaker provides a slightly different floral shape with quite a bit of depth. The beige and pink color scheme is also so lovely and modern.
Huge Tissue Paper Flowers
Who doesn't have stacks of tissue paper just waiting to be upcycled? That's the best part of these colourful tissue paper flowers by Hello Creative Family: high impact for low cost
Jumbo Paper Peonies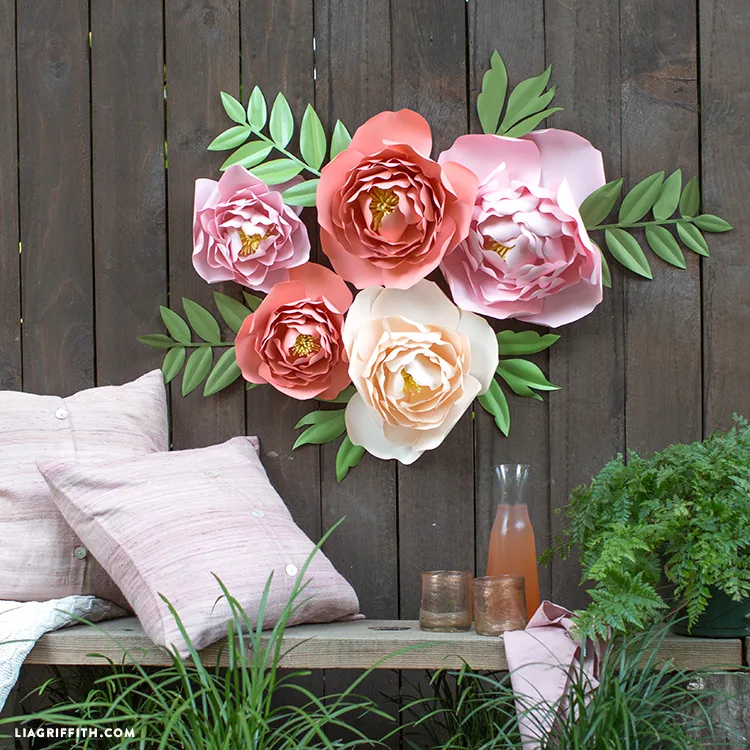 Who can resist peonies? This paper peony tutorial by Lia Griffith is a fun way to put these short-lasting blooms on display year-round.
Colorful Paper Flowers on Stems
These flowers from Oh Joy are so colourful and fun with interesting different petal shapes. Plus don't they look great on the dowel stems? You could create a whole lovely flower garden.
Giant Paper Flower Tablescape
Life is a Party used a beautiful mix of giant paper flowers to create a pretty spring tablescape. She includes a how-to video going over the basic steps to make a variety of different paper flowers.
As I mentioned above, we use the designs by Abbi Kirsten and Ash and Crafts to create our own flowers. We actually used pearlescent pink, white and gold wrapping paper which came out much less expensive than using card stock. Here's my littlest in the flower garden showing them off.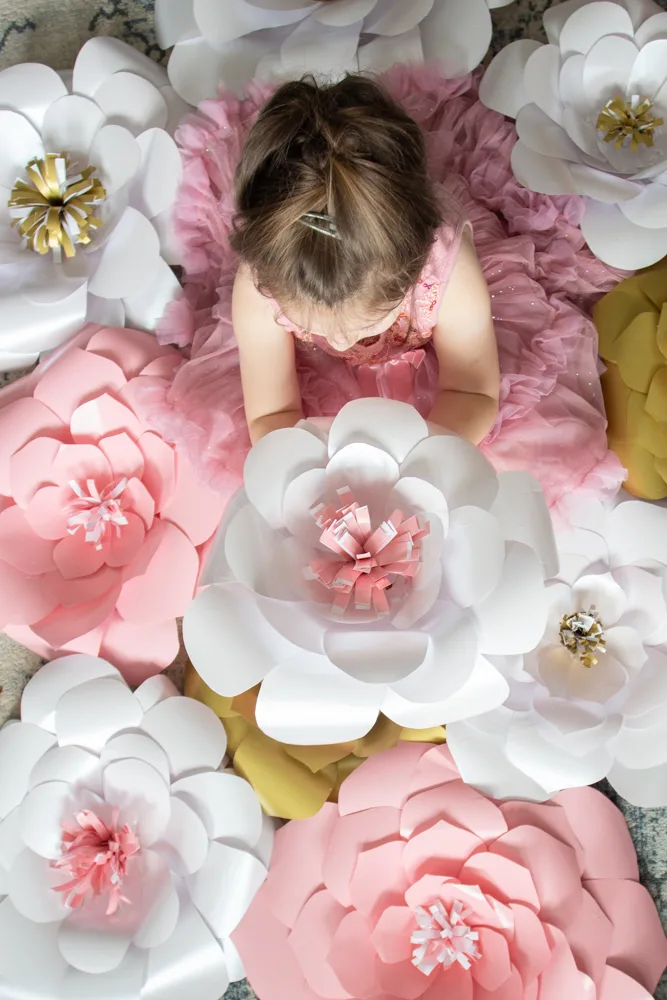 I hope you've found some floral inspiration in this collection. I'll share some of the photos we took of the backdrop. Also, now that the party is done, I'll be repurposing them as home decor for the girls' bedroom. Stay tuned for this pics as well!