After recently cleaning out my closets and organizing my seasonal clothes, I thought to add scented sachets to my drawers and storage baskets. Learn how to make your own lavender sachets to freshen up your home.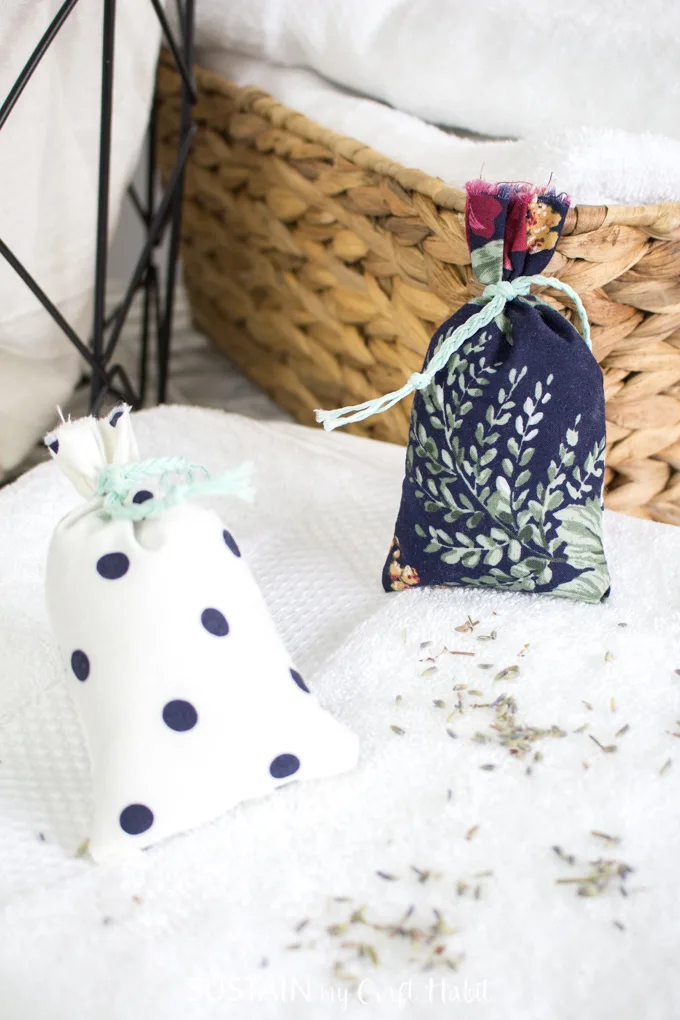 How to Dry Lavender
Lavender is one of our favorite herbs to craft with because it's easy to harvest and dry at home.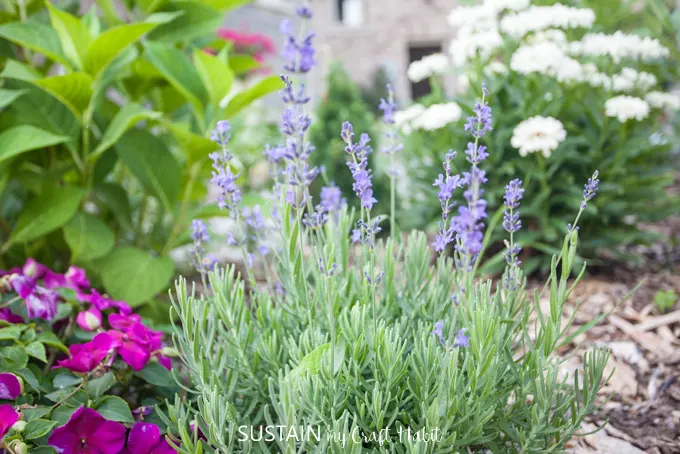 The simplest way to dry lavender is to collect the individual stems with the flowers, bundle them together and hang them to dry upside down. Be sure to hang them in a dry area with good air flow, out of the direct sunlight.
Lavender is most fragrant when it's blooming, so be sure to harvest the stems while the lavender flowers are in full bloom or shortly thereafter. You can definitely dry the lavender after it has bloomed – it won't look as nice though, so you'll likely want to just collect the lavender buds.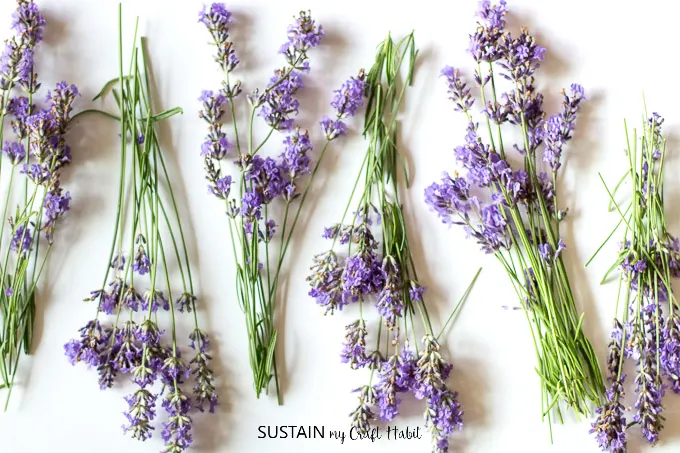 And don't neglect the leaves! They're also very fragrant even after the blooms have passed. In a pinch, you can dry some of the leaves and crush them (coarsely) to use in your lavender sachet.
If you don't have your own lavender growing, not to worry! Fortunately, dried lavender is available at most bulk food stores and even online (this Etsy shop is great).
Why Use Lavender for Making Scented Sachets
In addition to smelling amazing, lavender is thought to have a number of health benefits including reducing anxiety, insomnia, depression and restlessness. It may also help with reducing blood pressure, heart rate and improving sleep.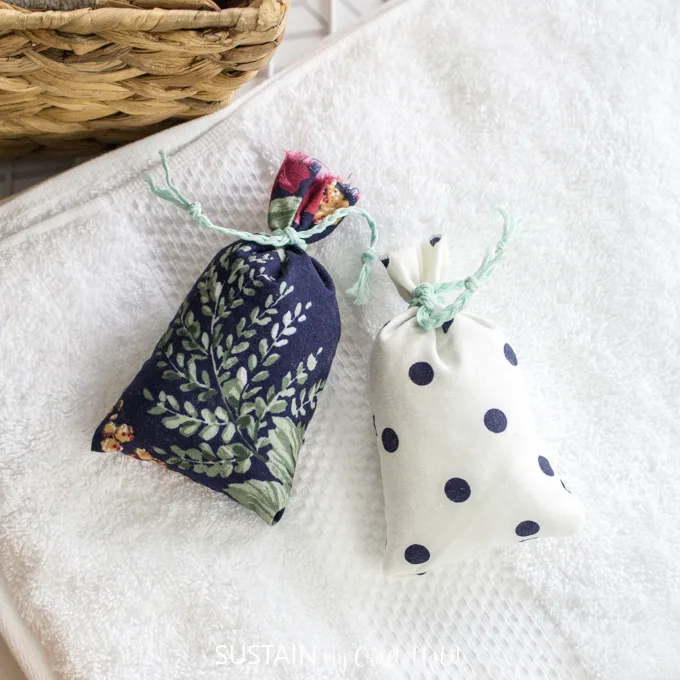 Making Lovely Scented Lavender Sachets
Having collected a bunch of lavender blooms last Spring, this easy DIY lavender sachet sewing project seemed the perfect way to use them.
Materials Needed for one Sachet Bag:
This post also may contain affiliate links for your shopping convenience. Should you chose to purchase through these links we make a small commission at no extra cost to you. You can read our full disclosure here.
Dried lavender blooms, 1 cup
White rice, 1/4 cup (optional – just to add some weight to the sachet)
Scrap fabric, 100% cotton lightweight woven
Sewing machine with matching thread color
Elastic band, small size
Decorative ribbon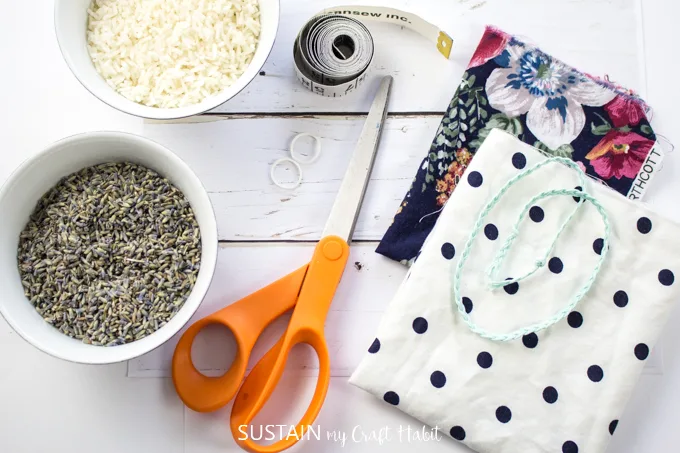 How to Make a Homemade Lavender Sachet:
Cut 2 pieces of fabric measuring 4"high x 2.5" wide.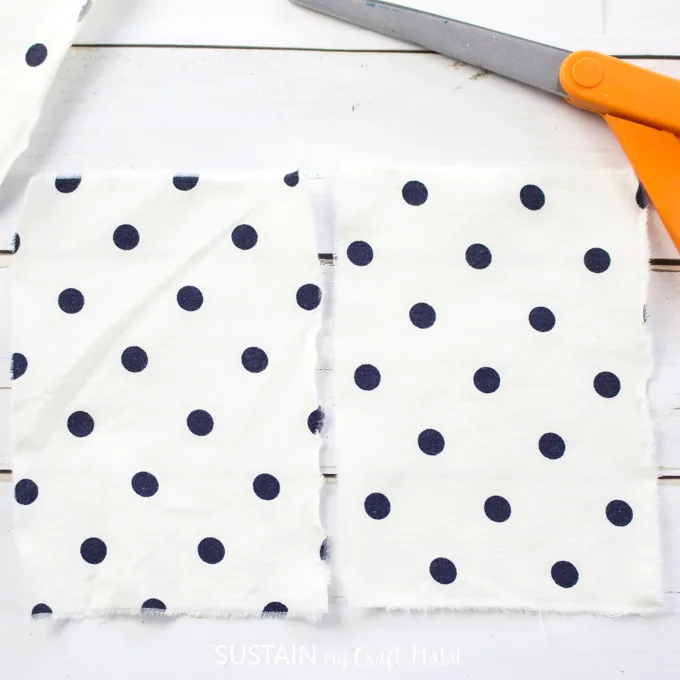 Since I was using a lightweight woven cotton, I chose to fray all the edges instead of cutting. Simply knick the starting end with tips of scissors and pull ends apart for needed length and width.
Align the cut fabric pieces with right sides together. At the sewing machine, sew all 3 sides together leaving one short end unstitched.
Turn sewn piece right side out.
Combine 1 cup dried lavender blooms with 1/4 cup white rice in a small bowl. The rice helps to absorb moisture to keep the lavender fresh longer. It also provides added weight to the sachet.
Mix together.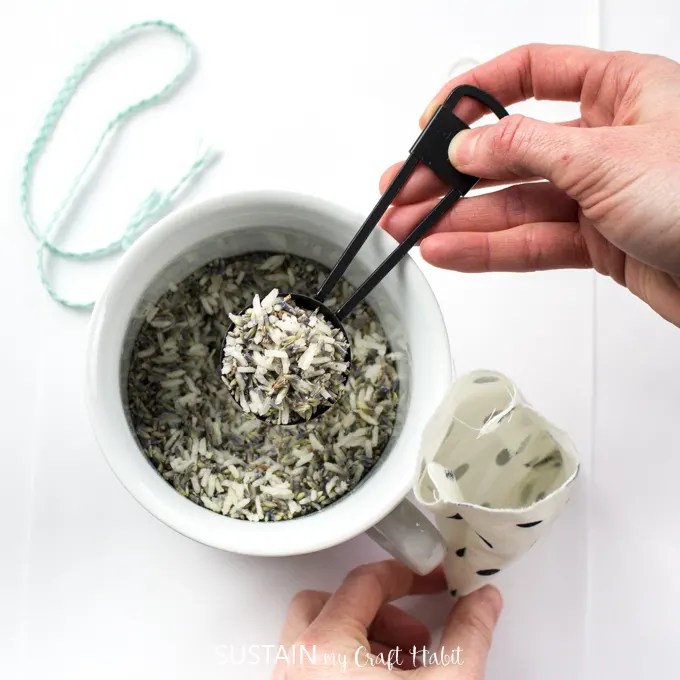 Pour mixture in to prepare sachet, filling ⅔ of the way.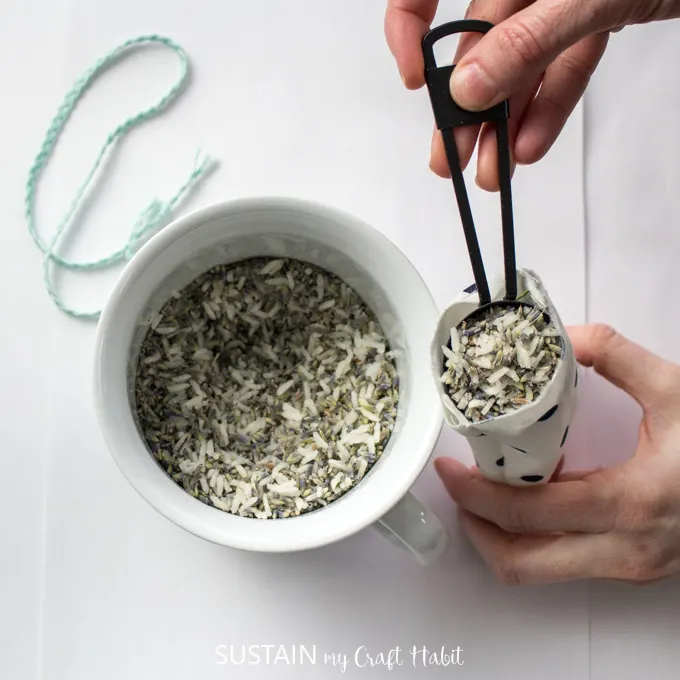 Tie elastic around the top to secure and then tie a decorative bow around the elastic. Although you can sew the lavender sachet closed, this technique let's you replace the lavender buds after a few months.
How to Use Scented Sachets
Scented sachets are a great addition to any small enclosed space to keep them smelling fresh and odor free. They're also thought to repel insects and some can help to reduce mold and fungus from setting in to your closets and drawers.
Lavender itself may help to improve sleep and has a calming effect. So keep a sachet on your nightstand and give it a little shake before bed. I have one in my home office desk drawer for whenever I need a moment of destressing!
Since these simple sachets are a great way to use up lavender and fabric scraps, make a bunch to give as gifts to friends and family.
The natural scent of the lavender lasts about three month in these sachets. You can "reactive" the smell by gently scrunching and shaking around the sachet. You can also add a drop of lavender essential oil into the mixture to heighten the scent, although it won't necessarily make the scent last longer.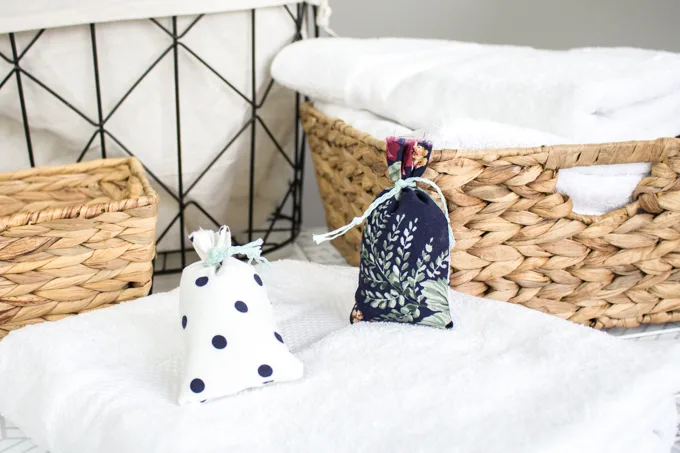 How do you like to use your lavender scented sachets?
Additional Crafting Ideas Using Lavender
In the past, my crafty sister Jane and I used lavender blooms to make this creative DIY driftwood and lavender wreath. The lavender has since lost it's scent but the look of the wreath is still perfectly sweet and rustic.
We also encased dried lavender in a beautiful necklace pendant with resin which would make a perfect gift for a friend's birthday or even for mother's day.
And I'd LOVE to make some pretty lavender bath bombs as well, which I could enjoy in my newly renovated bathroom! I'll also add in there our new mason jar candles with lavender.
Which reminds me of a "crafting oops" I had when I made these stamped DIY herb garden markers and I absent-mindedly spelled the word "lavender" wrong! Well at least I know I'll never spell that word wrong again, LOL!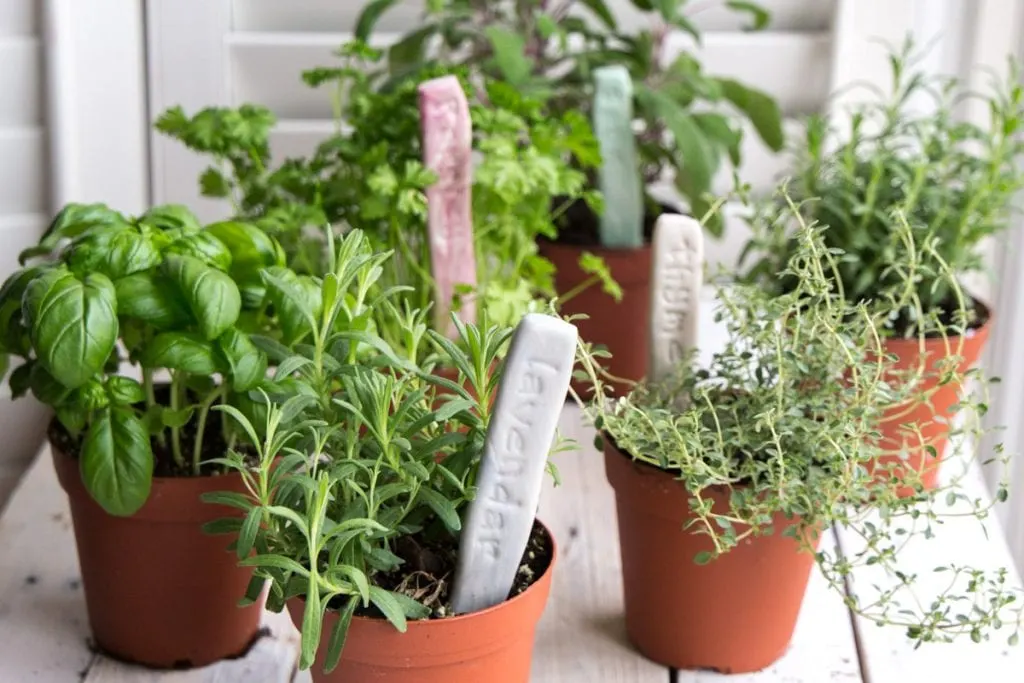 Like it? Pin it for Later!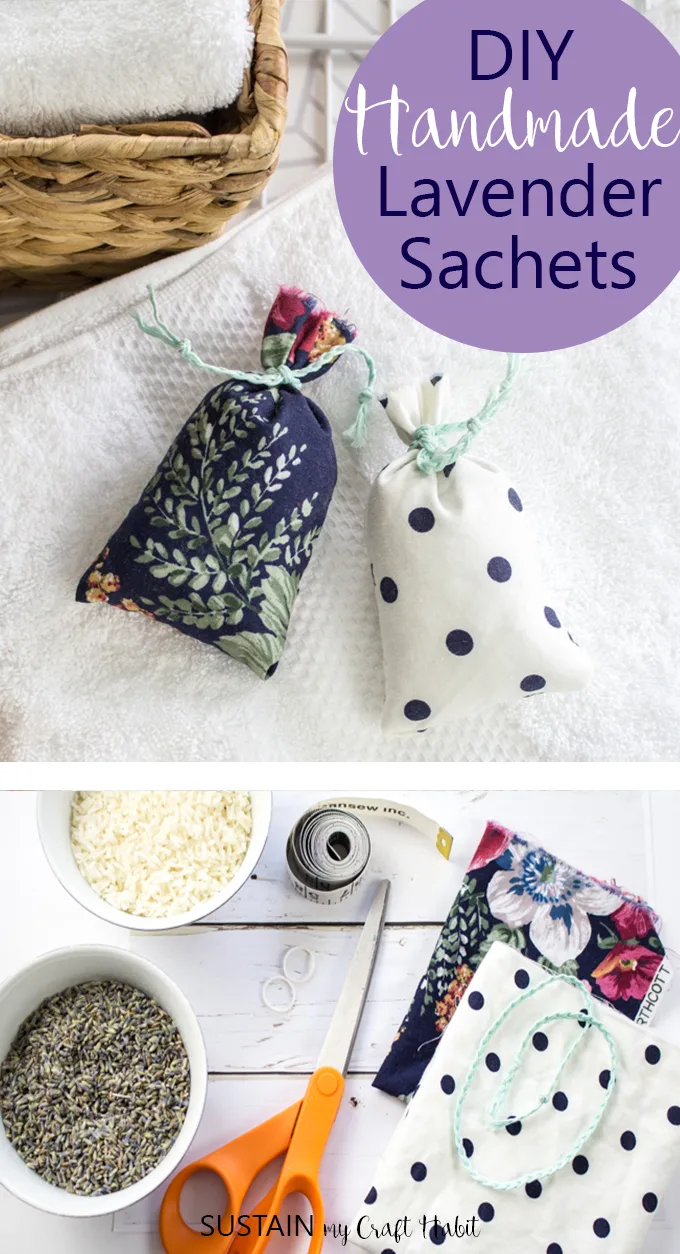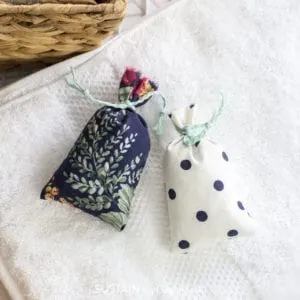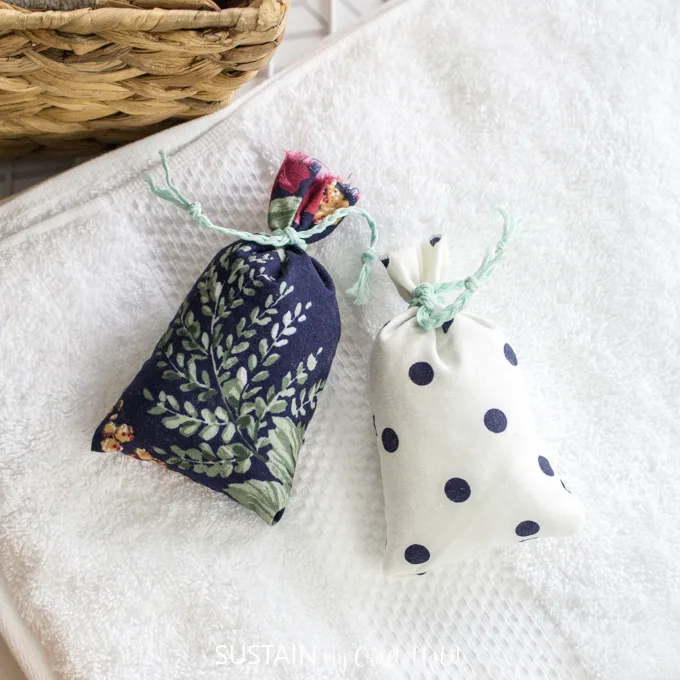 Easy Lavender Sachets
Learn how to make your own lavender sachets to freshen up your home.
Materials
1

cup

Dried lavender blooms

1/4

cup

White rice

optional – just to add some weight to the sachet

Scrap fabric

100% cotton lightweight woven

Sewing machine

with matching thread color

Elastic band

small size

Decorative ribbon
Instructions
Cut 2 pieces of fabric measuring 4"high x 2.5" wide.

Align the cut fabric pieces with right sides together. At the

sewing machine

, sew all 3 sides together leaving one short end unstitched.

Turn sewn piece right side out.

Combine 1 cup dried lavender blooms with 1/4 cup white rice in a small bowl.

Pour mixture in to prepare sachet, filling ⅔ of the way.

Tie elastic around the top to secure and then tie a decorative bow around the elastic