If you were to look up the phrase "green thumb" in the dictionary, we're sure our mom's picture would be there. It seems like no matter what plants she touches, it thrives. One of these plants is the African Violet. Growing up, they were everywhere in our house and when we were visiting her recently we found a new little plant thriving in, of all things, a small Mason jar!
Although some think that this delicate houseplant is difficult to grow and keep, it's actually very low maintenance: give it some water every few weeks and forget about it. In addition to the zillion varieties and gorgeous colours they come in, African Violets are really easy to propagate. You can find detailed steps on how to re-grow them from clippings on the Violet Barn and African Violet Society of America. It basically just takes a few steps:
clip off a healthy leaf of a mature violet at an angle;
stick it into some soil that is lightly packed into your pot of choice such as a Mason jar;
give it a bit of water every couple of weeks so the soil stays moist but not soggy (or else the leaf will rot).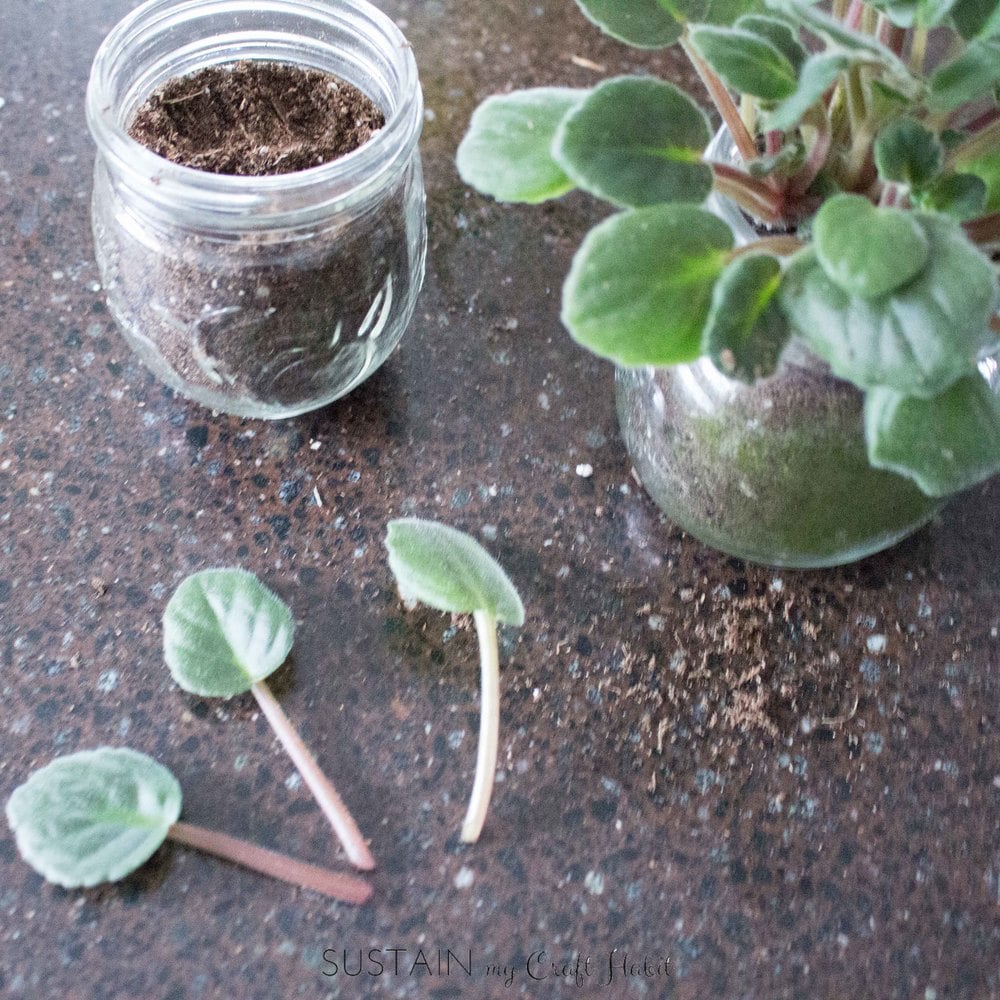 It'll take at least 6-8 weeks before you see any little leaves shoot out (so be patient). Don't water too much (I usually wait until the soil is completely dry before re-watering) and avoid getting water on the leaves themselves. There's a great little video here on how easy this is to propagate African Violets and what to expect when you're finished.
We loved the little Mason jar African Violet pot so much that we swiped it. We took it home to repot some clippings. While the jar on it's own as a planter is simple and adorable, with Valentine's day coming up we wanted to add a special heart-touch to it. And you know that we love to craft with stones (they're free!) such as in our Pressed Petals and Rock Vase Art project and DIY Inscribed Beach Stone Centerpiece idea. We don't know about your kids, but ours like to pick up little rocks whenever we're out and over the summer they collected a small stash of beautiful little pebbles from the beach such as quartz and tiny fossils.
To make your own Mason jar planter:
1 small Mason jar
10-15 pebbles/small stones
hot glue gun
Plan out how your little heart will look by arranging the rocks until you're happy with your heart. Glue the stones onto the side of the Mason jar. If you'd like, you can do both sides, or even all four sides.
We wrapped and tied off a piece of twine to this Mason jar pot. We just love the earthy feel of the glass and stones – it's a special planter without distracting from the beauty of the plant itself.
Are you looking for more great DIY mason jar craft ideas? Check out these 11 amazing projects by Canadian Bloggers as part of the 12 Months of DIY challenge.
From the top left, they are: