Is there anything better than spending a few quiet moments with a coffee or hot tea in the morning? It's a great way to get ready for a long day ahead and reflect on those things we're grateful for. For us, spending a few moments to think about God's word and and the love of the Father is the best way to reset for the day.
So we've gathered some of our favorite bible verses about coffee that can be front and center with your morning coffee or throughout the day. Print and frame them, add them to your favorite coffee mug, or make the perfect gift for the coffee drinkers in your life!
What does the Bible Say about Coffee?
While it is generally believed that coffee as we know it today didn't exist during biblical times, there is an interesting argument that there may be reference to coffee in the bible. For example, in the Old Testament, the verses Isaiah 51 and 52 exclaim "Awake! Awake!" and "Put on strength!". Further in 51:17 there is reference to "trembling" and "draining".
While the question of whether Jesus drank coffee is yet to be fully answered, there are numerous bible verses that could be applied to drinking coffee. We've selected ten of the most uplifting and inspiring ones which share important lessons about God's love for his people.
We've also created these lovely printables from the verses which you can use for your crafting (alongside your caffeine addiction! 🙂 ).
10 Uplifting Bible Verses About Coffee
"Every good gift and every perfect gift is from above, coming down from the Father of lights, with whom can be no variation, neither shadow that is cast by turning." – James 1:17 (ASV)
"He causeth the grass to grow for the cattle, And herb for the service of man; That he may bring forth food out of the earth, And wine that maketh glad the heart of man, And oil to make his face to shine, And bread that strengtheneth man's heart." – Psalm 104:14-15 (ASV)
"But the fruit of the Spirit is love, joy, peace, longsuffering, kindness, goodness, faithfulness, 23 meekness, self-control; against such there is no law." – Galatians 5:22-23 (ASV)
"But he answered and said, It is written, Man shall not live by bread alone, but by every word that proceedeth out of the mouth of God." Matthew 4:4
"Be not therefore anxious, saying, What shall we eat? or, What shall we drink? or, Wherewithal shall we be clothed? 32 For after all these things do the Gentiles seek; for your heavenly Father knoweth that ye have need of all these things. – Matthew 6:31-33 (ASV)
"I can do all things in him that strengtheneth me." Phillipians 4:13 (ASV)
"but they that wait for Jehovah shall renew their strength; they shall mount up with wings as eagles; they shall run, and not be weary; they shall walk, and not faint." Isaiah 40:31 (ASV)
"Give strong drink unto him that is ready to perish, And wine unto the bitter in soul: Let him drink, and forget his poverty, And remember his misery no more." Proverbs 31:6-7(ASV)
"Go thy way, eat thy bread with joy, and drink thy wine with a merry heart; for God hath already accepted thy works." Ecclesiastes 9:7
"O Lord, in the morning shalt thou hear my voice; In the morning will I order my prayer unto thee, and will keep watch." -Psalms 5:3

We hope you've found these bible verses about coffee uplifting and reflecting the glory of god. With quotes from both the Old and New testament, these verses are perfect to print out think about, especially during times of trouble.
Or consider sublimating them onto ceramic mugs or ever transferring them on to water bottles to be reminded of the mercies of God all day long.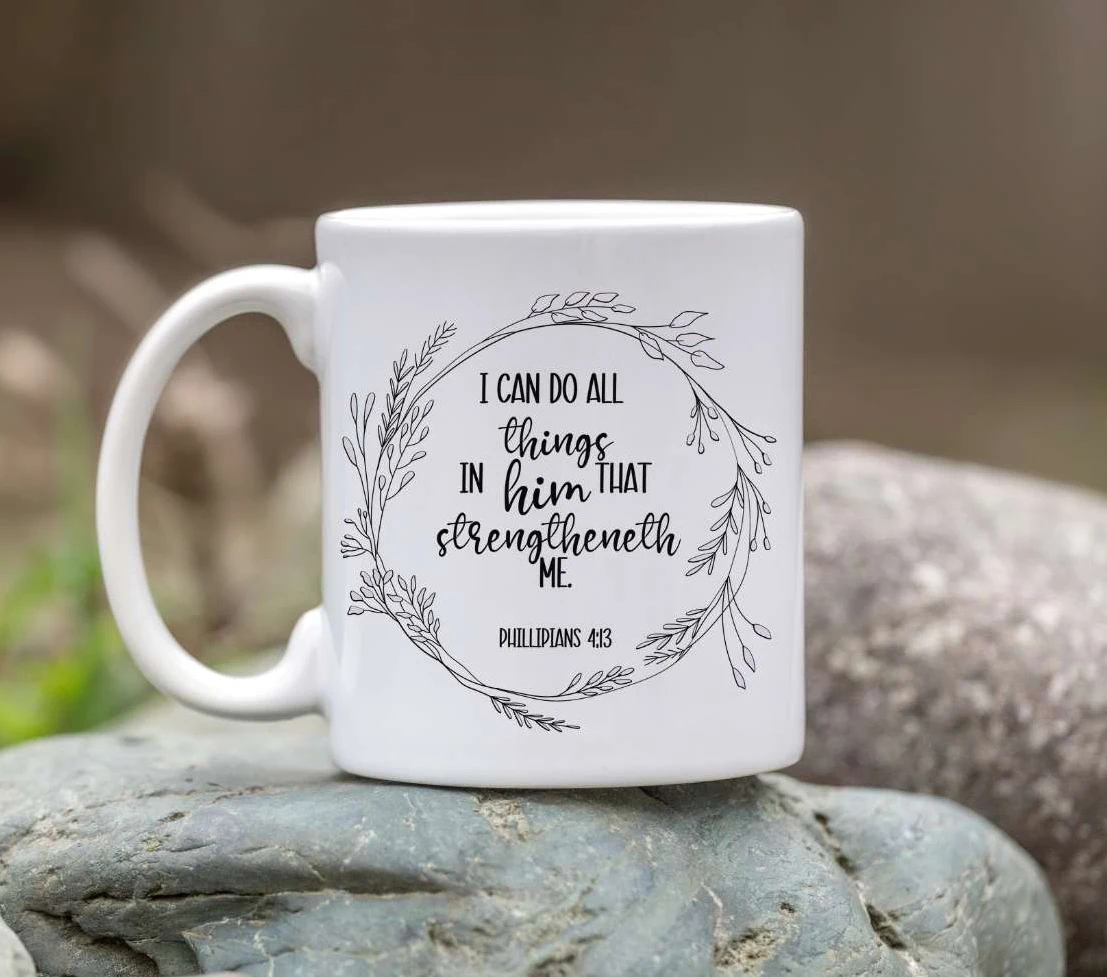 Other Crafts about Coffee:
Like it? Pin it for later!