There are so many amazing stencils available for use these days that it can be hard to choose the right one. To narrow down the search, we started with the furniture piece in need of a update and then considered the style we wanted to achieve. Since we were pairing this table with other beachy decor, we selected a fun fish scale stencil.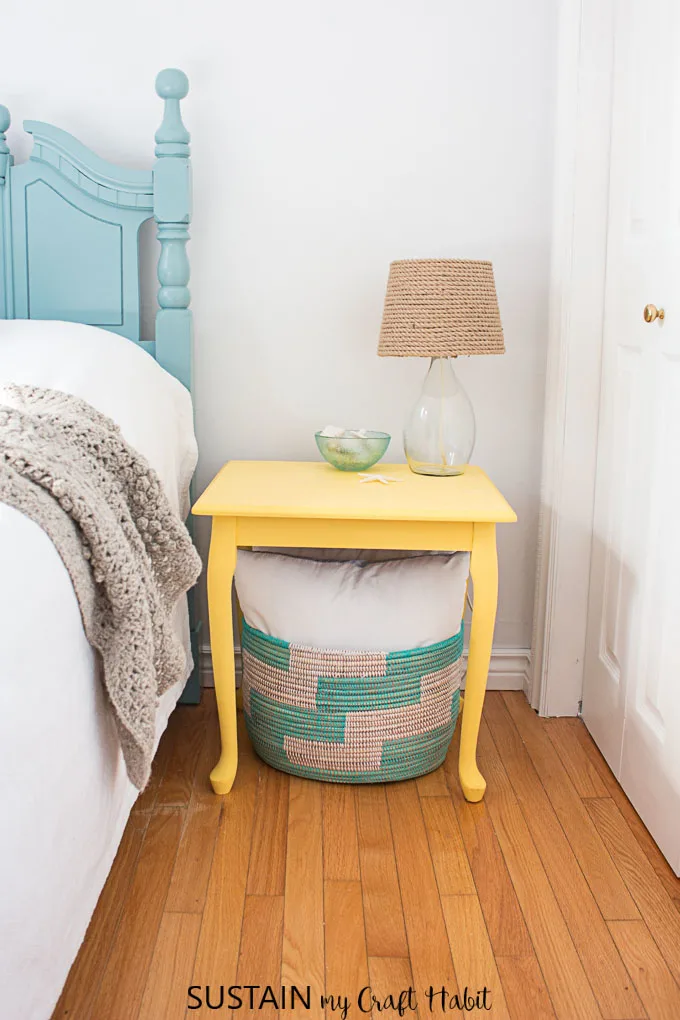 The stencil creates a really neat subtle effect when applying the pattern with a tonal paint colour (meaning a few shades lighter or darker in colour than the base coat). The fish scale detail shows when you are up close to the table but from afar it is not so noticeable.
Yellow is not a colour we typically decorate with, but have fallen in love with these little touches of sunlight. See how we used this paint to create a pineapple succulent planter!
Supplies Needed to refinish a table with Paint and a Stencil:
"Disclosure: We have not received any compensation for this post. However, we have (and continue to) receive products from DecoArt. This post also contains affiliate links (indicated with *) for your shopping convenience. You find our full disclosure here."
Wood side table
Medium sized soft bristle paintbrush and small sized stencil brush
How to Refinish a Table with Paint and a Stencil:
Step 1: Prep work
Wipe the side table down thoroughly with warm, soapy water to remove the grime and oils. Make sure that the piece is completely dry before moving on to the next steps.
Step 2: Apply a stain blocker
Although not always necessary, this step is important if you are going from a really dark colour of wood to a lighter color, a wood with lots of knots, or a piece that is stained. The natural tannins in the wood will bleed through your piece over time and a good stain blocker will stop this chemical reaction. In this particular case, I skipped this step because my paint colour was yellow so I was less concerned with yellowing. We have used Decoart Americana Decor Stain Blocker/Sealer on many other furniture refinishes like this upcycled dresser, it dries clear and provides a durable finish.
Step 3: Paint
Apply a thick coat of chalky paint in rejuvenate with a really soft brush or roller to avoid streaking. Ensure that the first coat is completely dry before applying a second coat of needed (it can also be diluted with a bit of water for a smoother second coat). Leave it to dry fully before moving on to stenciling.
Step 4: Stenciling
Place the stencil on the tabletop surface and carefully tape in place (use a tape that's not too sticky). Mix equal parts of Rejuvenate and Everlasting together to get a tonal shade of yellow.
Using a soft bristle stenciling brush, dip into the mixed paint and then carefully paint over the stencil. Less is more with stenciling so be sure to apply a little bit of paint at a time.
Work in sections: peel away the stencil and leave the first section to dry fully. Repeat this step until your table top is fully stenciled. Join the stencil as best you can so pattern is continuous.
Step 5: Seal and protect
A highly recommended step is the application of a wax to seal and protect the painted table. We used the Americana Decor Clear Crème Wax which is non-yellowing and provides a durable finish. This wax can also be buffed to create a high-gloss sheen but we preferred to leave our piece with a matte finish.
You can learn more about special techniques such a distressing, dry brushing, stenciling and more on the Americana Decor Chalky Finish Paint Education page.
We can't believe the transformation of this little side table! It looks perfect in our beachy-themed bedroom next to our refinished seaside blue headboard and along with our coordinating driftwood LAKE wall art!
What experience have you had with stenciling?
Like it? Pin it for later.