We all have that one sweater we cannot quite seem to part with. It may bring back memories or be too comfy to ever give away. What if you never had to again?
Taking upcycle sweaters and turning them into crafts such as throw pillow covers are so much fun!
Never let go of a sweater memory again with these upcycled sweaters!
I don't know about you, but I always have a few sweaters that I cannot seem to part with.
Sometimes, it is because I think I'll need it when I know I never really do. It just sits in the closet just in case the opportunity arises. Other times though, a sweater may carry a significant memory that makes it hard to let go of. The great news is that with upcycling, you don't have to! We will help you to upcycle sweaters in such little time that it will be easy for you to replicate them anytime you need to.
Other fun ways to upcycle sweaters:
If you have a sweater from your favorite sports team
A gift to a friend
a keepsake for a loved one
If you need to know how to make pillow form this is a great tutorial here.
Materials Needed
Disclosure: This post contains affiliate links for your shopping convenience. Should you choose to purchase through them, we will make a small commission at no extra cost to you. You can read our full disclosure here.
Instructions
Measure the pillow form you plan to use.
This is the size you'll make the finished throw pillow covers. Unless the sweater material is very stretchy, in that case, you can make it smaller than the pillow form.
Add a ½" seam allowance to the length and width for sewing.
Cut the pieces out of the sweater. Decide which part of the sweater you want to use. For example, I wanted the cable knit part of this sweater centered on my throw pillow.
I try to use the bottom finished edge of the sweater as one of the sides of the throw pillow. This edge won't unravel so best to use for joining after the pillow form is inserted.
Align the sweater pieces with RIGHT sides together.
Cut strips of woven fabric or use a non-stretch ribbon to match the length and widths of the pillow form.
At the sewing machine, align the matching strip with the seam and sew all layers together. Use the woven strip to control the length of the seam, easing the sweater (which will want to stretch) to the woven strip.
Repeat this on the other 3 sides.
Turn right side out and insert the pillow form.
Finish the open end with hand sewing for a tidy clean seam.
And there it is! Your new pillow from upcycled sweaters. How did yours turn out? Make sure to show it off to us! Tag us on Facebook or Instagram– we can't wait to see it!
More Crafts to Make with Upcycled Clothing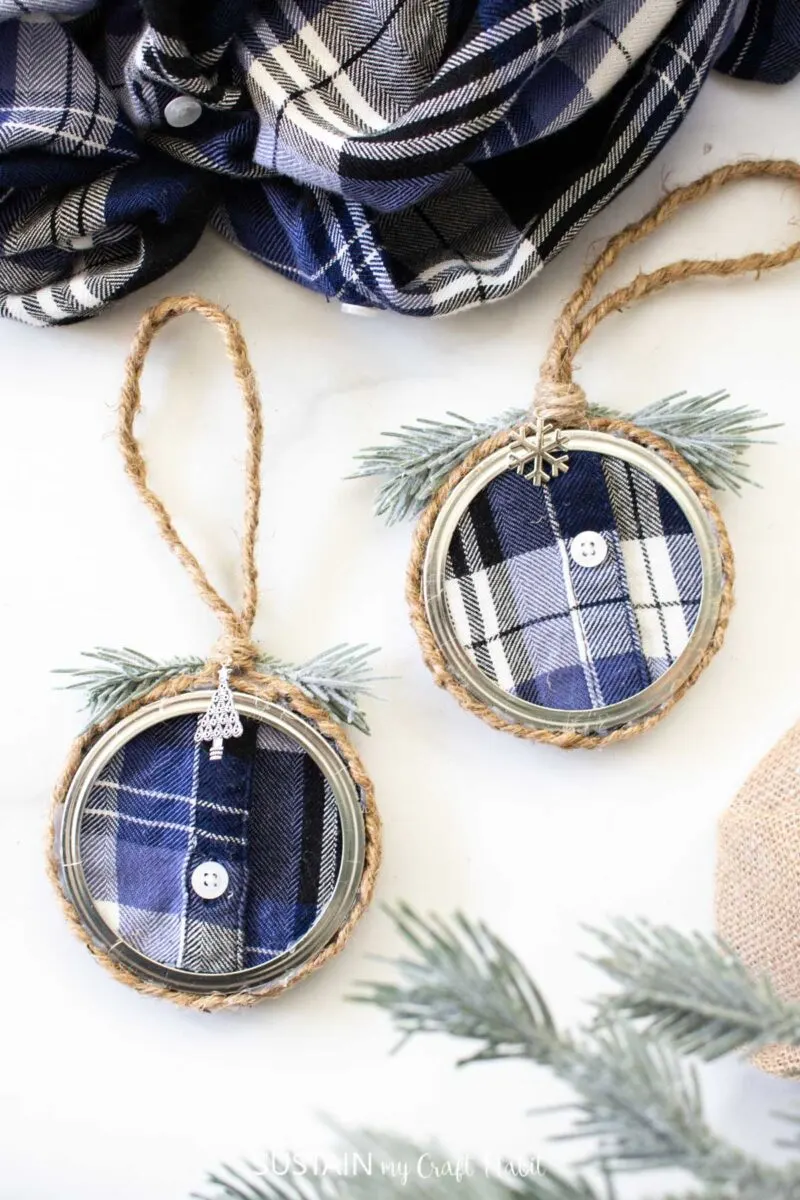 Thanks so much for stopping by to visit! Happy crafting, dear friends.
Like it? Pin it for later!