We love taking the time to craft and create things. Being able to sell the things we make can also be extremely gratifying. Mason jar crafts and projects continue to be extremely popular. Whether it's for a craft sale, swap meet, charity auction, or your small business, we've collected over two dozen mason jar crafts to sell.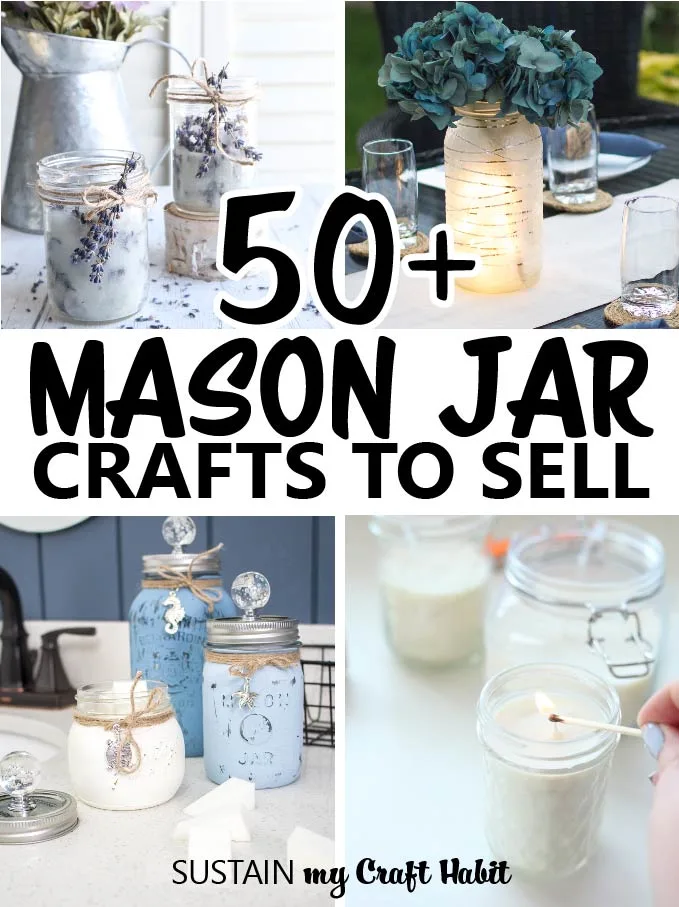 With a variety of different sizes and shapes mason jars or similar glass canning jars are very trendy and popular in crafting. Most likely because they are so easy to come by – many of us have these left over from items we eat. So rather than putting them into the recycling bin they make wonderful canvases to express creativity.
From these lovely beachy painted bathroom storage canisters, Poinsettia topped gift jars, snowmen jars, and even pretty pumpkin jars we've created a number of different projects with mason jars.
Although we love to make and gift them, such as these diy bath salts, you can also make these mason jar crafts to sell. Read on below for tons of inspiring ideas.
Where to Sell Mason Jar Crafts?
As we talked about in this related post about making money with a Cricut Maker, there are a number of great places where you can sell your creations including:
Online marketplaces such as Amazon Handmade and Etsy (use this code to get your first 40 listings for free!);
Local and regional craft fairs featuring handmade items;
Facebook marketplace for selling to others in your community;
Local boutiques and craft shops which sell products on consignment;
Build and sell from your own website.
What Types of Mason Jar Crafts to Make and Sell?
To get inspiration and truly see what buyers are looking for, we like to do some research on Etsy. Just search "mason jar" and see what comes up.
Take note of the colors of the products, the uses for them, and even how people style the pictures. Don't copy though! You can note that people offer personalization and even customization in colors, quantities and styles.
Repeat this market research on Amazon Handmade :).
Tips for Selling Mason Jar Crafts
Make your product look prefessional: be sure to create a product label, and package your product nicely and securely so that it doesn't break.
If selling online (or even in person) consider collecting email addresses to be able to send customers follow-ups and let them know about new sales.
Take advantage of occasions when people are looking for gift ideas for others including co-workers, neighbours, teachers. Christmas, Mother's Day, Father's Day, wedding showers, Easter are all great times to consider mason jar gifts.
Mason Jar Crafts to Sell
We've grouped various ideas together by categories below. Just click on the images to take you to the tutorials for how to make the different types of glass jar crafts.
Bathroom Sets
Everyone needs solutions for organizing their homes. These beautiful jars are a handy way to keep counter clutter at bay.
Jar Decor Ideas
From vases, piggy banks, and art pieces themselves, glass jars are versatile to making diy home decor porjects which you can sell.
Upcycled Jar Candles
There's nothing like candles to add a cozy touch to a room. Candles continue to be a glowing industry (over 3 billion in retail sales in the US each year). Be sure to add your own special touch to your mason jar candles (natural materials, favorite scents, decorative jars) to stand out.
Centerpieces
Mason Jar Lights, Lamps and Lanterns
Gift Jars
We hope you've enjoyed this list of inspiring and useful mason jar crafts to make and sell. Do you have a great mason jar craft idea we've missed? Let us know in the comments below!
For more tips for running a small crafting business be sure to subscribe to our mailing list for updates and ideas.
Which mason jar ideas would you make and sell?
Like it? Pin it for later!