There is nothing like Easter table centerpieces to create the spotlight for Easter dinner!
There is nothing like Easter table centerpieces!
Easter dinner can be such a wonderful time for family and friends. It is the beginning of spring, and everyone comes together to celebrate a beautiful day.
Many of us have our Easter traditions, including what we like for Easter dinner. Maybe your family all agrees on what to choose for Easter dinner, or maybe it is a debate. If you are the one hosting Easter, you can bring everyone together and around the table with a perfect Easter table centerpiece.
We followed a unique approach to making the eggs so be sure you watch and follow the step-by-step video (link below) so you can have a creative centerpiece that will get everyone talking as well.
Want to receive a ton of inspiration and money-saving ideas for decorating, gift-giving, and crafting? Join HERE!
Making a Raised Centerpiece for the Easter Table
If you start looking in February, the chances are you will find a random bunny at the thrift store. I can usually find them any time of the year. The best time is after Easter, but you should be able to still find some in the months leading up.
Using supplies from our craft room along with a painted ceramic thrift store bunny figurine and other materials such as pinecones and eggshells we were able to make an Easter table centerpiece. We used actual eggshells as molds for making decorative cement eggs. You can find the step-by-step tutorial for that craft on our Sustain My Craft Habiy Facebook page here.
And there you have it- your new beautiful Easter table centerpiece! It is fun that we can all follow similar directions but come up with different centerpieces. We would love to see yours!
More Easter Crafts to Add to your Centerpiece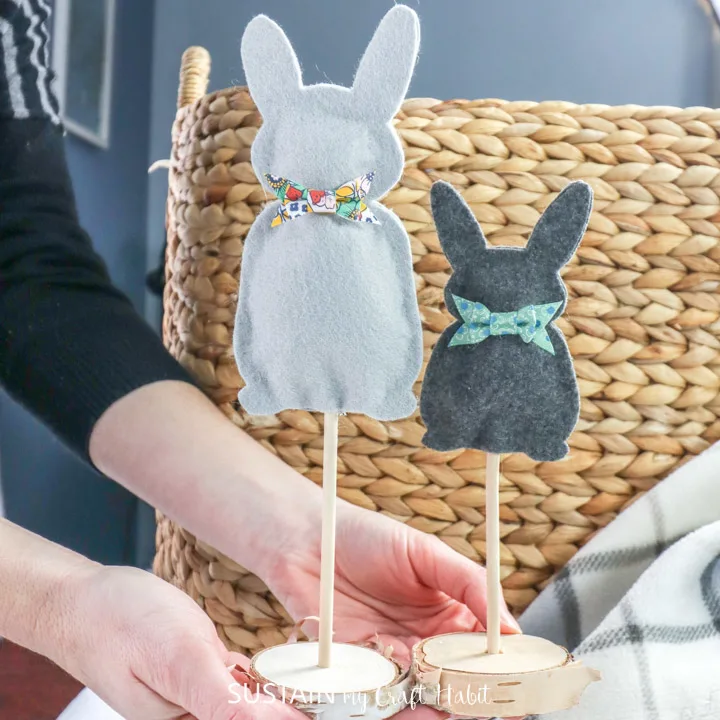 Join our crafting community to find more nature-inspired DIYs and upcycled craft ideas. It feels good to repurpose, upcycle and create with nature!
Like it? Pin it for later!