I would love to keep fresh cut flowers in my home every day if I could, who wouldn't?  But since fresh cut flowers are not all that possible, I think I may have found an alternative with these colorful pine cone roses.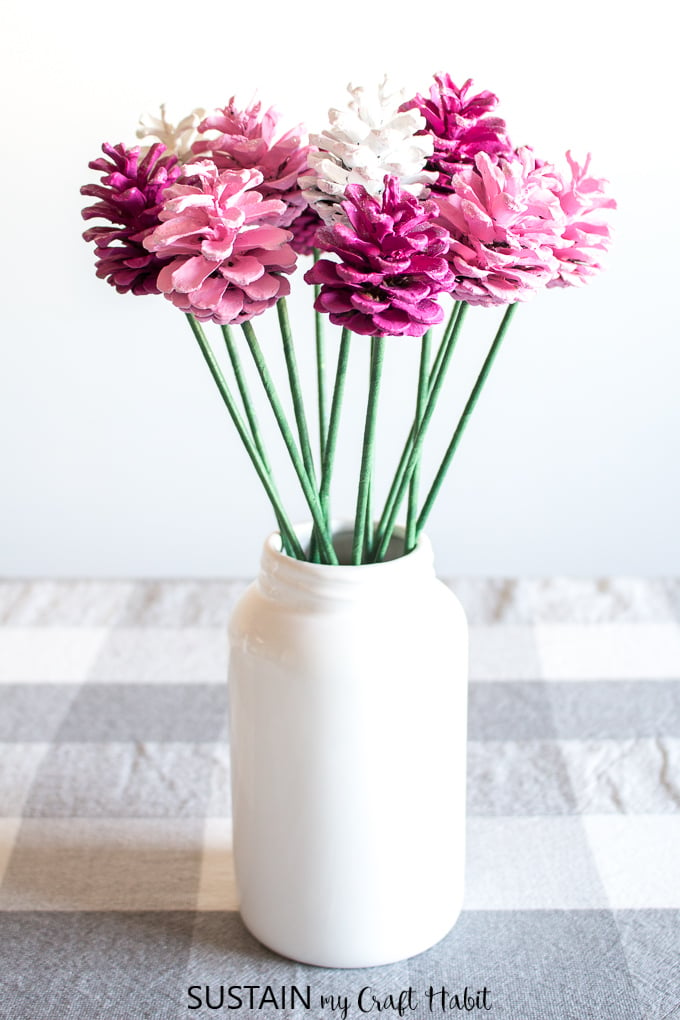 Hello dear friends! We're so excited to be joining over two dozen bloggers from across Canada to bring you 30 sweet ideas to make, bake and create for Valentine's Day. Thank you so much to Jo-Anna from A Pretty Life in the Suburbs blog for coordinating this inspiring blog hop. Be sure to check out all the amazing projects at the end of this post.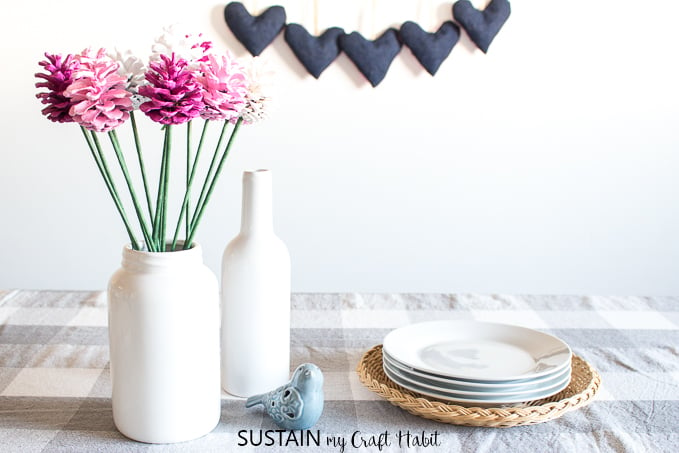 For our contribution to this blog hop, we wanted to show you how to make pine cone roses that you can arrange together in a bouquet or leave them on their own as single delicate rose. And since these pine cone roses will never wilt , they can be reused as decorations throughout the year, such as for Valentine's Day, Mother's Day or some other special occasion, like a bridal shower or wedding.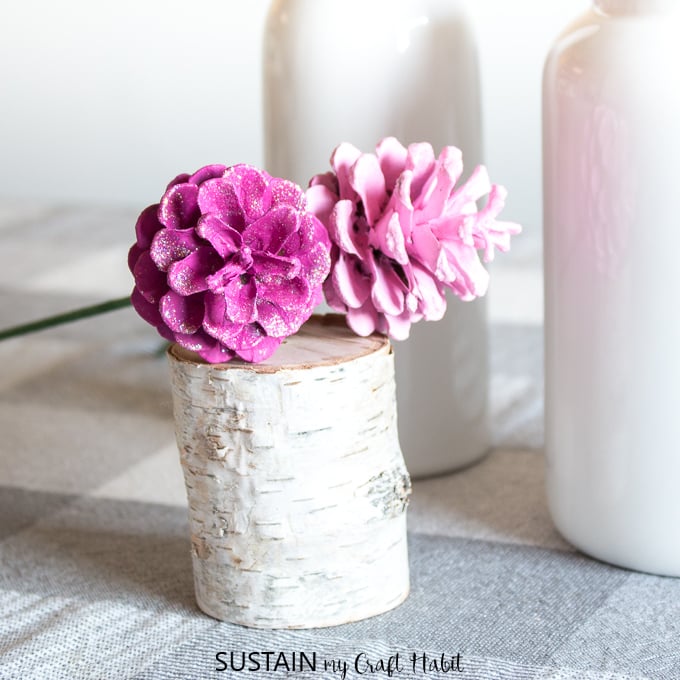 These pine cone roses are one of those really fun nature crafts that you can do on your own as part of girls crafting night. And if you're looking for more creative crafting ideas, check out our top picks of craft kits for adults.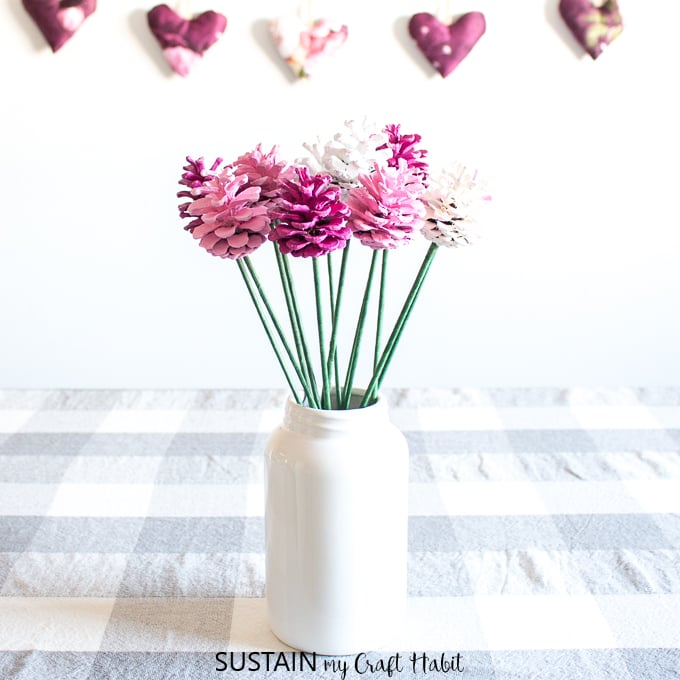 Supplies Needed:
Disclosures: We have not received any compensation for this post. However, we have (and continue to) receive products from DecoArt. Also, this post continues affiliate links for your shopping convenience. You can find our full disclosure policy here.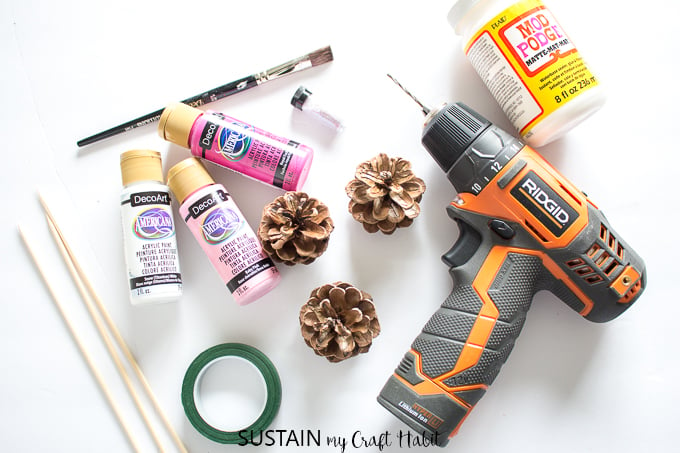 How to Make Pine Cone Roses:
Using a small, flat tip paint brush, paint each pine cone in the colour of your choice. Put aside to dry between coats and apply as needed to achieve desired coverage.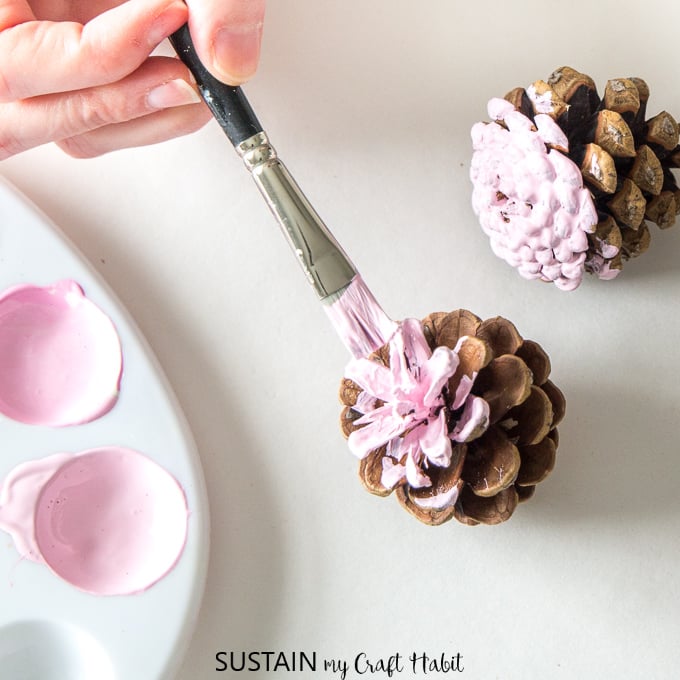 Once dry, drill a small hole about ¼" deep into the bottom of the pine cone using a small size drill bit (the same size as the diameter of the wooden skewer).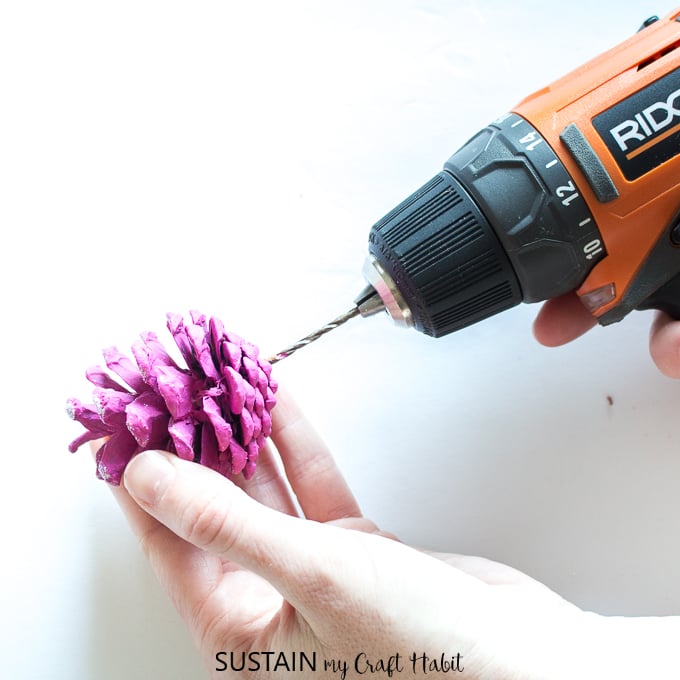 Wrap the wooden skewer with green floral tape starting at one end and finishing at the other.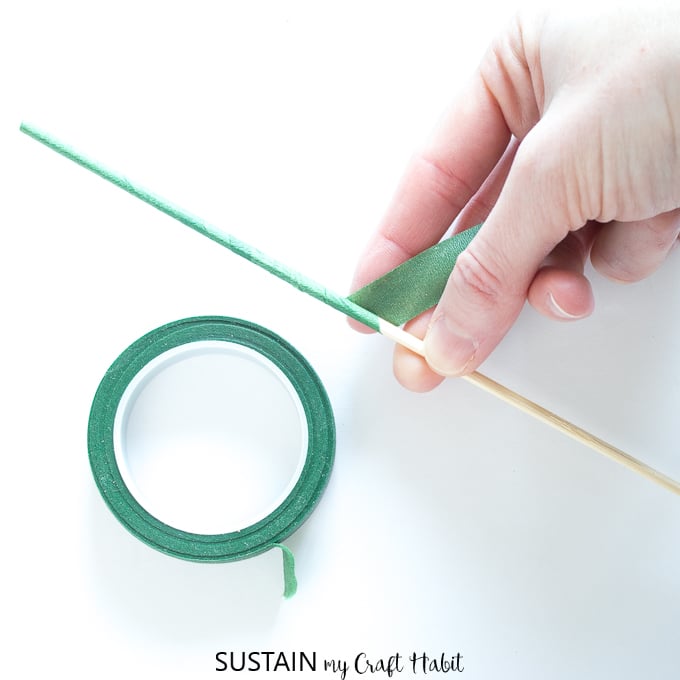 Insert one end of the wrapped skewer into the drilled pine cone. Add glue if necessary to hold together.
And who doesn't love a little glitter? You can also add some fine translucent glitter to the painted pine cones by applying clear drying craft glue to pine cone tips and then pouring glitter over top.  Shake off the excess glitter and set aside until dry.
Arrange the pine cone roses inside a vase for a beautiful alternative floral bouquet.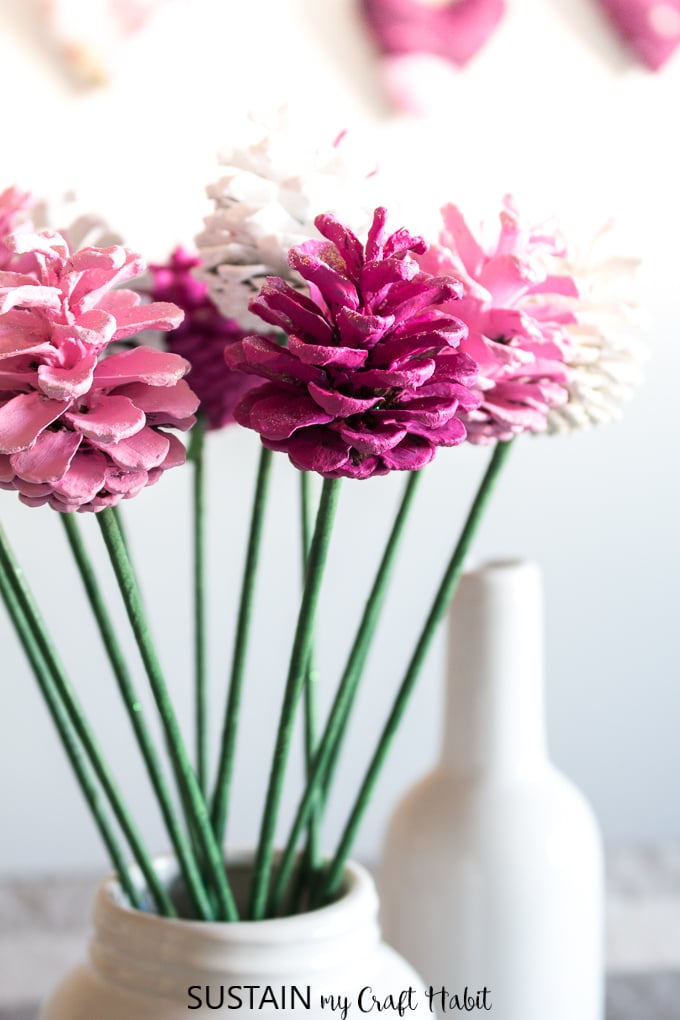 We hope you've enjoyed this tutorial on how to make pine cone roses. We definitely have a thing for crafting with pine cones, as you can probably tell from our many pine cone projects, such as our rustic pine cone wall hanging and our easy DIY burlap wreath.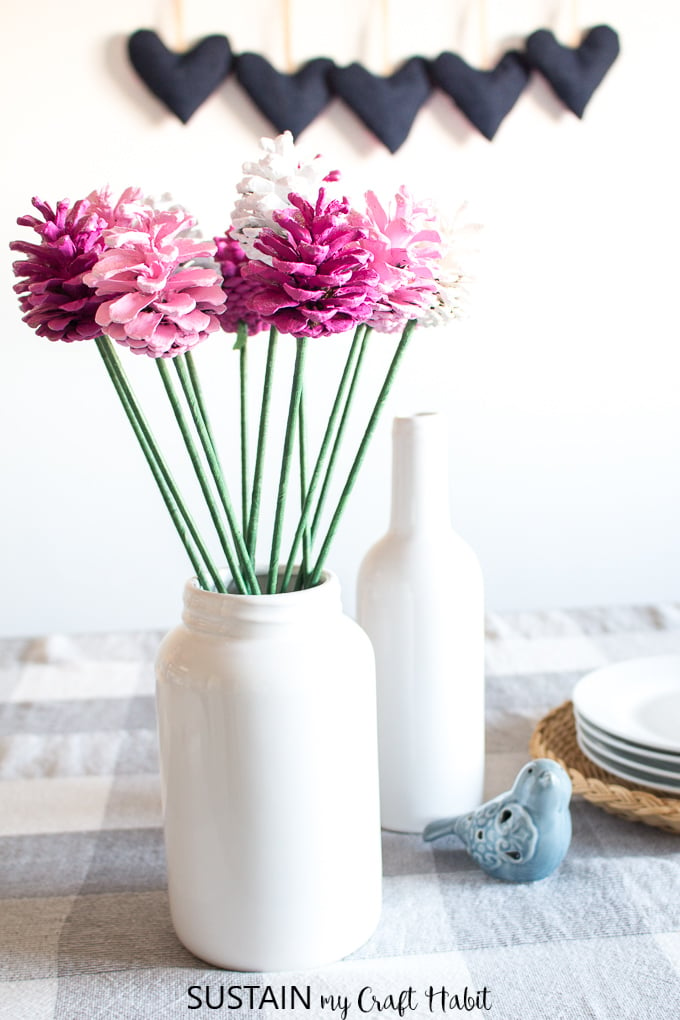 Additional Valentine's Day Ideas
As promised, here are 30 beautiful ideas to make, bake and create for Valentine's day…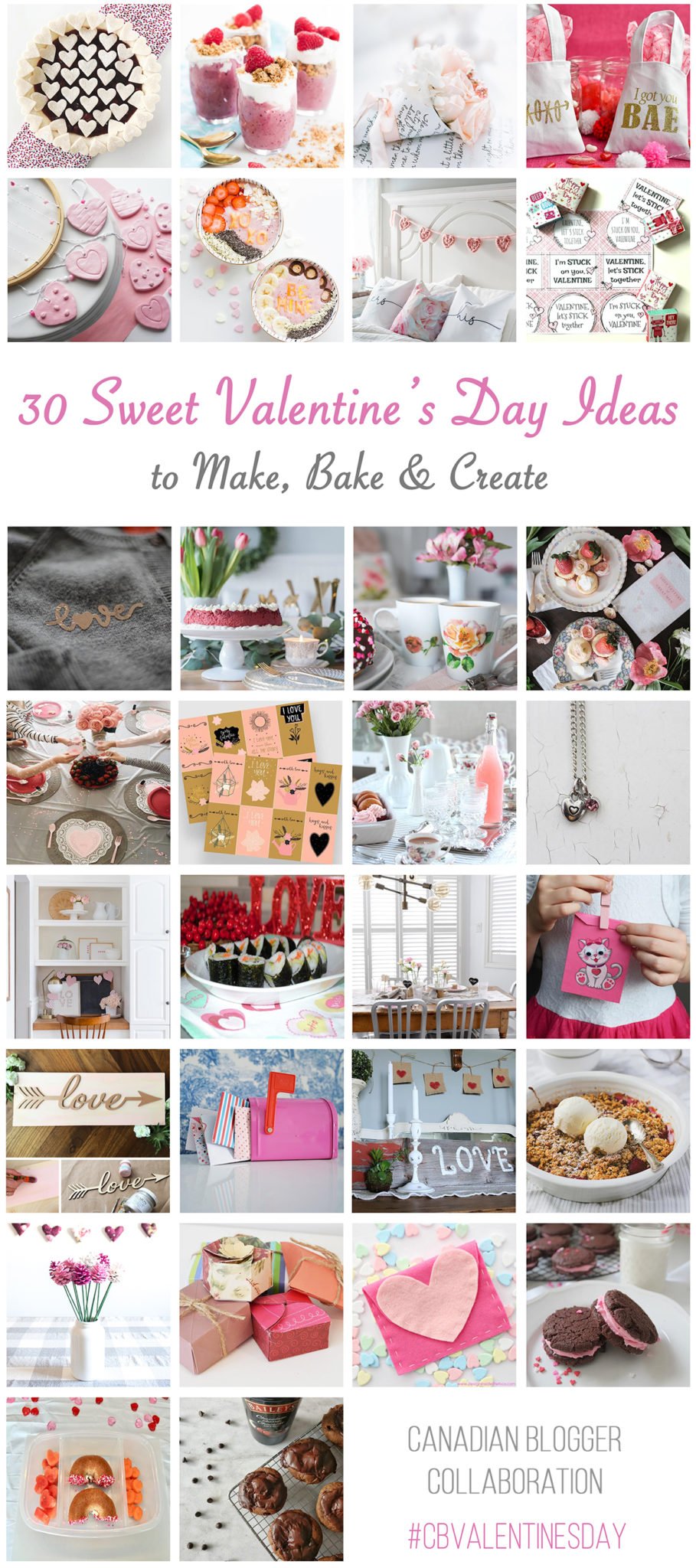 Valentine's Day Cherry Pie by Jo-Anna of A Pretty Life
Valentine's Triple Berry Breakfast Parfait by Joanna at Lazy Moms Blog
Valentine's Day Mini Bouquet with Printable Wrap by Lucy of Craftberry Bush
DIY Iron-On Mini Tote Bags for Galentine's Day by Joann of Woman in Real Life
DIY Clay Valentine Heart Wall Hanging by Jen of Kitchen Counter Chronicles
Valentine's Day Smoothie Bowl by Kristeena of Motherhood in Stilettos
Chunky Crochet Heart Banner by Christina of The DIY Mommy
'I'm Stuck On You Valentine' Free Printable by Chandra of HashtagBlessed Blog
DIY Love Tees by Colleen of Lemon Thistle
Red Velvet Cheesecake by Kim of Kim Power Style
Custom Floral Dishware DIY with Temporary Tattoos by Christine of Amidst the Chaos
Valentine's Day Keto Cheesecake by Thalita of The Learner Observer
How to Host a Mother/Daughter Galentine's by Kelsey of Kelsey Diane Blog
Free Printable Farmhouse Style Valentine's Day Cards by Shannon of AKA Design
GALentine's Day Tea Party by Shauna of Satori Design for Living
Valentine Heart Necklace by Christine of The DIY Dreamer
Simple Valentine's Day Decor by Alicia of A Burst of Beautiful
Valentine's Sushi Recipe by Stefania of From the Playpen
Valentine's Day Decor by Dannyelle of Life is a Party
Valentine Countdown for Kids by Heather of Raising Memories
Love Sign by Meagan of Row House Nest
Valentine's Day Kindness Countdown Calendar by Jen of Rambling Renovators
Rustic Valentine's Day Decor by Sarah of The Project Pile
Peach Raspberry Crisp by Brittany of My Daily Randomness
How to Make Pine Cone Roses by Jane & Sonja of Sustain My Craft Habit
Handmade Paper Gift Boxes by Jessica of The Vanderveen House
DIY Valentine's Day Pouch by Lidia of Design Inside the Box
Valentine Oreo Cookies by Kendra of Joy In Our Home
Valentine's Day Lunch Idea by Adriana of Chaos and Caffeine
Chocolate Cherries Baileys Cookies by Emily of daydreaming of elsewhere
Like it? Pin it for Later!