Taking the mystery out of making t-shirt yarn, we're sharing this ultimate guide for knowing which t-shirts are best to use for making t-shirt yarn.
Why We Love T-Shirt Yarn
A few years ago we created a post here on the blog on how to make t-shirt yarn using the whole t-shirt with as little waste as possible. And later we shared a video on our YouTube channel which has since been viewed over 1M times! As much as we love the idea of repurposing and upcycling wherever and whatever we can, even we couldn't believe the video would be such a hit!
If you've landed here on this post, then you've likely already tried to make yarn or have considered giving it a try. But if this is the first time you're hearing about t-shirt yarn, just look at all the creative things you can make with it.
Over the years, we've received a lot of questions about what types of t-shirts are best used to make t-shirt yarn so we are finally putting together this tutorial to help answer those questions! The simple fact is that some t-shirts are better than others when making yarn. It all comes down to the fiber content and type of knit used to make that t-shirt. So yes, all t-shirts are not equal!
The idea of cutting up a t-shirt (even if it's a thrift store find) only to learn it won't work as t-shirt yarn would be pretty discouraging. So before you start snipping into those tees, take a look at this guide to see exactly what to expect.
Best T-Shirts to Use for Making T-Shirt Yarn: An Ultimate Guide
We'll be sharing a video on this ultimate guide very soon so stay tuned for that!
Step 1 – Identify the TYPE OF KNIT USED
The basics of fabric construction 101 starts with naming the different types of knitted t-shirt fabric. There are 3 main types of knits used for t-shirts; which include JERSEY KNIT, RIB KNIT and INTERLOCK. And why is this important? Well, it's because they don't all work for making t-shirt yarn. So the first step is to identify the type of knit used before going any further.
JERSEY KNIT
Is PERFECT for t-shirt yarn!
You can tell it's a jersey knit by the flat stitches on the front side and the looping purl stitches on the back side
Jersey knits have some stretch, not a lot (unless of course there is spandex in the content) but just enough to be comfortable when wearing.
Majority of 100% cotton printed tees are jersey knit
RIB KNIT
NOT good for making t-shirt yarn
You can tell it's a rib knit from the vertical lines running throughout and it looks the same on the front and the back sides
Rib knits are very stretchy when you pull on them from side to side and they don't recover well meaning they stetch out and lose their shape easily (unless of course there is spandex in the content)
Rib fabric is most often used for pajamas, tank tops, undershirts and some fashion tees
Here is what happens when you try making yarn out of rib knit: the cut edges roll inward but begin to unravel looking worn and loose and ruffled.
INTERLOCK
NOT good for making t-shirt yarn
You can tell it's an interlock because it looks the same from the front and back views, both sides appear flat
Interlock most often used for kidswear, pajamas and sports jerseys
Step 2 – Identify the FIBER CONTENT
Now that you've identified the type of knit (the first step) that works best; it's time to consider the type of fiber content used. Jersey t-shirts come in all different types of fiber content from 100% cotton to cotton blends and synthetic blends such as rayon/spandex or poly/spandex. The best way to find out the content is by looking at the care/content label found at the center back neck or along the inner side seam.
So how does the fiber content affect making t-shirt yarn?
100% COTTON jersey – is PERFECT for t-shirt yarn!

Aside from reading the label, some other tell tale signs it's 100% cotton is by the way it looks and feels. Typically, it will feel natural, light (or airy) and soft although a bit on the stiff side and have limited stretch and recovery.
50% COTTON / 50% POLYESTER jersey – is GREAT for t-shirt yarn!

Aside from reading the label, some other tell tale signs it's a cotton/poly blend is by the way it looks and feels. The material will feel very similar to 100% cotton jersey. This blend is often used for fabrics that have a mixed color or heathered look.
70% COTTON / 30% VISCOSE (or RAYON) jersey – is just OK (NOT GREAT) to use for t-shirt yarn.

The material will feel soft, silky and smooth with some stretch and pretty good recovery even though there is no spandex; will feel heavier (or more dense) than 100% cotton.
The edges do not hold the roll as well as 100% cotton jerseys do making the yarn loose. Also, it is stretchier which affects the ease in which to knit and crochet with.
95% COTTON / 5% SPANDEX (or ELASTANE) jersey – is NOT GREAT to use for t-shirt yarn BECAUSE it is very stretchy so will be hard to control tension while knitting and crocheting.

The material will feel soft, slinky and stretchy with good recovery meaning when you pull it apart, the fabric bounces back to its natural shape.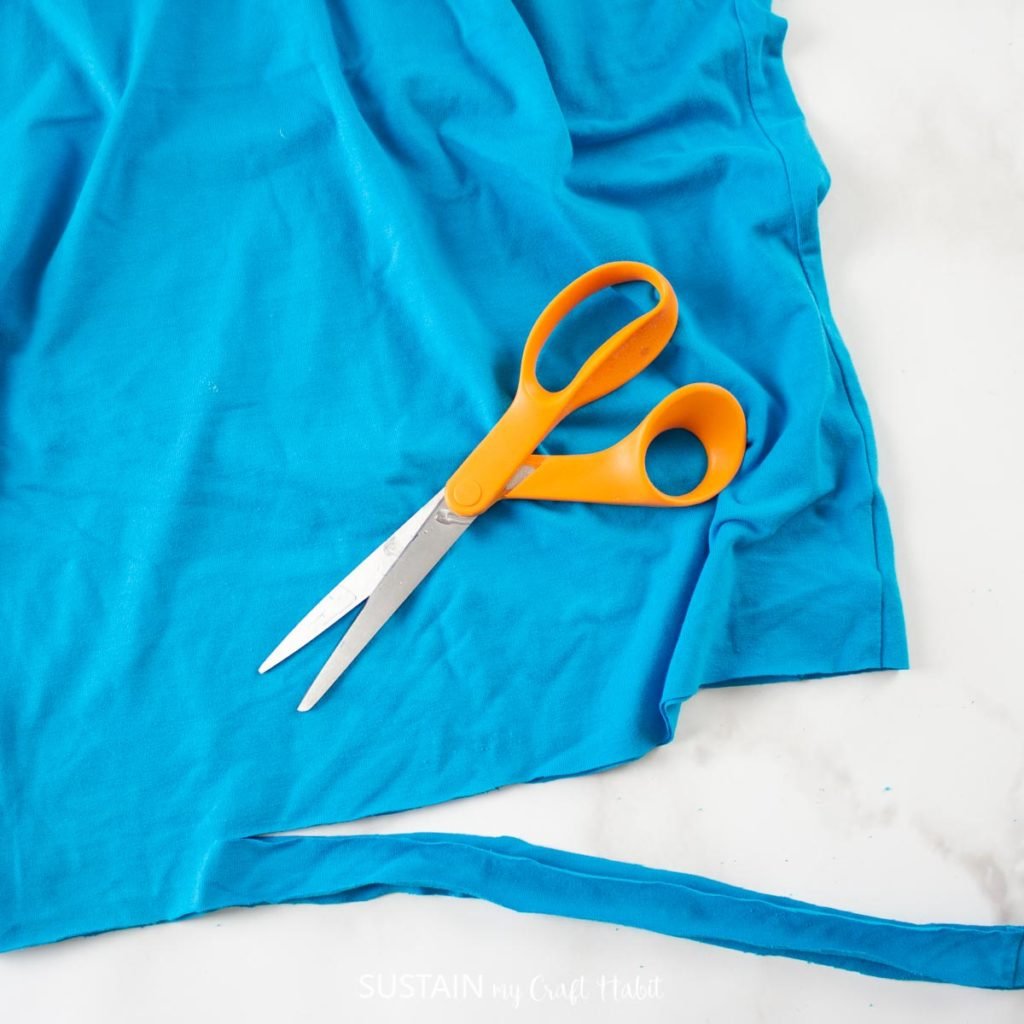 Step 3 – Check the SIDE SEAMS
To make the best t-shirt yarn possible, it's a good idea to find and use t-shirts that don't have side seams. These tees (also a sign that they are 100% cotton) have been knitted on a circular knitting machine making them free of stitched seams along the sides.
Step 4 – Identify the FABRIC WEIGHT
Most t-shirts are a medium weight when you think about your classic printed cotton tee, however they can also be pretty thin and lightweight; which may not be ideal for making t-shirt yarn. Although it will work, it'll turn out to be a thinner gauge yarn, more like a fingering yarn in the kniting and crochet world. So depending on the type of projects you want to make, always consider the weight of the fabric when making t-shirt yarn.
More Tips for Making T-Shirt Yarn
Although we normally cut the t-shirt strips into 1" wide pieces, you can adjust the thickness of the t-shirt yarn by cutting them at different widths. For example, if you wish to have a thicker yarn, cut the strands wider (such as 1.5″ wide or 2″ wide) and of course, the opposite is also true, if you want a thinner yarn, then cut the strands thinner (such as .5″ wide).
Another question we get a lot of is how to make tshirt yarn from sheets. The same would apply to knitted jersey bed sheets as t-shirts when determining if it'll work. Simply go through the 1-3 steps to know if you can use the bedsheets to make yarn.
So now that you know the best t-shirts to use for making t-shirt yarn, we'd love to see what you make with all your t-shirt yarn! Please tell us what projects do you plan to make?
More DIY Upcycling Projects
For more creative ways to upcycle clothing you already have at home or can find at the thirft store, check out these craft ideas:
Like it? Pin it for later!