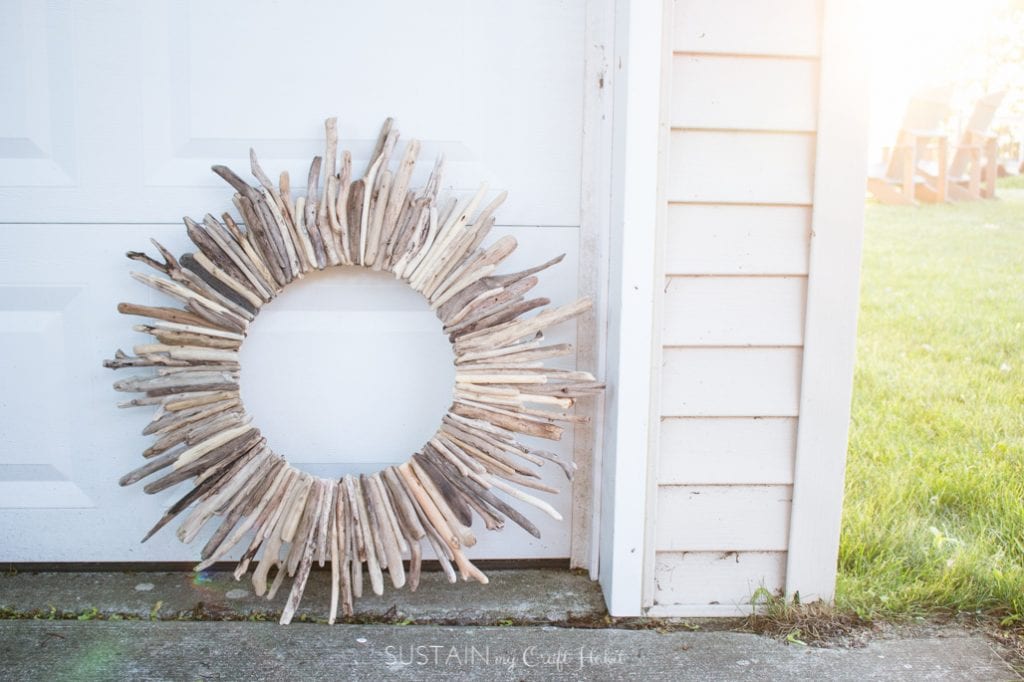 In anticipation of the Summer, I decided to make a large driftwood wreath that I could happily hang on my door to say "Welcome back hot weather!". And now that this coastal and rustic wreath is done, I might just keep it up all year round because well, who doesn't want to be reminded of the beach even on the coldest of days???  
Over the past year we've made a number of driftwood pieces such as our Driftwood Mirror, Heart Rocks and Seaglass Mobile, and Driftwood Tree. What's that saying? Creativity fuels creativity. Well in our case, driftwood would be considered the spark (or we just have a problem).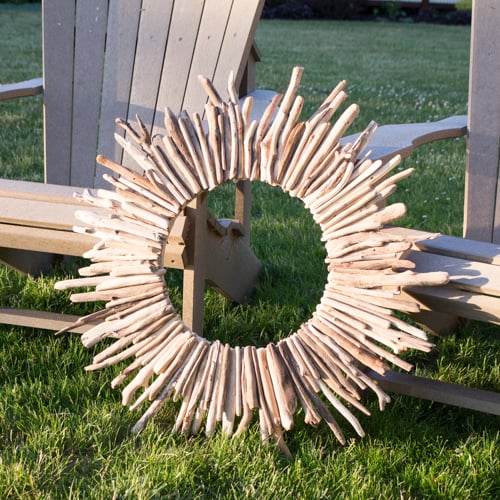 This particular wreath used up 150 individual driftwood pieces! I know what you're thinking…that's a lot of time spent collecting driftwood!  And yes, although that's true, collecting driftwood is really one of our favourite things to do when we're at the lake. We've even recruited the kids into helping (they love it, really).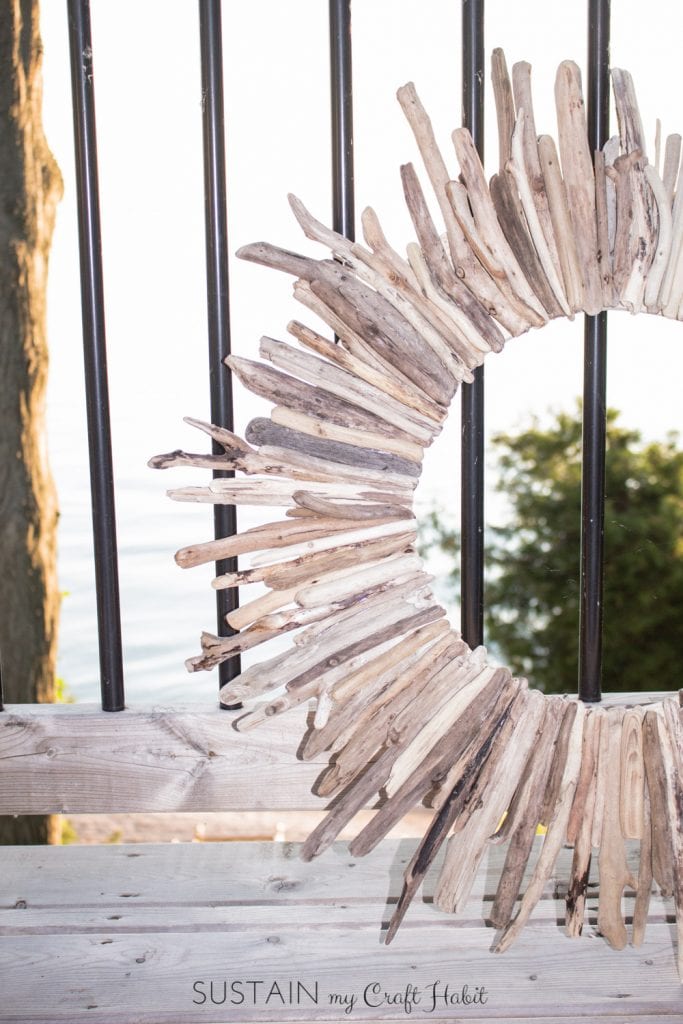 In case you don't have driftwood available in your area, we do have this wreath and driftwood supplies listed in our Etsy shop. Stop on by and take a look!
Materials Needed to make your own DIY Driftwood Wreath:
Assorted driftwood pieces – sized 4" to 9" long in various widths

Loctite PL Construction Adhesive (Amazon affilitate link) or similar product for attaching mirror to plywood

½" thick sheet of plywood

Picture hanging kit (Amazon affiliate link)

Jigsaw

Sand paper; 60 Grit

Nail Gun and ¾" brad nails

Glue gun and plenty of glue sticks

Wood Glue (optional)

Spray Lacquer
To start, you will need to prepare the base. I used a ½" thick sheet of plywood and cut it in a circular shape with the centre cut out. The base size measured 20" diameter from outer edge to outer edge with a 12" diameter circle cut out of it. 
Once the base is cut, gently sand down all the edges and back side for a smooth finish. I used a 60 grit, about a medium grade sandpaper to do this.
Add two sets of hooks to the back side of the base. This will be the side to hang up against the wall.
For this project I chose to use a nail gun to apply the driftwood. When I made the Driftwood Mirror I had used a hot glue gun and although it did it's thing, I wanted a stronger method this time. I nailed the longer driftwood pieces to the base in non-conspicuous spots. My plan was to cover this layer of nailed driftwood with another layer of smaller glued driftwood pieces so that the nails would not be visible. Continue to work around the circle.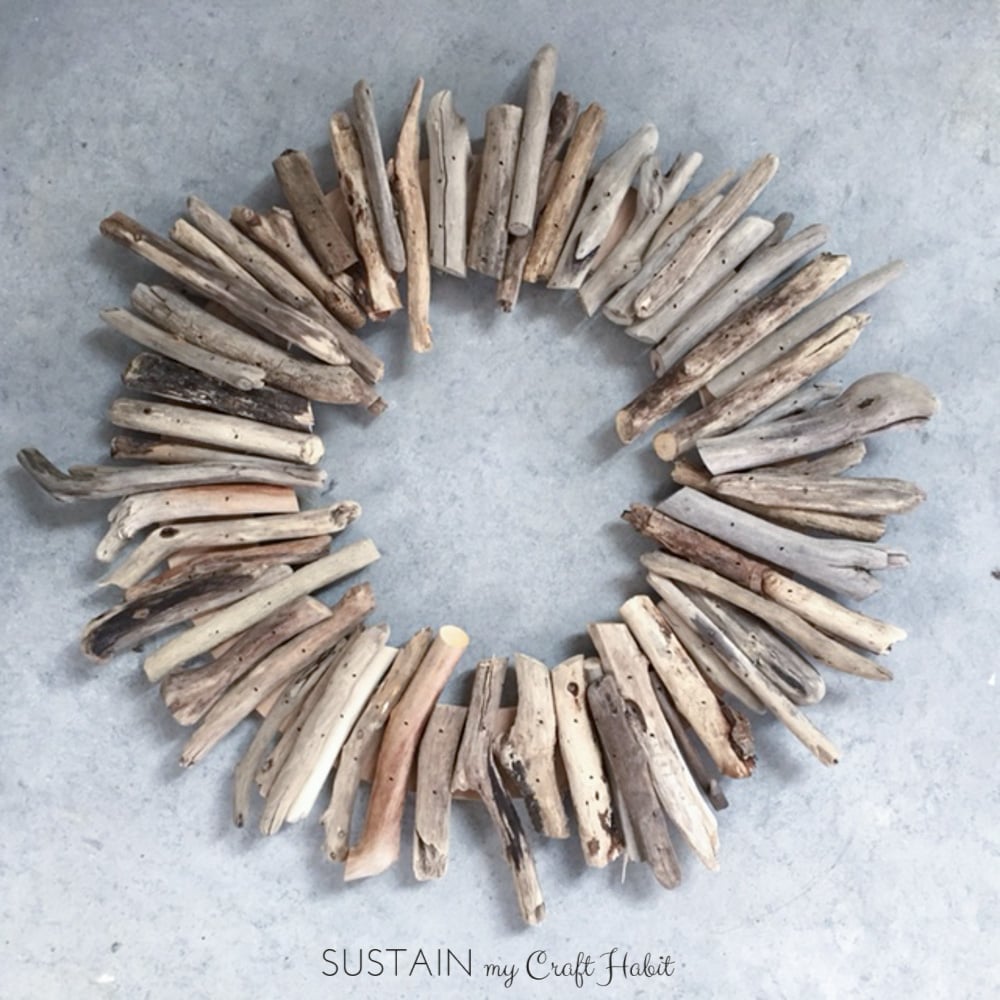 With the shorter driftwood pieces, begin layering over top and in between the longer driftwood pieces using a hot glue gun to hide the exposed plywood underneath. I also tried using a wood glue and although it looked amazing, it was taking a very long time so I ended up switching to a hot glue gun.  But in my opinion, if you have the time, I'd recommend a wood glue for the best results.
For the final step, I applied a thin coat of clear high gloss lacquer. It really made the colours of the driftwood pieces pop! My finished and substantial wreath ended up measuring 25" to 28" across.   
What is it about driftwood that I love so much?  Maybe it's a sign I should move to the beach?! Or maybe this old dresser we recently upcycled says it all: the beach helps us laugh, relax, unwind and enjoy!
And there are so many different ways to make a wreath with driftwood: maybe next I'll try something like this quirky one on Amazon (affiliate link). You can also find tons of other inspiring ideas to use up your own driftwood on our "DIY Driftwood Decor" Pinterest Board.
I had some fun carrying this wreath around the neighbourhood at the cottage, trying to find a nice place to take a picture of it. It just wouldn't be fair if I didn't share with you at least one peak of the stunning Lake Huron views I enjoyed on my expedition!
Like it? Pin it for later!