Aside from the obvious application of vinyl heat transfers on t-shirts, there are so many other creative uses for the Cricut EasyPress. And we thought it would be fun to compile a list of 10 projects you didn't know you could make with a Cricut EasyPress!
CRICUT PROJECTS: Get access to our resource library filled with SVG cut files and other Cricut craft ideas!
The Many Uses of a Cricut EasyPress
This is a sponsored conversation written by me on behalf of Cricut. The opinions and text are all mine.
With a plan to find 10 unique projects and uses for the Cricut EasyPress, we quickly and excitedly exceeded that amount. It's not only iron-on vinyl that can be used with an EasyPress: use foil, mesh and even fusible fabrics to give each project a completely different look.
In addition to these options, the list of base materials that can be used is pretty impressive. From fabrics to papers and even wood, the Cricut EasyPress is completely versatile.
As someone who has also used a commercial heat press, I can say using the Cricut EasyPress gives you similar professional results. There are different sizes and four colors (hello mint!) to choose from to cover all your at home heat pressing needs.
So whether you plan to heat press on small accessories and knick-knacks such as custom hats, keychains and coasters or larger items such as embellished blankets, table cloths and DIY throwback retro t-shirts, there's an EasyPress just for you.
Note: Since we first wrote this post, Cricut has released several new presses including the Cricut Mug Press (check our our ultimate guide), the EasyPress Mini, the Cricut AutoPress (we haven't had a chance to use this yet), and a Hat Press. The list of ideas below do apply with most of the new presses as well.
Let's get started!
10 Cricut Easy Press Projects You Didn't Know You Could Make
Using the Cricut Easy Press on Fabrics
There is no limit to the number of fabrics you can use as a base material for the Cricut EasyPress. From cotton to polyester, silk, nylon, burlap and even faux leather, there's always a surface to heat press.
Spruce up the kitchen by easily applying a quirky decal to your kitchen hand towels or a fun patterned design to your aprons. Add some unique iron-on details to a reusable cotton canvas gift bag or create a modern flower designed pillow cover.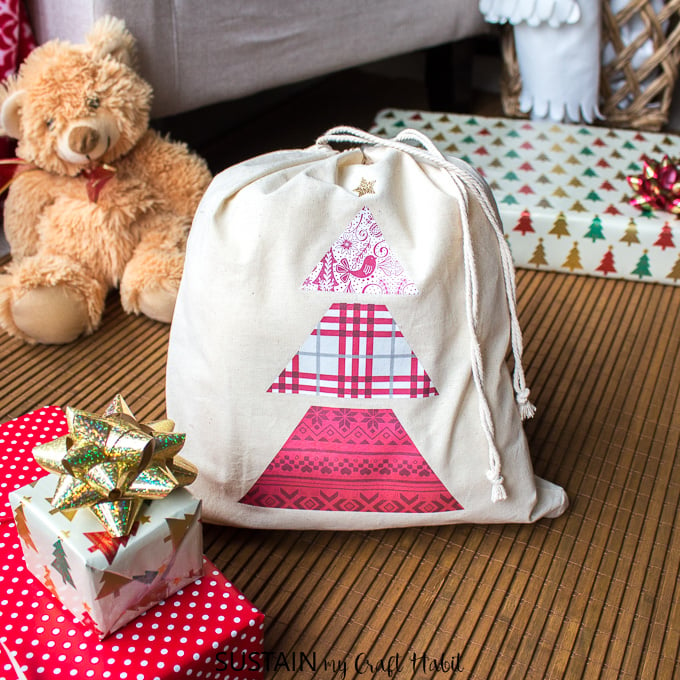 As for using a faux leather material, aren't these embellished passport covers adorable? In addition to these inspiring project ideas, there is also an abundant amount of projects in Cricut's Design Space to choose from!
Using the Cricut EasyPress on Wood
Did you know that you can use the EasyPress on WOOD? That's right, wood! Take a look at this fun DIY bathroom sign and this large lettered wood slice sign.
The iron-on vinyl adheres to the wood much better than regular adhesive vinyl leaving you with a smoother, more durable bonded finish. We'll also be sharing our tutorial on making personalized wood slice keychains similar to these using the EasyPress soon.
Using the Cricut EasyPress on Metal
We hadn't considered applying the EasyPress to a metal surface until we came across this metal sign with an iron-on vinyl project idea. We love the mix of the whimsical hand lettered vinyl with minimal and modern metal sheeting.
Using the Cricut EasyPress for Pressing Flowers
Save yourself time by using the Cricut Easy Press to press fresh flowers. Simply sandwich the flowers between two absorbent materials and apply the heat press.
With this method, there's no need to wait weeks for your pressed flowers to be ready. Use them to make pretty flower resin jewelry, or a mason jar luminary.
Using the Cricut EasyPress for Laminating
Using a laminate fabric is great for things that you want to keep dry and easy to wipe clean, such as makeup cases and tote bags. We love this idea of applying a flexible, clear iron-on vinyl to a pretty printed cotton material to create a durable laminate fabric.
Using the Cricut Easy Press on Paper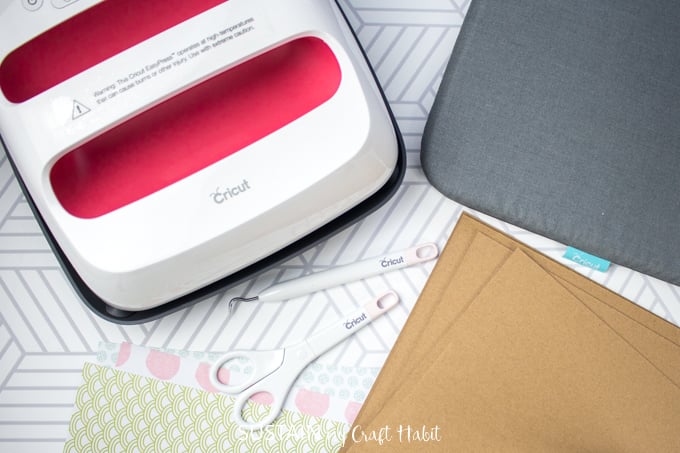 All types of paper, such as cardstock, chipboard and scrapbook paper can be used with the EasyPress.
Just imagine the personalized designs you could add to the papers! You could make custom notebooks for yourself or as a gift giving idea.
Using the Cricut EasyPress on Perler Beads
Our kids love crafting with perler beads so being able to use the Cricut EasyPress for fusing the beads together was a real bonus! We love this tutorial for making perler bead art using the Cricut EasyPress. Just imagine all the possibilities for keeping your creative kids busy!
Using the Cricut EasyPress on Felt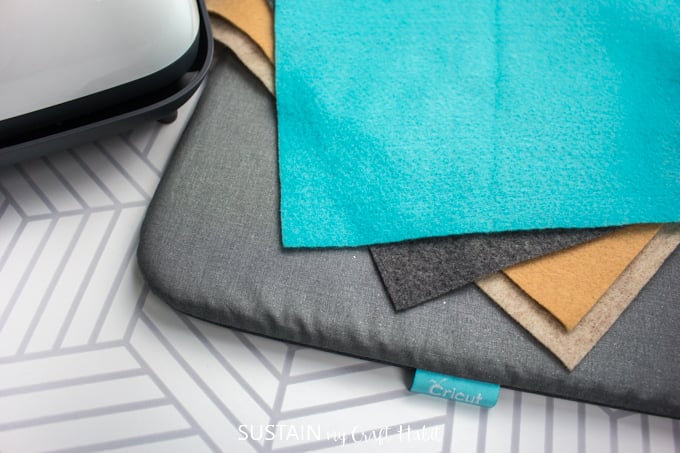 With so many benefits to using felt, it's no wonder it's one of our favourite materials to create with.
We were very excited to learn that we could use the EasyPress directly on to felt, as with these DIY felt holiday pillows. The EasyPress would've come in handy when I made these beach themed felt throw pillows years ago!
Using the Cricut EasyPress on Shoes
Have you ever gone shoe shopping with something specific in mind only to not be able to find exactly what you're looking for? Knowing I can use the Cricut Easy Press to change the look of shoes by simply applying some decorative iron-on vinyl makes shoe shopping even more fun!
And now that Cricut has released the EasyPress Mini, there's even more options for crafting with small and oddly shaped objects.
Using the Cricut Easy Press to Heat Set Fabric Paint
I recently stenciled a colourful canvas table runner for my dining room and the fabric medium called for setting the fabric paint with a heat. Instead of using an iron I used the Cricut EasyPress, which was a quicker method and with a more accurate temperature setting.
Using the Cricut EasyPress to Fix Peeling Decals
Do you ever find the decals on your printed tees start to peel away? The next time this happens to you, take out the Cricut EasyPress and apply some heat using the EasyPress heat settings guide to fix those peeling edges.
We hope you've found inspiration with these Cricut EasyPress projects. If you're ever unsure of which temperature to use and settings to follow, refer to Cricut's EasyPress Interactive Guide. They've done all the pre-work for us so we can confidently use the EasyPress for best results.
Get updates on the latest posts and more from Sustain My Craft Habit straight to your inbox by joining our weekly newsletter. We promise to send you only the good stuff.