Using natural elements for home decor, this handcrafted 3D world map from Enjoy the Wood is the perfect wood wall art for any space. It's sure to revive memories of travels abroad and inspire new globe-trotting plans.
Disclosure: This post is sponsored by Enjoy the Wood. All opinions are our own. This post also contains affiliate links. Should you choose to buy through these links we make a small commission at no cost to you. You can read our full disclosure here.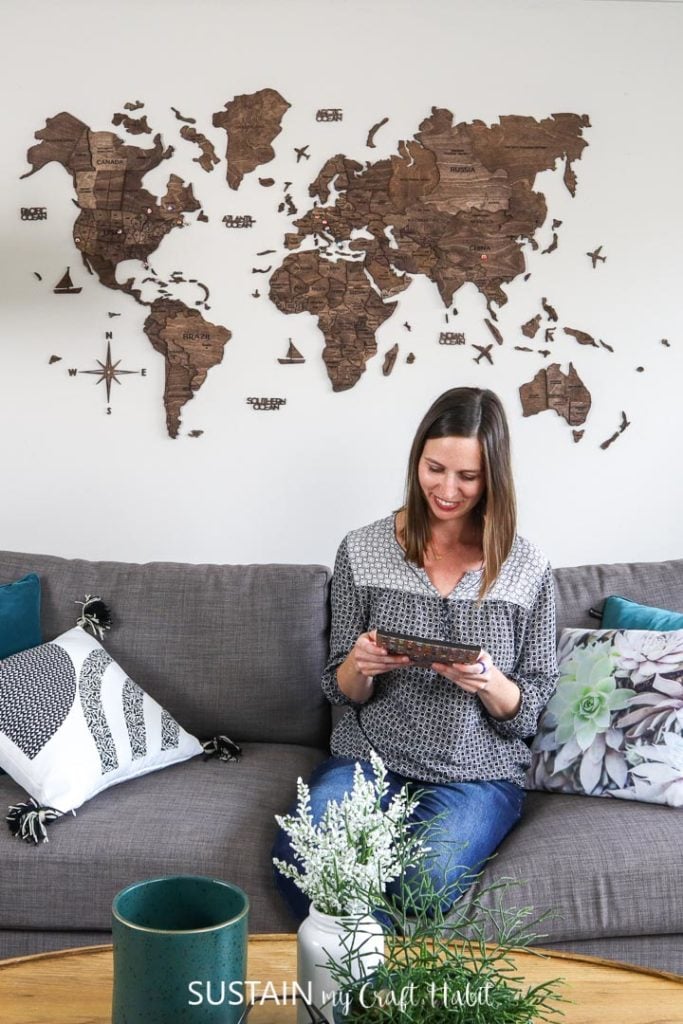 Handcrafted 3D World Maps Make Gorgeous Wood Wall Art
Like many people, our family plans this past summer went right out the window. With a dream vacation planned to Ireland; our stay booked and itinerary all plotted out, we had put all those plans on hold.
It just so happened that around the time we were supposed to be on vacation, we discovered Enjoy the Wood and their beautiful, signature 3-dimensional world maps.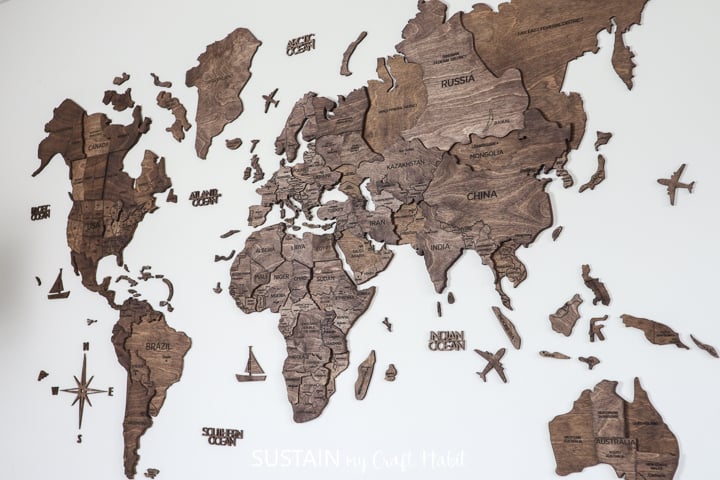 Since we aren't able to travel the world, why not bring the world to us? Seeing the images of their 3D world maps, I couldn't wait to receive mine!
In all honesty, the map exceeded my expectations, the amount of detail and intricacy was almost surprising. The smallest of islands (like Corsica and the Bahamas) were cut out and even labelled with the country name. The capitals for most of the countries are also labelled, so not only is the wood wall art beautiful to look at but an educational piece too!
Founded in 2015 by a Ukranian family, Enjoy the Wood handcrafts beautiful accessories from wood and ships them to customers all around the world with free delivery. The maps are completely handmade from high-quality birch plywood and are offered in a bunch of different wood stain finishes as well as colored options. They come in 4 different sizes as well to suit your living space. And if that wasn't enough, they also offer customization options so if you want any changes at all, you simply contact the team directly.
Additionally, their 3D multilayered world maps are legally patented and come with a lifetime warranty. It's pretty clear this family run business stands behind their product.
Installing the 3D World Map
With my sister's help, we unpacked and installed this unique wood wall art in my living room. The whole process took a couple of hours…it is a bit of a puzzle after all!
But with the simple 3-step instructions and a couple of coffees on hand, we really enjoyed ourselves. In fact, we even learned a few things about geography…like, I now know where the Galapagos Islands are located!
We started by laying out all the pieces and attaching strips of double sided tape to the back using the guide provided.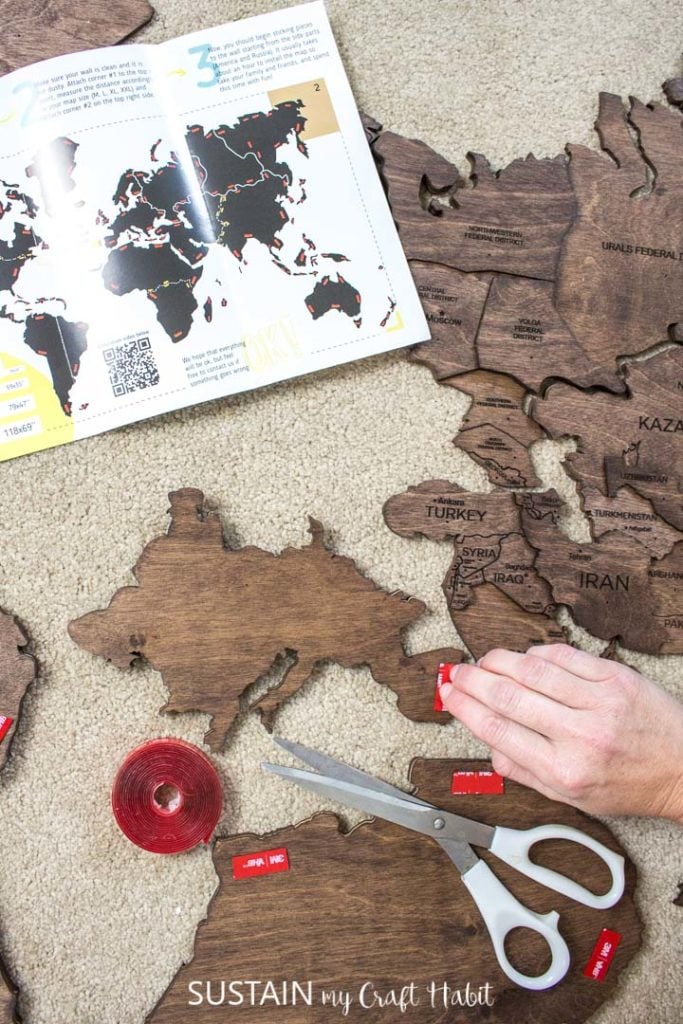 Next, we wiped down and measured the wall and placed the starting templates.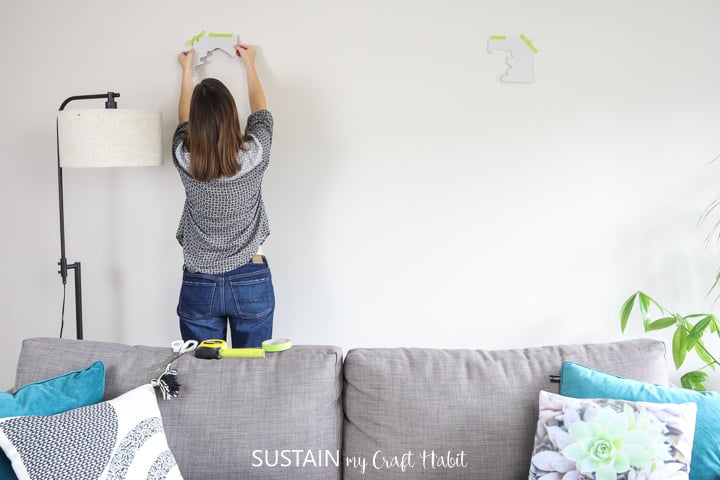 Once the prep-work is done, we placed the pieces on the wall. It was so satisfyling seeing the pieces click together and the world map come alive!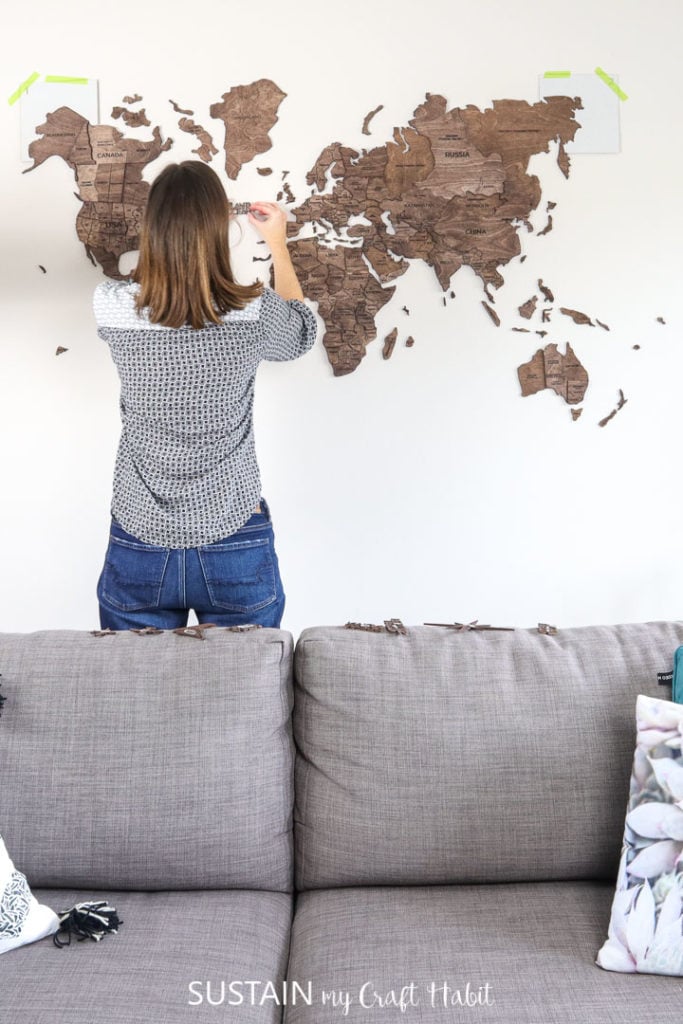 And that was pretty much it. As mentioned above, there are a lot of little pieces, so the installation took a couple of hours in total. But it was a simple and enjoyable installation.
We've also created a video on our YouTube channel, showing us unboxing and installing the Enjoy the Wood 3D World Map on my living room wall.
Marking your Travels
Once the map is on the wall, the fun continues with the push pins for marking your travels. There are both metal airplane and world flag options (we chose the latter).
My husband and daughter enjoyed finding the flags of the countries, states and provinces we'd been to and tacking them on to the map.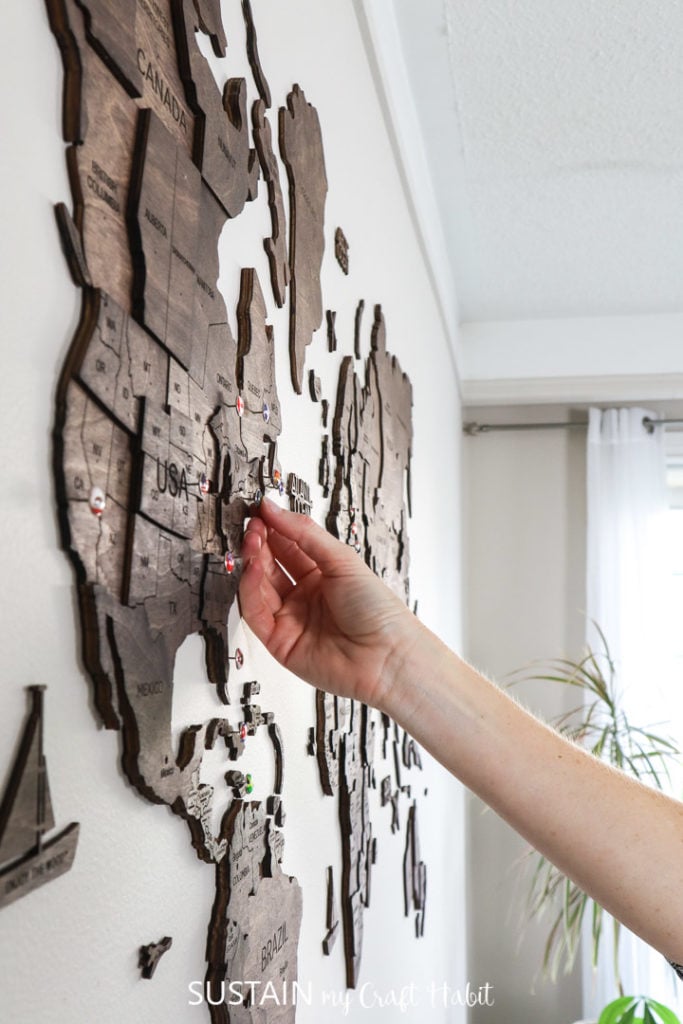 Consider this 3D World Map or any of the intricate wood products handmade by Enjoy the Wood as a gift idea. They even arrive in a gorgeous box, making them a perfect and thoughtful gift for the holidays or wedding/anniversary gift for a travel-loving couple.
Every time I walk by my living room, I glance at the map and smile. It is such a unique piece of art that will forever remind me of the places around the world we've been lucky enough to visit and places we hope to one day explore. I'm even more excited to visit Ireland soon, and in the meantime, have may gorgeous wood wall art to ogle!
Looking for More Wood Wall Art Ideas:
For DIY wall art ideas, check out this coastal-inspired wall art made with painted driftwood; this large driftwood mirror; Mr. Crabby driftwood art and this scrap-wood rustic farmhouse beach sign.
Like it? Pin it for later!